Chukars Lose Second Straight Against Owlz
Published at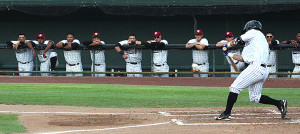 IDAHO FALLS – In game two of a three-game series between at Melaleuca Field, the Idaho Falls Chukars were silenced by the Orem Owlz by a score of 5-5 on Sunday afternoon.
After scoring 40 runs combined in their first two day games, the Chukars could only manage four runs against the Owlz pitching staff.
Meanwhile, Orem started things off quickly in the first inning against Chukars starter Dylan Sons (L, 0-2). After the first three batters reached base by hit, walk and an error, a RBI single from outfielder Jared Foster and a pair of RBI groundouts from first basemen Jeffrey Boehm and catcher Taylor Ward made the score 3-0 after the first inning.
The Owlz tacked on two more runs in both the fourth and sixth innings and a run in the eighth inning to put the game out of reach. For Orem, second basemen Hutton Moyer contributed with a RBI single and a two-run homer.
Idaho Falls scored a run in the fifth and the seventh innings while tacking on three in the eighth inning, three of them courtesy of first basemen Josh Banuelos. With a pair of RBI single and a run-scoring groundout, Banuelos now has 26 runs batted in, putting him one ahead of teammate Alexis Rivera. Chipping in with a hit each, both Banuelos and Rivera extended their personal hitting streaks to nine and ten games respectively.
In addition to one of those Banuelos run-scoring singles in the eighth inning, a RBI single from outfielder Cody Jones accompanied with an error gave the Chukars their final two runs of the game.
As a team, the Chukars totaled 10 or more hits in a game for the seventh contest in a row. Banuelos, Jones and second basemen DJ Burt each chipped in with two hits. Catcher Kyle Pollock had one hit and also threw out a career-high four Owlz baserunners on the bases.
Idaho Falls will finish off a seven-game homestand at Melaleuca Field on Sunday afternoon with the final game of a three-game series against the Orem Owlz. The Chukars will send RHP Derek Gordon (0-2, 5.65 ERA) while the Owlz will counter with a pitcher that is to be determined. First pitch is at 7:00 PM.
Make sure to tune to John Balginy and Alex Cohen all season long on MiLBTV, the Chukars Tune-In Radio App and live on ESPN 980 AM, 105.1 FM and 94.5 FM.
For tickets or any other information, call (208) 522-8363, follow the Chukars on facebook and twitter at @Ifchukars or visit www.ifchukars.com.