UPDATE: More details about shooting of unarmed Idaho Falls man
Published at
|

Updated at
This video has been edited due to graphic content. A link to the uncensored video is below.
IDAHO FALLS — Bonneville County Prosecutor Daniel Clark has determined the use of force was justified in the shooting of Ricky L. Mosley on June 29.
The Idaho Falls man was shot five times by members of the Idaho Falls Police Department and Bonneville County Sheriff's Office during a standoff at the Tiger Exxon on North Yellowstone.
During a news conference Tuesday, Clark revealed the findings of an investigation into the incident. He also showed dash cam video of the the shooting.
The incident began after sheriff's deputies were dispatched to a 911 call regarding a reported domestic disturbance. When officers arrived a woman said Mosley, her boyfriend, had attacked her and then left.
The video starts shortly after police pulled Mosley over around 1:20 a.m.
An agitated Mosley is shown leaving his truck with his hands clasped behind his back.
"Mosley refused repeated requests to show his hands to law enforcement intentionally leaving them behind his back while holding a phone," Clark said. "This can have no purpose, but to give the impression that Mosley had or may have had a weapon."
Mosley walked toward the end of his truck and said, "My family is all I care about, and without them I ain't got s—t."
He did not respond to officers questions or comments during the incidents.
"When (an officer) attempted to get into a position to use a Taser to subdue Mosley, (he) lunged and drew his hands forward as if to replicate an aggressive shooting motion," Clark said. "Only then did law enforcement use deadly force."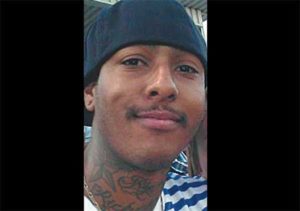 The five officers fired 22 shots at Mosley from a distance of about 20 feet. He was hit five times in the groin and the leg. Officers immediately began lifesaving measures and Mosley was transported to Eastern Idaho Regional Medical Center.
Clark said the shots were fired in response to a perceived threat of great bodily harm. The shots were not intended to incapacitate the victim.
Mosley remains in Eastern Idaho Regional Medical Center and is in fair condition.
The Idaho Falls man has been charged with felony domestic battery related to the domestic disturbance prior to the shooting. Mosley has a lengthy criminal record in California and Idaho, including felonies and crimes of violence, according to police.
To watch the entire dash cam video click here. WARNING: This video is extremely graphic and viewer discretion is advised.