Point of Friction: Sportsman rally against refuge takeover
Published at
|

Updated at

BURNS, Oregon — The fog is so thick at Malheur National Wildlife Refuge, it's impossible to get your bearings in the broad landscape.

Forty minutes outside of Burns, Oregon, trees are laced with ice and cattle coats are frost covered. The cold haze is smothering and the only possible point of reference is a watchtower. Inside the tower, members of the refuge takeover who call themselves Citizens for Constitutional Freedom.

"We're not terrorists. We're not the boogeyman. We're Americans," says Duane Ehmer, a takeover supporter riding the refuge on horseback with a flag layered in crusty mist.
Duane Ehmer, takeover supporter on horseback, and Garrett Vene Klasen, New Mexico Wildlife Federation executive director exchange words at refuge headquarters. Photo courtesy: Kris Millgate / www.tightlinemedia.com
Closer to eastern Idaho, a peregrine falcon box is the tower you see at Camas National Wildlife Refuge. It's one of seven NWRs in Idaho. Its desert-oasis design 40 minutes north of Idaho Falls is 10,500 acres of public land enjoyed by people and animals alike.
Camas is a speck of space compared to Malheur's 187,757 acres, but Camas is open. Malheur is not.
"I grew up in central Oregon. I've lived in Idaho 15 years. [Malheur] is about halfway between here and there," says Bryan Huskey, outdoor photographer and sportsman from Boise, Idaho. "I spend a lot of time fishing there. I spend a lot of time hunting there. I spend a lot of time just laying on my back listening to all the different birds."
Sportsman from multiple states, including Idaho, are rallying for the refuge to re-open which in turn means they're rallying for public lands and the heritage those public lands provide.
"Part of the legacy that I hope to leave to my children are these lands," says Mark Heckert, Backcountry Hunters and Anglers member and sportsman from Puyallup, WA. "I see that going away so I gotta fight where I can and talk where I have to."
The watchtower for Malheur National Wildlife Refuge is at refuge headquarters near Burns, Oregon. The refuge is closed due to an oppositional takeover of the refuge. Photo courtesy: Kris Millgate / www.tightlinemedia.com
Not everyone wants the federal government managing public land anymore. Studies show, they're not the majority, but they're making moves anyway.
"I know that common people have been kicked out of here," Ehmer says. "We're standing up for our neighbors that ain't got no voice in this community."
Malheur's watchtower is becoming the place where various viewpoints vent. It's becoming the point of friction. What you see at the base of the tower is a combination of guns, flags and go-home signs. What you hear is heated.
"I came here from New Mexico to speak on behalf of sportsmen," says Garrett Vene Klasen, New Mexico Wildlife Federation executive director. "To speak on behalf of people that love land and wildlife. To come to tell these people to get the hell off of our land."
Beyond what's going on at the watchtower, wild pheasants flush in a field, two packs of coyotes duel with clipped calls and deer tracks dot the flatlands leading to vistas in the distance. Just like Idaho's Camas NWR, Malheur NWR is still hosting the wildlife it was set aside for, but with the extra added presence of people playing tug of war.
Outdoor journalist Kris Millgate is based in Idaho Falls, Idaho. See her work at www.tightlinemedia.com.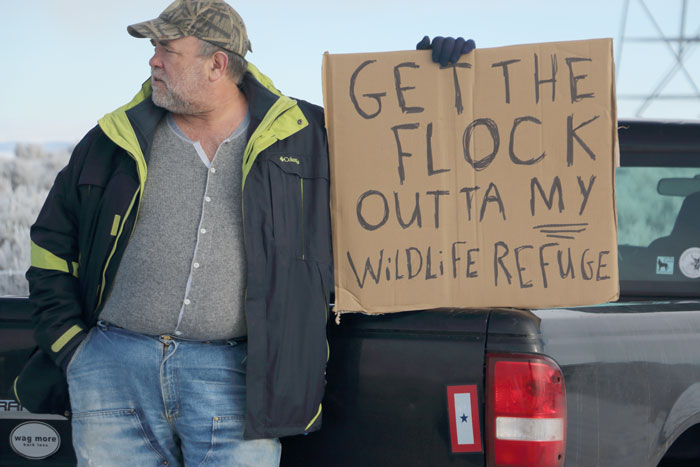 Sportsman Mark Heckert from Puyallup, WA wants the opposition to go home so the refuge can re-open as public land. Photo courtesy: Kris Millgate / www.tightlinemedia.com