Firefighters honor late businessman with Citizen Life-Saving Award
Published at
|

Updated at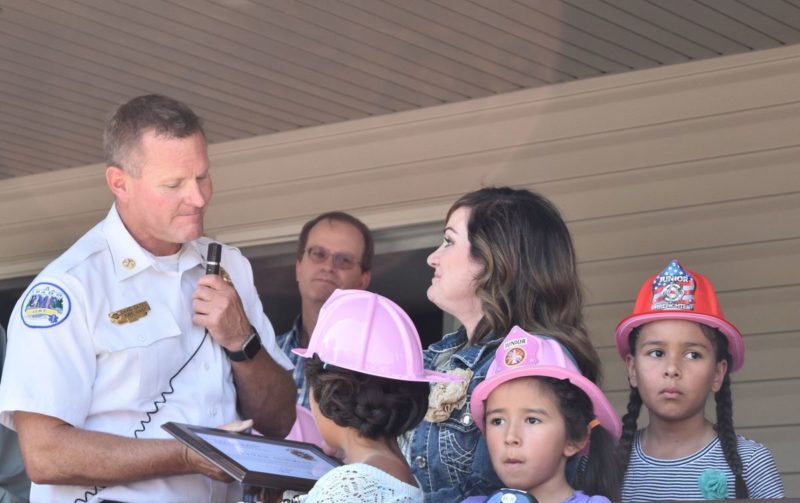 POCATELLO — Pocatello firefighters recently honored a late businessman whose quick and selfless actions during a boat fire at a convenience store in June may have saved others' lives.
The firefighters recognized Tyvan Schmitt — a well-known entrepreneur who started a coupon book business in East Idaho — with a Citizen Life-Saving Award on Saturday. Fire Chief David Gates presented the award to Schmitt's widow, Lori, and other family members during an open house at the fire station.
"His actions went above and beyond the expected normal behaviors of a person," Gates said, adding that Schmitt, who was severely burned in the fire, acted selflessly. "He was probably in pain from being burned (and he still had the) presence of mind to continue to do things to try and protect the public and other buildings."
Schmitt was in the boat when it caught fire after it was filled with fuel at the Phillips 66 at Pocatello Creek and Bench roads on June 25. Firefighters believe the 52-year-old was attempting to crank the boat's engine to make sure it would work when vapors in the area ignited.
A friend pulled Schmitt to safety.
Despite his injuries, Schmitt still drove the pickup and burning boat away from the gas pumps that day.
His actions helped protect other people, the gas pumps and structures in the area, Gates said.
Schmitt, who suffered burns over more than 70 percent of his body, was later flown to the University of Utah's Burn Center in Salt Lake City. He died about three weeks later from the injuries he sustained.
Erika Garza believes the actions of Schmitt, her stepfather, were in character.
"Tyvan was a Superman in a lot of ways," she said, "and this was yet another validation of his bravery and concern for others."
Garza says her family was honored to accept the award on his behalf.
Gates feels it's important to recognize those whose actions make a difference for others.
"It's good to recognize people that do … heroic things," he said.
The Pocatello Fire Department has honored only one other person with a Citizen Life-Saving Award. That was Degan Horvath, a local boy who woke up during a house fire last year and alerted his family so they could get out safely.
This article was originally published in the Idaho State Journal. It is used here with permission.
RELATED CONTENT: