REVIEW: Korn, Stone Sour and Islander give east Idaho fans a hard-rocking treat
Published at
|

Updated at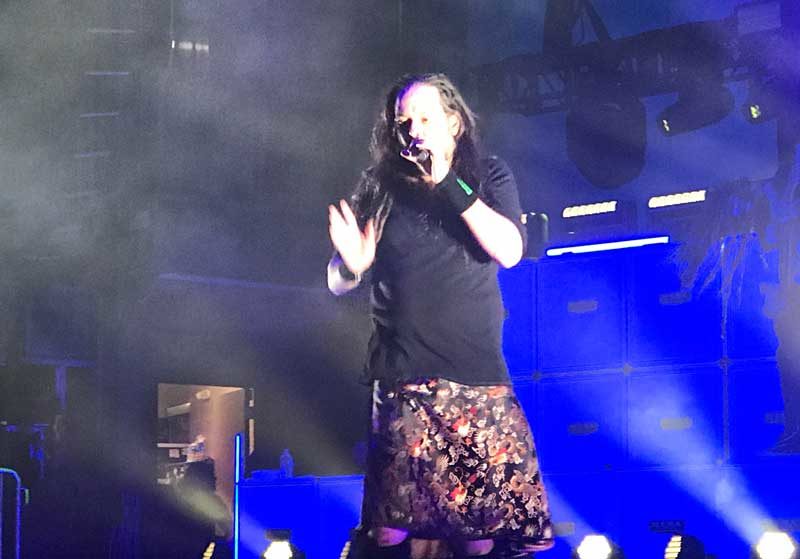 The first thing that hits you when modern rock legends Korn take the stage is the percussive blast that comes off Ray Luzier's drums. It shakes you in parts of your body that shouldn't shake. The rumble was so volcanic, it wouldn't be surprising if it set of area seismographs.
And that's something you just don't get listening to recordings of your favorite bands — even with your headphones cranked.
Korn rolled into the Portneuf Health Trust Amphitheatre Monday night, bringing Stone Sour and Islander with them. It was the biggest rock music event that I can remember hitting east Idaho since Van Halen came through back in the day. And that was so long ago that David Lee Roth still had hair at the time. Getting a show like this is a rare treat for east Idaho rock fans. And we relished every last second of it.
A great start with Islander
Islander kicked things off. Melding alternative metal, hip hop and synthesizer soundscapes, these guys craft a heavy, but highly melodic noise. And they were a good time.
Frontman Mikey Carvajal pounced around the stage like a tiger jumping its prey. He ventured into the mosh pit and surfed the crowd, looking as happy as a puppy that's getting its tummy rubbed. He even managed to break up a fight in the pit, threatening to quit playing until the combatants reach a peaceful solution.
Islander gave the crowd a kick in the hindquarters, warming us up for what was to come, and making a new fan out of me.
An awkward, but enjoyable warmup
Stone Sour was a giant hard rocking party. But the mirth started on an awkward foot, as frontman Corey Taylor repeatedly addressed the Pocatello crowd as "Oregon". It was funny, but in the "What's up with that guy?" fashion.
Taylor carried on calling us "Oregon" until someone alerted him to his folly. To his credit, he immediately apologized and even gave us a few moments to boo him before getting back to business.
Business was really good. The band played hit tracks like "Say You'll Haunt Me" and "Tired", as well as crowd pleasers like "30-30-150". They gave us a taste of their forthcoming record, playing tracks like "Fabuless". The crowd got to have a huge sing-along when the band played "Through Glass". I should say here that I didn't do much singing. By midway through Stone Sour's set, I'd screamed away my voice.
The crazy awesome main event
Korn came out with a countdown and an eruption of sound and rhythm that shook the Bannock County hills. Korn handled business different than Stone Sour. Where Corey Taylor ran around the stage, shooting off confetti and tossing water bottles into the crowd, Korn just came and rocked out. Singer Jonathan Davis kept his banter with the fans to a minimum, but you never doubted that he owned that stage.
And the audience was definitely with Davis and the rest of Korn. They sang along, and really kicked it up a notch for the chorus of "Y'all Want a Single" (which can't be printed here), screaming so loudly, Davis stopped to give us a pat on the back.
It was during Korn's set that I realized that all those hokey statements you hear about a band and its fans becoming one during a show are actually true. The deeper they got into their music, the more indistinguishable the energy cast off by the band became from the energy given off by the fans. There was a palpable symbiosis between band and fans as they fed off one another. The electricity as Davis bellowed "ARE YOU READY" leading into "Blind" was the most powerful thing I've felt since seeing Lamb of God's Randy Blythe counting down to where their set closer, "Black Label", really kicks in.
It also helped that they broke into a verse of "We Will Rock You" in the middle of "Coming Undone." The idea the the guys in Korn love Queen as much as (and probably more than) I do made me really happy. Watching guitarists Munky and Head bob up and down, thrashing their dreadlocks around in front of a giant backline of Mesa/Boogie amplifier cabinets, was almost magical.
The Verdict
I had so much fun at this show. Yeah, I'm sore today and I broke my favorite pair of glasses. But I'm happy. Everybody I talked to at the show had a blast. Sitting under the open sky, listening to a bunch of modern rock masters making their magical noise with thousands of folks that love rock music as much as I do … it doesn't get much more awesome and life-affirming than that.