'MIRACLE' — Local High School grad survives potentially deadly infection
Published at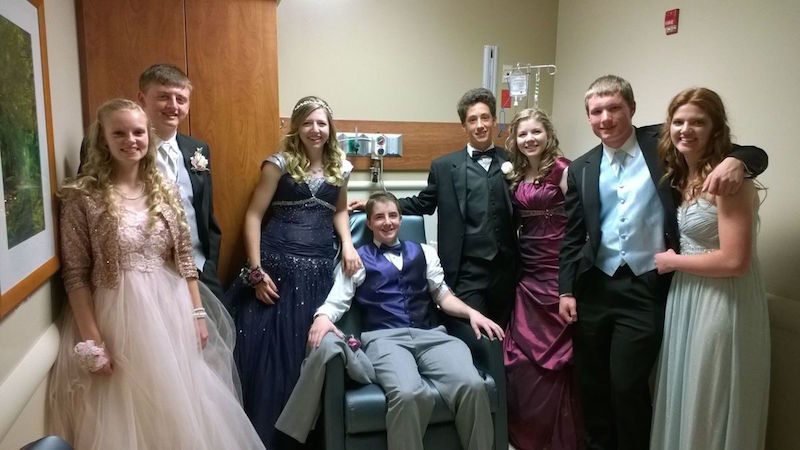 POCATELLO — When the Drew and Tearsa Burke family moved to Pocatello about three years ago, their son Peyton found the adjustment to the area particularly difficult.
He joined sports teams at Century High School and tried to make friends, but he still often ended up eating lunch alone.
But Peyton's difficulties were just beginning.
By February 2015, Peyton found himself at Portneuf Medical Center fighting for his life. A reoccurring back pain turned out to be a spinal epidural abscess, a rare condition that could have potentially led to paralysis or death.
The abscess might have been caused by a freak hit to Peyton's back during a basketball game.
The hospital pediatric doctor who arrived to diagnose Peyton, told Tearsa, "By the time I see patients in your son's condition, they are usually paralyzed." At the point, Peyton's options were risky and few.
In August 2014, Drew and Tearsa moved to Pocatello from McMinnville, Oregon, with their four sons — Peyton, Ethan, Dallin, and Kollen — when Drew accepted the position of director of human resources for Portneuf Medical Center. Peyton, who moved in between his sophomore and junior years, found the move to Century High School to be much harder than expected.
Peyton Burke at his 17th birthday. | Photo courtesy Tearsa Burke
His mom said that there were times that he would walk around like a "raging hornet," saying how much he wanted to go back to Oregon as he dealt with the loneliness he was experiencing.
"The kids were really nice and tried really hard, but…. he had no idea what they were talking about," his mom Tearsa said. "He didn't understand their inside jokes and had no history with them. Life gets pretty quiet when you are alone."
Peyton's greatest dream was to play on a high school varsity basketball team. If he had stayed in Oregon, he would have played on the varsity team his junior year.
After moving to Pocatello, he tried out and made the Century High School junior varsity team as their starting point guard. In the middle of the season, the back pain he was dealing with led to his hospitalization and a fight for his life.
Peyton's parents withdrew him from school. Teachers and counselors at Century helped give Tearsa all the materials and help they could provide.
Tearsa gave Peyton round-the-clock care while teaching his English and AP Calculus lessons to keep him on track for graduation.
Drew tried to keep the family afloat by paying rent and a mortgage on their home that had not sold in Oregon. He was adjusting to his new job and taking care of the needs of the other three boys. Meanwhile, Peyton laid in bed, went to the hospital for daily antibiotic treatments and waited to see what his future held.
It was during this difficult time that students from Century stepped up and proved greater friends than Peyton had ever imagined.
Peyton said it was his parents, God and this group of friends that got him through his illness: Ellie Sutton, Jackson Horrocks, Christian Jepsen, Jason Wall, Cory Holmstead, Rex Ravsten, Seth Williams, Sarah Ihler, Kambree Ordyna, Carter Jorgensen, Eliza Kener, Madison Covey and Brynlee Payne.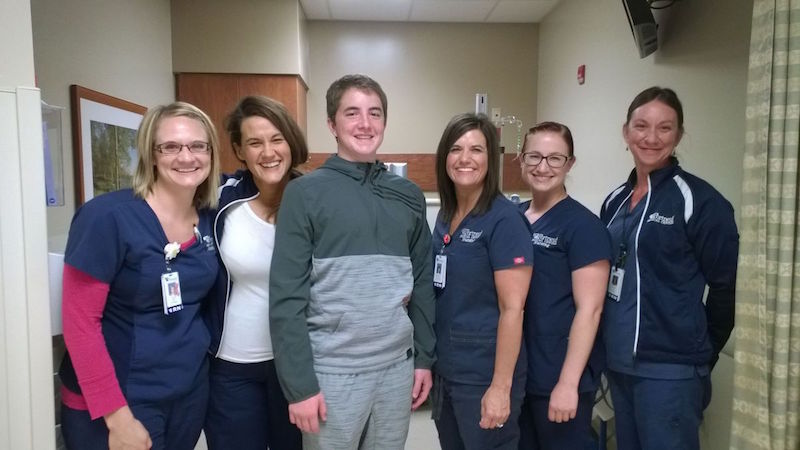 Peyton Burke with the nurses at Portneuf Medical Center during his final week of treatment. | Photo courtesy Tearsa Burke
The Century students visited him nearly every day, "heart-attacked" his room, sent supportive texts and played games with him. They even helped plan a birthday party for him, which was where Peyton finally took his first steps. Plus, because these friends knew how much basketball meant to Peyton, they vowed to play wheelchair basketball with him if it came to that.
Peyton's friends even figured out a way that he could go to Junior Prom with them. They spent a good portion of that night up at the hospital with Peyton during his treatment, while the Portneuf nurses helped make it a party for the teens.
Twelve weeks after his diagnosis, Peyton's results affirmed that his infection was gone and he was eventually allowed to return to Century. He was also cleared to play sports.
"When they told me that I wasn't going to be paralyzed as long as I didn't make any bad decisions and that I would be able to walk again, I was so relieved," Peyton said. "I realized how much of a blessing and a gift it really is to be able to walk and how much I had taken that ability for granted previously. I still pray and give thanks for the ability that I have to be able to walk and to exercise almost everyday."
Peyton again started practicing with the basketball team, but he had a strong feeling that he shouldn't play or else he might get hurt again. He didn't try out and thus, gave up his greatest high school dream.
He went to state in tennis and completed all the coursework necessary in order to walk across the stage to receive his diploma in May 2016.
"It's rarely some great thing or monumental act that someone does but it's the little-by-little, day-by-day ways of showing care, concern and compassion," Drew said. "…We have experienced so much support here in Pocatello from health care professionals, teachers, neighbors and many others in the community. By this measure, we've been helped and supported by some of the best hearts around. We are so grateful and appreciative to those who've helped us along the way here in Pocatello."
In July 2016, Peyton left to serve an LDS mission in North Carolina, where two months later he experienced Hurricane Matthew along with residents on the East Coast.
His parents didn't know what had become of him until people started sending pictures to Tearsa of Peyton moving trees, cleaning out shops, and bagging and placing sandbags. Having just the previous year wondered if Peyton would ever walk again, Tearsa said, "We just marveled at the miracle we were witnessing."
Via email, Peyton reflected, "Now looking back at the experience, I've realized that God gave me this trial to humble me and to make me have more compassion for other people. This experience also made me be a lot more grateful for all the things that I take for granted and that I had never really thought of. There's people that have so much less then I have, but are so much more grateful for what they do have."
The story of Peyton's illness and subsequent recovery ended up as a top photo story in the June 2017 edition of the LDS Church's international "New Era" magazine.
Geared toward addressing issues with youths ages 12-18, the "New Era" has a circulation of over 150,000 per month in print, let alone all those who access it online. It is distributed all over the world to English-speaking countries such as the United States, Canada, England, Australia and New Zealand.
"We are just average people, living average lives, doing what we needed to do to get through," Tearsa said. "I feel like there are so many people who go through more."
Peyton's article in the June 2017 "New Era" issue is available for everyone to view at www.lds.org/magazine under the title "There's a Reason I'm Still Alive."
This story originally appeared in the Idaho State Journal. It is posted here with permission.