Utah mom first woman to give birth after using 'fertility Fitbit'
Published at
ST. GEORGE, Utah — Lizzie McGee tried for four years to get pregnant with her firstborn. One miscarriage and countless infertility treatments later, her son entered the world.
When she began trying for her second, she knew she was in for another long road.
That changed, however, when she found a new ovulation tracking device called the Ava bracelet, affectionately nicknamed the "fertility Fitbit." The wearable device tracks sleep and stress levels, heart rate and other physiological factors that can record a woman's cycle and pinpoint her fertility window.
Three months after receiving her bracelet, McGee was pregnant. Nine months later, she became the first woman to give birth after using the Ava bracelet.
"On that third month, I could really tell that it was getting to know my body," McGee said. "I just thought to myself, 'Oh my gosh, this is working.' This is completely telling me when I am ovulating … I sat there, and I remember telling my mom and my sister, 'I'm going to get pregnant this month.' A little over a week later, I took a test and I was pregnant."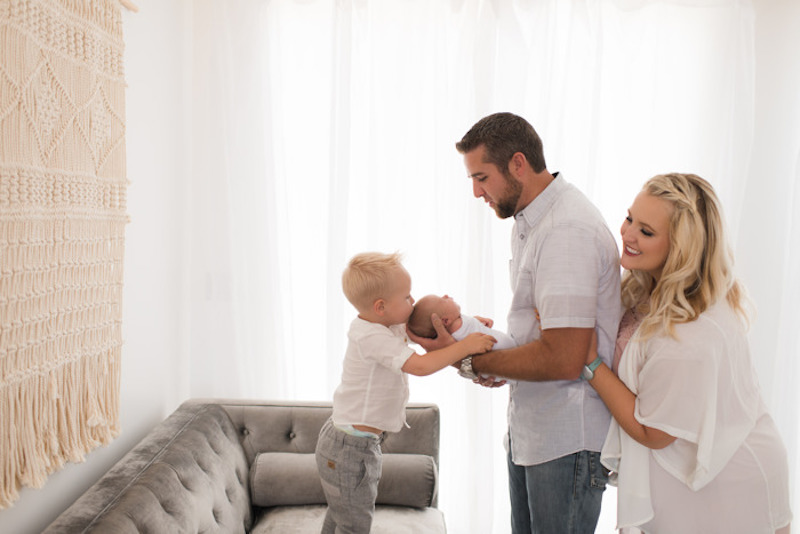 Lizzie McGee wears the Ava bracelet while taking newborn pictures with her family. | Photo courtesy @bcouturephoto
In the past, women have tracked their fertility windows — which last about six days — by taking repeated urine tests or measuring body temperature. Current tests, however, can only identify the last day or two of a fertility cycle, and temperature measurements only let a woman know she's ovulated after the fact, according to Ava co-founder Lea von Bidder.
"A couple years ago, we started Ava to find the technology that would make all of that much easier," von Bidder said. "We started doing clinical tests … we know there are so many things changing in a woman's body during a menstrual cycle. … So we thought, if there are all those changes, then we probably also see changes in the physiology."
Women can wear the Ava bracelet at night, then sync the data with the accompanying app in the morning. The bracelet tracks a woman's pulse and breathing rates, sleep quality, movement, heart rate variability, skin temperature, heat loss, perfusion and bioimpedance, then uses the physiological data to detect a woman's fertility window in advance.
"The reason Ava can detect it much earlier is because there's another hormone (besides estrogen) that we can actually understand in your physiology, and therefore we can detect in real time. … It's way overdue considering we've been able to track (things like) pulse rate for a while, and now we're just seeing the correlation," von Bidder said.
For McGee, the bracelet was exactly what she was looking for. After spending years and hundreds of dollars on infertility treatments, she was diagnosed with "unexplained infertility." The Ava bracelet helped her discover that she ovulates extremely irregularly, McGee said.
"When you're in that infertility world, it is so hard, it's heartbreaking," McGee said. "You see people getting pregnant all the time … and you're invited to all these things, and you're like, 'I don't want to go anymore! I don't want to go to your baby shower!' Especially when it's unexplained because there's just nowhere else to go. You can try all these different things and it just doesn't happen."
After McGee became pregnant, Ava updated the bracelet. The new update offered expecting mothers data to use during pregnancy and gave helpful tips for each stage and trimester, including information on what their baby would be doing that month and which questions to ask the doctor. McGee is excited to see what other updates come and hopes the bracelet can eventually work for women with all different infertility struggles.
The bracelet is not clinically tested for women with polycystic ovary syndrome or women whose menstrual cycles are longer or shorter than 24 to 35 days.
"It would be great if it got to the point where it could figure out every woman. … There's a lot of different reasons for infertility, and I know that this isn't going to solve everybody's problem. It's not going to help every single woman, and that's OK," McGee said. "But for the average woman that's struggling to get pregnant and doesn't know when they ovulate … it's the perfect thing."
Ava is registered by the FDA in the U.S. as a Class One Medical Device. Ava was proven effective in a yearlong clinical study at the University Hospital of Zurich lead by expert Dr. Brigitte Leeners, a physician who specializes in the mathematical modeling of menstrual cycles.
The Ava bracelet costs $249 and can be ordered here.