His entire squad was killed in WWII but this 94-year-old I.F. man survived and is sharing a powerful message of love
Published at
|

Updated at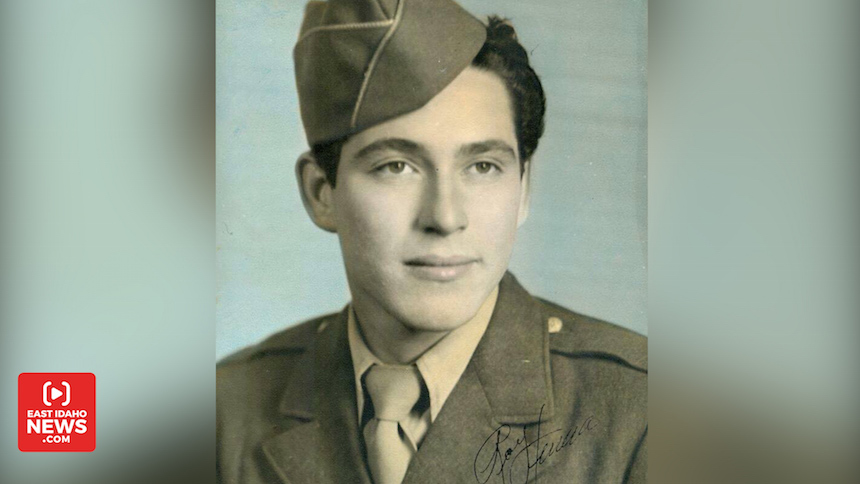 EDITOR'S NOTE: This story is part of East Idaho Survivors – a regular series where EastIdahoNews.com features people who have survived incredible obstacles. If you know someone who should be highlighted, please email neaton@eastidahonews.com.
IDAHO FALLS — Inside a 12th Street home on an autumn afternoon, you'll find a grandfather playing the guitar and singing with one of his great-great-grandchildren.
Meet Roy Herrera – a man who says he feels 65 but actually turned 94 on Oct. 18.
Roy Herrera plays the guitar with his great-great-great grandson in his living room. | Nate Eaton, EastIdahoNews.com
Herrera was born in Idaho Falls in 1923. At age 19, he began serving in the Army during World War II and was sent to Okinawa, Japan.
"That was where I got wounded. They blew my leg off with a mortar shell. It was bad. It took all my squad. My sergeant died in my arms. He had his chest blown out and he was bleeding from the mouth and he died in my arms. They came and got him and then they came and got me," Herrera recalls during an interview with EastIdahoNews.com.
Badly wounded, Herrera was rushed to a field hospital where medics amputated his left leg at the knee. Miraculously, he survived.
Roy Herrera's left leg was wounded during World War II and had to be amputated. | Nate Eaton, EastIdahoNews.com.
"I guess I was too dumb to get scared. When you're 19 years old, you don't," Herrera says with a smile.
The young man returned home to Idaho Falls and about a year later, his life changed again.
"I walked into this club and saw the most beautiful woman I had ever seen in my life and I asked her to dance," Herrera remembers. "She said yes and from then on, it was just pure romance."
Herrera married Marvene and he began attending beauty school to learn how to be a hairdresser. He quickly realized it wasn't his passion.
Roy and Marvene Herrera were married when he returned home from World War II. | Courtesy Roy Herrera
"I wanted music. That was my love. The music," he says.
Off to California he went where the guitar player and a music partner teamed up to travel the country. They performed in several states as the Herrera family began growing.
Once Roy and Marvene had three children, he decided to return home to Idaho Falls and settle down. That's when he began working with local Hispanics.
"I ran a program for the Mexican people and documented them," Herrera says. "I did about 1,500 documents for the Mexican people here."
He also served as an interpretor at the courthouse and performed at the local Mi Casa restaurant for 15 years.
Herrera says despite all of his accomplishments, he's most proud his three kids, six grandchildren, 14 great-grandchildren and three great-great-grandchildren.
The entire family has dinner every week at a local restaurant and Herrera shares lessons he's learned.
"Love each other. That's what it's all about is love in the world. It's what it should be but not what it is right now. It makes me sad. I'm 94. I don't have much time left but the time that I do have left I want to change and spread love," Herrera says.
Roy Herrera and some of his grandchildren. | Courtesy Roy Herrera
A true east Idaho survivor who has lived through war, hardship, change and nearly a century of life – still determined to spread love.
And when asked if he has any regrets, Herrera can only think of one.
"My wife and I were separated for a while and I wish I hadn't done that. I wish that hadn't happened," he says.
Herrera plans to live another six years and his 100th birthday party will be one to remember.
PREVIOUS EAST IDAHO SURVIVOR STORIES
He was supposed to be dead by age 14. He's now 32 and his friends have changed his life forever
Miracle baby Kaio, born at 24 weeks, proves that 'he's a little fighter'