BIZ BUZZ: Eight things you need to know today
Published at
|

Updated at
Do you want to know what's happening on the east Idaho business scene? We've got you covered.
Here is a rundown of this week's business news from across the valley.
If you have a Biz Buzz item you want to share, send it to rett.nelson@eastidahonews.com. Remember to use "Biz Buzz" in the subject line. Also, don't forget to sign up for the free Biz Buzz email newsletter.
NEWS
EAST IDAHO
American Red Cross urging people to help those in need Tuesday
BOISE – The American Red Cross is urging you to give this Tuesday.
The American Red Cross of Greater Idaho encourages everyone to give a meaningful gift by making a financial donation to help a family who has lost everything in a home fire, by donating blood or platelets or by volunteering.
Today, November 28, is Giving Tuesday.
Giving Tuesday is especially critical, according to the Red Cross. It comes after a year of record-breaking disasters across the country. The American Red Cross was there to provide shelter, food and support to help people devastated by three historic hurricanes — Harvey, Irma, and Maria — and to those in the path of Montana and California wildfires.
From July 2016 to July 2017, the Red Cross of Greater Idaho helped more than 280 Idaho families recover from disaster, provided assistance to 365 military families and taught 13,497 individuals lifesaving skills in health and safety classes.
"Give with meaning this holiday season and join with people around the globe to make an impact on Giving Tuesday," Red Cross of Montana and Greater Idaho chief development officer Christopher Davis said in a press release.
"Every gift counts, no matter the size. Please consider making a financial donation, giving blood or platelets, or signing up to become a Red Cross volunteer today," Davis said.
You can donate blood at 1165 E 17th St. in Idaho Falls and 4155 Yellowstone Ave. in Chubbuck.
Here's how a generous monetary gift to the Red Cross this holiday season can be put to good use:
$10 – Provides one hot meal and snacks to someone staying at a Red Cross emergency shelter.
$20 – Provides a blanket, meal, snack and comfort kit to someone affected by a disaster.
$50 – Covers the cost to provide a parent with diapers, wipes and formula for an infant.
$100 – Covers the cost of Red Cross clean-up kits for five families.
$300 – Covers the daily cost to deploy an emergency response vehicle. These specialized Red Cross vehicles drive through communities to deliver meals, snacks, relief supplies, information and comfort to those affected by disaster.
$1,000 – Provides food and shelter for a family of four for five days.
POCATELLO
ISU pharmacist named Supervisor of the Semester
The following is a press release from Idaho State University.
POCATELLO – Idaho State University Bengal Pharmacy's Bret Jacobson has been named the ISU Career Path Internship program's Fall 2017 CPI Supervisor of the Semester.
Jacobson is the pharmacist in charge at the Bengal Pharmacy and is an assistant lecturer for the ISU College of Pharmacy. Along with his pharmacy duties, Jacobson acts as a supervisor and mentor to multiple CPI interns.
"Having the chance to mentor pharmacists in training helps me keep a fresh perspective on the field," said Jacobson in a press release. "There is a wonderful culture of sharing and learning between my interns and me."
Jacobson helps prepare his interns for a life in pharmacy through continual learning opportunities including participation in local community outreach.
Last month, a team from the Bengal Pharmacy hosted a health day at the Simplot Don Plant where it provided flu shots and information on how to stay healthy in the upcoming winter.
---
---
---
---
BLACKFOOT
Eastern Idaho State Fair is offering Holiday Happy Pass to Fair-goers
BLACKFOOT – For the first time ever, the Fair is offering a holiday deal for Fair Fanatics.
The Holiday Happy Pass includes admission to the 2018 Eastern Idaho State Fair, Friday, August 31 through Saturday, September 8 and Pari-Mutuel Racing Admission September 2, 3, 7 and 8. The pass is a $70 dollar value regularly sold for $40, but through Wednesday, November 29, it will only be $25.
This offer will expire on Wednesday. To purchase, click here.
Once the order is completed, the Holiday Happy Pass will be mailed directly to you.
IDAHO FALLS
Idaho Falls Symphony hires new executive director
IDAHO FALLS — Alekzandria Peugh is getting a cross-country trip for Christmas.
Peugh, a native of Springfield, Ohio, is the new executive director for the Idaho Falls symphony.
"Having spent almost all of my life in Ohio, I am eager for the change in scenery and look forward to finding a new home in Idaho Falls," Peugh said in a statement. "My approach to the symphony orchestra is that it is an inclusive experience—everyone can love art or music, they just need the right opportunity to realize it. I am thrilled to join a team that is poised to make these opportunities possible.
Peugh currently works as the Director of Operations & Education with the Springfield Symphony Orchestra in Ohio. She graduated cum laude from Cleveland State University with a degree in Music Education. She also has experience as a band director, elementary classroom teacher, and as the primary administrator for the Springfield Symphony Youth Orchestras.
"We are very lucky to have Alekzandria joining the Symphony family," Music director of the Idaho Falls Symphony Dr. Thomas Heuser said in a press release. "She adds an abundance of energy to the organization, with fresh ideas and extensive skills to manage the business of the orchestra. I believe together we are going to make a great team and I can't wait for her to get started."
Ms. Peugh was the unanimous choice for the position. Roughly 30 candidates were considered from the initial pool of applicants. She will begin her new position in January.
RIGBY
Rigby encouraging businesses to work late for midnight madness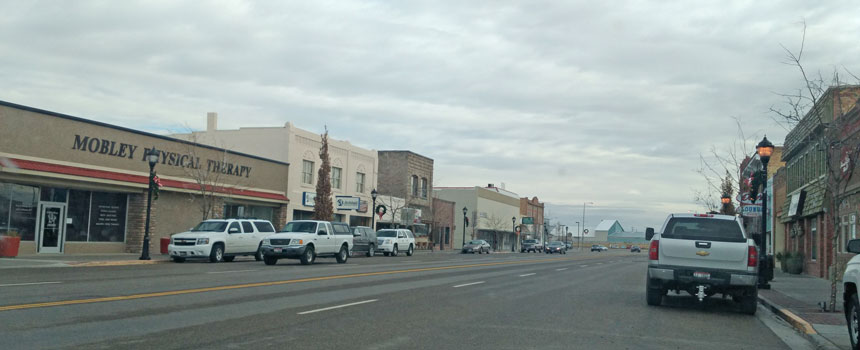 Main street in Rigby | Rett Nelson, EastIdahoNews.com
RIGBY — The Rigby Chamber of Commerce is asking business owners to keep their doors open until midnight Dec. 1.
"We try to get people to come to Rigby and shop. That was our goal when we first started this (years ago)," chamber President Teresa Anderson tells EastIdahoNews.com.
The annual Midnight Madness sale and Light Parade is Rigby's big Christmas kickoff sale. Anderson says some businesses are having contests.
Rett Nelson | EastIdahoNews.com
Idaho Drug will be hosting an ice carving contest. Idaho Drug Co-Owner Ty Swensen says he will provide ice blocks for the first five people to call him when he posts on Facebook this weekend.
"They can bring whatever equipment they want to use to carve. We'll give (the contestants) a half-hour to do it," Swensen said.
Swensen says he will also have some tools on hand like hammers and chisels. The ice-carving contest will happen at 7:30 p.m. Prizes will be awarded to participants.
"It should be a fun time," says Swensen.
Other businesses will be holding contests as well. The Jefferson Star is hosting a gingerbread house contest. A Christmas ornament contest will be happening at Main Street Stickers.
Two of Rigby's biggest participants in Midnight Madness, Abbott's and King's, were shut down this year so construction could begin on a new Maverik gas station. Anderson says they will be missed at the event, but says they will be bringing in new vendors this year.
The parade kicks off the event at 6:30 p.m. It will begin in front of the old Junior high area on North 1st West and end on Clark Street. Santa Claus will be making an appearance at the parade, and will be available at Bennion Park afterward to meet the kids.
Businesses who would like to participate need to fill out an entry form, which must be submitted by Wednesday Nov. 29.
Contact Teresa Anderson at First American Title Company to obtain an entry form. Their number is (208) 745-8715 or email tanderson@gofirstfam.com
REXBURG
file photo | EastIdahoNews.com
Brigham Young University-Idaho ranked among nation's affordable schools
BYU-Idaho is ranked #35 on a list of the most affordable universities in America. The ranking considered mid to large size institutions and lowest net price.
The ranking comes from Bestvalueschools.com, a site devoted to helping students find the best school to fit their needs.
According to the report, the school's "distance learning initiative includes over 300 web-based courses and 17 of the best affordable degree programs online.
We spoke with Brett Crandall, the media services manager for BYU-Idaho. He says the focus of BYU-Idaho is to deliver a high value education to as many people as possible.
"We really strive to keep the costs low for students. That guides many of the decisions we make on campus," Crandall tells us.
BYU-Idaho is sponsored by the Church of Jesus Christ of Latter-day Saints. One reason why the school is affordable to students is because tuition is heavily subsidized by the church.
Bestvalueschools.com reports the average net price of tuition per year is $8,624. Both online and campus students together total nearly 66,000.
The fall 2017 semester is the largest campus enrollment to date, with more than 19,000 students enrolled.
ST. ANTHONY
New police chief appointed in St. Anthony
Allen Neff | St. Anthony Police Department
ST. ANTHONY – A new police chief has been appointed in St. Anthony and he is focused on getting to know the community.
The city appointed Allen Neff as the city's top cop last month after Terry Harris stepped down.
Neff became the acting chief of police when Harris retired in September. He was officially installed as the new chief in October. Neff worked previously as a patrol sergeant and comes from a military background that includes two deployments.
"In the marines, everyone's a rifleman. It doesn't matter what your pay grade is," Neff tells EastIdahoNews.com. "Even though I'm appointed to Chief of Police, I'm still a patrolman. That's the way I look at it."
Neff says he is still learning his new role and wants to keep moving forward in the direction it was going under Harris's leadership.
"We are here for the community. We're here to protect and serve and take care of what needs to be addressed. That's why I want to get out in the community and understand what people's needs are," Neff told us.
Meanwhile, Harris says he is staying busy in his retirement. He remains actively involved with the Internet Crimes Against Children task force.
Erik Estrada, known for his role in "CHiPs," helped introduce this program in St. Anthony last summer.
Even though Harris is enjoying retirement, he says he misses his old job.
"It's a bit of a struggle walking away from it," Harris says.
Harris was the police chief for 4 years. He worked in law enforcement for 20 years.
SMALL BUSINESS SPOTLIGHT
Aaron Barrett is an artist, but not just any artist. He creates wildlife art out of bone, antlers, stone and wood. Learn all about Barrett's Carvings in Lewisville by watching the video below.
If you want your business to be featured in the Small Business spotlight, send an email to rett.nelson@eastidahonews.com.
IN CASE YOU MISSED IT…
Black Friday was huge for gun sales
Idaho Falls purchases 4-H fairgrounds property to expand zoo
Online holiday shopping scams to watch out for