How you can stay ahead of the snowplows
Published at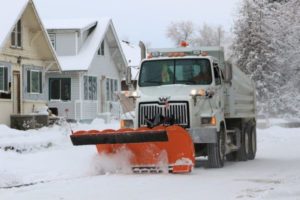 IDAHO FALLS — With the winter season on the way, cities are asking residents to keep the roads clear.
Starting today, the city of Ammon and Idaho Falls will begin plowing the streets if there is more than two inches of snow on the roads. Residential roads are to be kept clear during the routine sweeps or drivers will be ticketed.
In Pocatello, City Code 8.14.060 states, "The responsible party of any premises within the municipality abutting or adjoining any public sidewalk shall be required to remove all snow and ice from any such sidewalk."
The code also says "The responsible party, following notification from city staff, has a period of 24 hours from the time of notice within which to correct or otherwise remove all snow and ice."
Officials also add that it is illegal to move, blow, shovel or throw snow into the street.
"When the plow comes by, it can push the snow back towards the property, creating a berm that can be difficult to clear for residents, but it is an unavoidable side effect of plowing," said Tom Kirkman, Street Operations Superintendent. "Residents also need to be aware the snow that is deposited in the roadway can be a hazard for drivers. If the snow freezes solid, it can be similar to hitting a wall and it can damage the vehicle as well as injure the driver."
According to the Rexburg city website, snow removal begins when "snow fall accumulation has reached 2 inches in the middle of the street and is rising." Residents are advised to keep roads clear during snowfall to allow quick access for the snowplows.
St. Anthony City Code 8.21.404 reads, "it is unlawful for any person to remove snow from private or public property and place it adjacent to or upon the public street in such a manner as to interfere with snow removal by the city or with vehicle traffic."
With all ordinances, codes and regulations beginning to take effect, cities will be doing their part to keep the streets clean and safe with the help of local residents.