New tech repair company: 'If it has a power button, we can fix it'
Published at
|

Updated at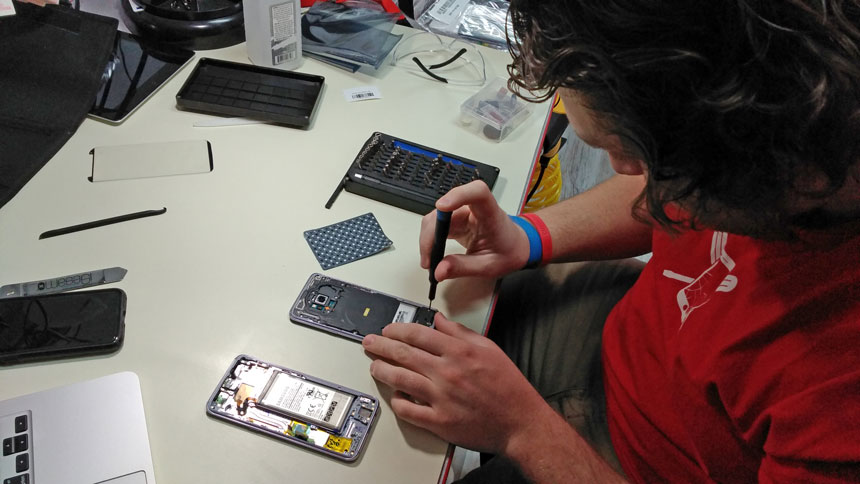 Do you want to know what's happening on the east Idaho business scene? We've got you covered.
Here is a rundown of this week's business news across the valley.
BIZ BUZZ
NEWS
IDAHO FALLS/AMMON
New tech repair company says customer service is their number one goal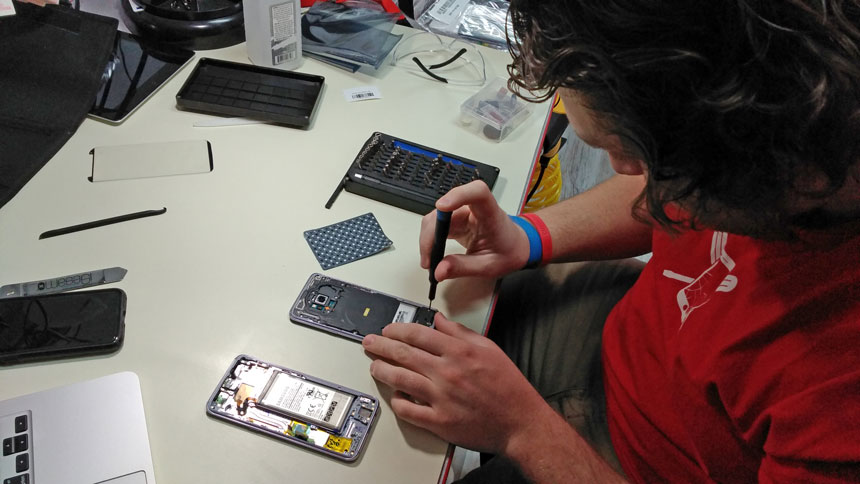 uBreakiFix employee repairing smartphone | Rett Nelson, EastIdahoNews.com
AMMON – If it has a power button, they can fix it.
That's what Kelly Cannon, co-owner of uBreakiFix in Ammon told EastIdahoNews.com about the tech repair company that opened Feb. 5 inside Ammon Town Center.
In the last two weeks, Cannon says customers have brought in a tape-to-tape reel recorder, a 1950s radio set, a slot machine, and of course the modern devices like laptops, cell phones and computers.
Reel-to-reel recorder | Rett Nelson, EastIdahoNews.com
Whether it's old or new, Cannon says there is a way to fix it.
"Electronics are all designed the same way. It has memory. It has power. It has a circuit board. Technology has come a long way, but essentially, those are the same things on every electronic device," says Cannon.
uBreakiFix is a national franchise. The Ammon location is the third location in Idaho.
The technology repair company was the brainchild of two college students, David Reiff and Justin Wetherill, in 2009. They started out repairing the iPhone 3G on Craigslist. It took off and they opened a storefront. One storefront eventually became 47 storefronts.
Cannon met Andrew Gardner at a uBreakiFix discovery day in Tallahassee, Florida this past summer. Both were impressed by the potential of opening a location in eastern Idaho.
"I am over twice Kelly's age, but we share a sentimentality for southern Idaho," Gardner said in a news release about the store's opening. "I served as CFO for the cellular telephone company that built the first cell site serving a rural community in the continental U.S. I'm looking forward to this new business venture and know that uBreakiFix and Kelly are the perfect partners to bring tech repair to Idaho Falls."
Cannon says their number one priority is to ensure customers have a good experience.
"Anyone can fix a phone. It's not hard. You can watch a YouTube video," Cannon says. "But you can't teach someone how to be nice. Andrew and I are excited to become the go-to tech repair source for the Snake River Valley community."
Cannon says a Pocatello location is in the works for this Fall. They hope to open a location on Yellowstone Highway near Walmart in Chubbuck.
uBreakiFix is open Mon. through Sat. 11 a.m. to 7 p.m. and 12 p.m. to 5 p.m. on Sundays. They are in between Complete Nutrition and Sleep Number.
RIGBY
Local man's toy invention getting increased exposure after getting award nomination
RIGBY – Jeff Larson, of Rigby, just got back from attending an awards gala in New York City for his watermelon ball invention.
RELATED: Rigby man's toy invention being considered for national award
His invention was one of 17 nominated for a Toy of the Year award from the Toy Association.
Larson tells EastIdahoNews.com his toy did not win, but says it was an honor just to be nominated.
"This will help us land large contracts with big box stores," Larson says.
He admits he is a little disappointed he did not win, but says he feels grateful and blessed to be a part of this.
Larson says an expansion of the watermelon ball product line is in the works for next year.
If you are looking for a toy to play with in the swimming pool, Larson encourages you to give Watermelon Ball a shot.
The winner of the Toy of the Year Award went to Bunch o Balloons, a toy that allows you to fill a hundred balloons with water in sixty seconds.
COMPANY CONS
You receive a call from someone inquiring about your personal information-name, phone number, social security number, etc.
Without thinking about it, you provide the information requested.
The person who called you then contacts your cell provider, impersonates you and informs them your phone was stolen. They "port" your number out to another provider and phone.
Now, they have access to your phone and your accounts.
Jeremy Johnson spoke with us about a cell-phone porting scam and how you can prevent it from happening to you.
LISTEN TO THE INTERVIEW BELOW
GET MORE INFORMATION IN THIS ARTICLE.
SMALL BUSINESS SPOTLIGHT
IDAHO FALLS
Customers escape bank heist at Gnarly Escapes
IDAHO FALLS – You're inside a bank. Your objective is to break in to the safety deposit box and grab as much money as you can. There is also a certain item locked inside one of the boxes. Once you learn what the item is, your job is to find it and escape with the item and the cash in-hand. If you fail to bring both of these things with you, you will die.
That is a scene you may recognize from many bank heist thrillers. In this case, it is also a room inside Gnarly Escapes in Idaho Falls.
LISTEN TO THE AUDIO BELOW
IN CASE YOU MISSED IT…
Mayors cite growth, innovation as keys to prosperity during annual addresses
Albertsons agrees to buy Rite Aid
Controversial statewide school wi-fi contract could come to an end
Idaho thinks it has a better idea than Obamacare
If you have a Biz Buzz item you want to share, send it to rett.nelson@eastidahonews.com. Remember to use "Biz Buzz" in the subject line. Also, don't forget to sign up for the free Biz Buzz email newsletter.