Video shows Utah trooper vehicle hit a second time during snowy conditions
Published at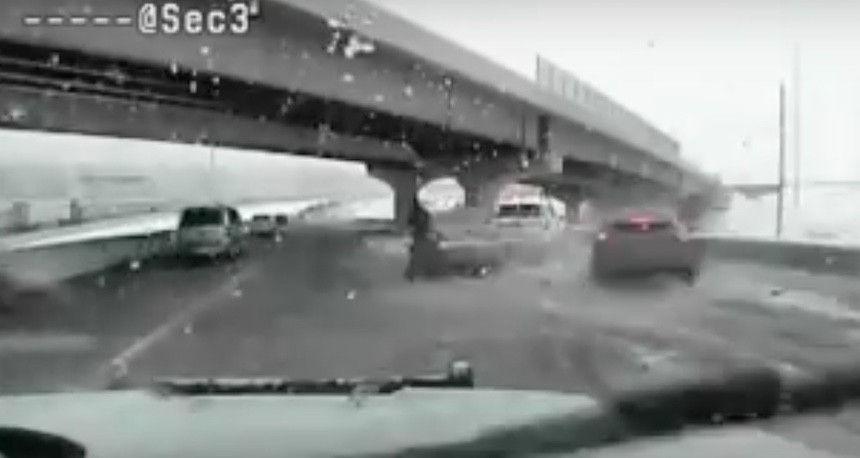 FARMINGTON — Utah Highway Patrol released dramatic dashcam video Tuesday to remind drivers to slow down during snowy road conditions.
Four Utah Highway Patrol trooper vehicles were hit as part of the hundreds of accidents that occurred Monday and Tuesday due to snowy conditions. Utah Highway Patrol Sgt. Nathan Powell narrowly escaped being hit as well Monday afternoon.
The accident occurred around 1 p.m. on southbound state Route 89 where the road merges onto I-15 in the Farmington area, Powell told KSL.com. A vehicle was driving too fast for the conditions on S.R. 89 and crashed into the barrier, he said.
A Utah Highway Patrol trooper responded to the scene and had the female driver get into his vehicle to keep her safe while he called for additional troopers to set up more traffic closures.
While the trooper was calling for backup, a vehicle came around the corner traveling too fast for conditions and slid into his vehicle, Powell said.
"This was a bad spot to have a crash in," he said.
Powell was the second trooper on scene and began setting up an additional closure with cones when another vehicle came up the hill traveling very quickly. Powell said he made eye contact with the driver and watched him react and turn the wheel, but the vehicle continued to go straight and slid through the cones toward the crash scene.
"I was able to run out towards the travel lane — I had to get away from that car and I avoided getting hit," Powell said. "That was one of the first times I've had to run. Luckily I had enough time that I was able to just run out of the way, but it was coming quick."
The dashcam video from Powell's vehicle showed him avoid getting hit, but the vehicle slammed into the trooper vehicle, with the trooper and female driver still inside.
"Both vehicles in the video hit (the trooper's) patrol car within minutes in the exact same location," a Utah Highway Patrol emailed statement said.
No one was injured in the accident, but Powell said it's a good reminder to drivers to slow down during poor road conditions.
"With these conditions, we really need to watch that speed," he said. "Even though the roads may look clear, when it's this cold and snowy, you need to slow down to keep control of your car. You may feel in control, but it only takes that one little spot to lose control."
Powell said additional deputies arrived on scene to investigate the accident but didn't say if the driver was cited.
The snowstorms snarled traffic across Utah Monday and Tuesday, leading to hundreds of slide-offs and minor accidents, according to a Utah Highway Patrol report. Between midnight on Sunday and 9 a.m. Tuesday, Utah and Salt Lake County had a combined 552 accidents, Davis County had 65 and Weber County had 65.
At least 26 of those accidents were major crashes that impacted interstate and highway traffic, the Utah Department of Transportation said.