Rexburg holding ribbon cutting for new toddler park Saturday
Published at
|

Updated at
REXBURG– After working for a year on plans, grants, and designs, an existing park rejuvenated by the people of Rexburg is ready to open.
City Councilwoman Tisha Flora was excited to spearhead the project when it was proposed to remodel the Park Street Park. A ribbon cutting for the travel themed park now is set for Saturday, July 7; at 6 p.m. Volunteers can help with finishing touches on the park starting at 9 a.m.
Mayor Jerry Merrill said playground equipment had been falling apart for some time before the parks new redesign. Flora said an old metal slide and swing set were occupying the space.
"Some of it was just a liability because it had dangerous, older type equipment," Merrill told EastIdahoNews.com.
Photo courtesy Tisha Flora
Flora said she called upon the help of neighborhood mothers who drafted the designs, and put in a lot of the work for the park. They also had the help of volunteers while installing the playground equipment, which saved about $30,000.
"This committee of moms is amazing," Flora said.
Flora said the committee reached out to the community for input on the design. She said parents felt there was a need for a park with equipment suitable for toddlers.
"We have an abundance of preschoolers and toddlers and little teeny kids and we'll always have that population because of BYU-Idaho. We just have a lot of young families that move in and move out." Flora said.
Natalia Hepworth, EastIdahoNews.com
She said at other parks in town preschoolers would try to navigate play structures that were built for children ages five and up. She and her committee researched the next type of equipment for toddler age group.
"We realized that toddlers and kids like to run circuits basically. They like to go around in circles and so we put an obstacle course in and we put a spinning item, and a bouncy item and slide and swings," Flora said.
She wanted to create a place where a two-year-old could use any piece of play equipment without having to worry about the dangers of falling. She said all of the play structures are separate and easy for little ones to play on.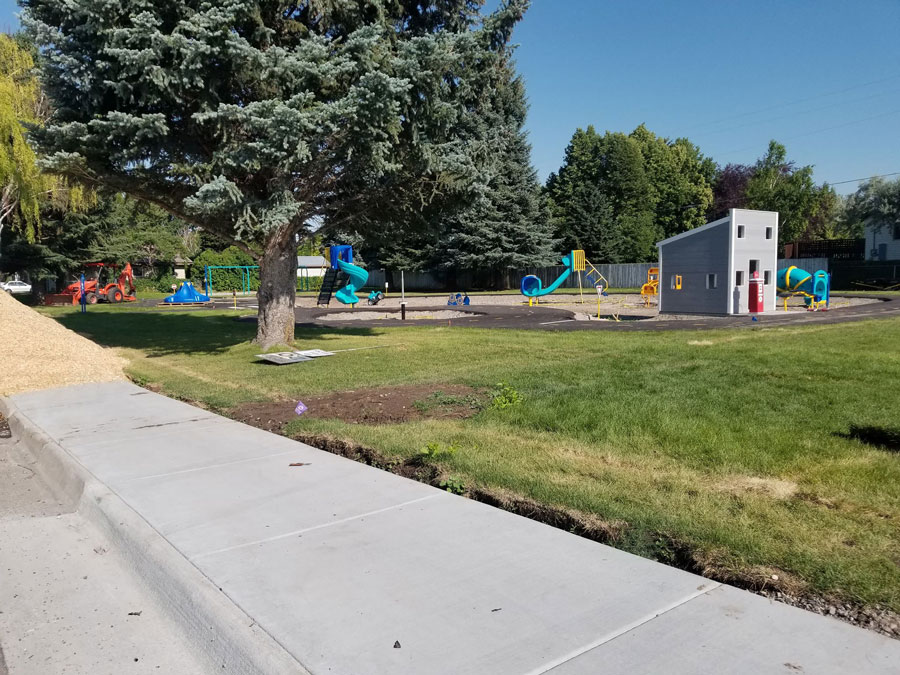 Natalia Hepworth, EastIdahoNews.com
"There's no problem with navigating a piece of equipment alongside a 10-year-old because they can all enjoy it," Flora said.
She said there is also an 8-foot wide walking path for parents who need a place to exercise while their kids play, and for kids who need a place to learn to ride a bicycle.
"We wanted this park to be one that encourages the kids to run around a lot and get a lot of exercise," Merrill said.
Saryn Flora built play gas pumps for the Park Street Park. | Photo courtesy Tisha Flora
Flora said this is still a work in progress as wood chips are being placed Saturday morning at 9 a.m. A fence is being built to keep children in one space, however Merrill councils parents to be vigilant in watching their children with or without the fencing.
"It will definitely be a benefit to the community especially to the smaller age kids. It won't be bombarded by the college kids and it's going to be their own little place to just go and relax and have fun," Rexburg Parks Director Greg McInnes said.
Flora is grateful to all of the volunteers, and sponsors who made the park possible. She says they've had the help of many young men and women including eagle scouts, young women in excellence, students from the Madison Junior High School and others on the handcrafting of some playground equipment.
Photo courtesy Tisha Flora
She also thanks the many community sponsors and those who've given grants in order to make this project completely community funded. Grant donors include Blue Cross Blue Shield High Five Grant, CHC Foundation, KaBoom! Let's Play – Dr. Pepper Snapple Group Grant.
"This is a community project that so many people have participated in and have really worked hard to see this come to pass," Flora said.
Photo courtesy Tisha Flora
Photo courtesy Tisha Flora