Courts rule a local drunk driver was wrongfully imprisoned for 4 years. Here's why.
Published at
|

Updated at
REXBURG — It's no joke when someone is wrongfully convicted and imprisoned for a crime.
The most talked-about wrongful convictions involve innocent men or women who are found guilty of a crime and spend years behind bars. Then some new evidence is discovered, the inmate is exonerated and gets freedom back.
RELATED: How many innocent people go to prison?
But wrongful convictions don't always involve innocent people.
Such is the case with William Jack Bias of Rexburg.
Bias, 40, has a rap sheet littered with charges: driving under the influence, driving without privileges, leaving the scene of an accident, failing to render aid at a crash, fleeing police, reckless driving and several alcohol and drug crimes. The most serious is a 1998 vehicular manslaughter conviction, where a drunk Bias ended up killing his "best friend" in a crash, according to court documents.
Convictions start in 1992 and continue for two decades interspersed by jail and prison time.
His most recent conviction, a felony DUI in 2012, netted Bias a new 10-year prison sentence after he pleaded guilty to drinking and driving. At least it did until 2017, when after four years, 7th District Judge Gregory Moeller ruled Bias had been improperly stopped by police, improperly represented by counsel and wrongfully convicted for his crime.
Two weeks ago, an Idaho Appeals Court upheld Moeller's ruling that Bias had been wrongfully convicted due to errors on behalf of several parts of the justice system.
The appeals court, quoting Moeller's ruling, affirmed "the court does not lightly disregard the fact that the arresting officer was ultimately correct in his suspicion that Bias was driving under the influence. However, being right does not cure the constitutional deficiencies in an otherwise improper stop."
Although he remains under the jurisdiction of pre-trial services, Bias has been free since February 2017. Officials say that barring an appeal to the Idaho Supreme Court, his entire case will likely be dismissed.
A seemingly by-the-book arrest
The wrongful conviction case stems from an incident on Sept. 4, 2012.
Bias was traveling on U.S. Highway 20 between Rexburg and Sugar City around 10:45 p.m. Police reports show he was with a 17-year-old juvenile en route from Ashton to Ririe.
Rexburg Police Officer Wynn Robison observed Bias' vehicle do several things that made him believe the driver was under the influence. His observations are summarized in Moeller's ruling:
"Robison testified in his direct examination and under cross examination that a number of factors caused him to stop Bias' vehicle. He noted that the vehicle was traveling 10 to 15 mph under the 65 mph speed limit, had braked hard during a gentle curve of the road, drifted in its lane and was 'driving on top of the white fog line.'"
Police reports show Wynn pulled Bias over. While questioning Bias, Wynn smelled alcohol on his breath, observed bloodshot, glassy eyes and slurred speech. Wynn also saw multiple open containers of alcohol in the vehicle, according to the probable cause statement. When Bias was asked if he had been drinking, he initially said "a little bit," but eventually admitted to drinking "a couple drinks" in the car.
Bias was asked to get out of his car to perform a field sobriety test, which police reports show he decisively failed.
He was arrested on suspicion of driving under the influence and booked into the Madison County Jail. A breathalyzer test revealed his blood alcohol level was 0.107, well above the legal limit of 0.08. He was charged with felony DUI because he had two other DUI convictions in the last three years, and he was driving on a suspended license. He was also charged with felony injury to a child because of the age of his passenger.
Rexburg Police officials told EastIdahoNews.com it was a fairly routine traffic stop. Robison noticed behavior indicative of a drunk driver, stopped the vehicle and made an arrest. Otherwise,the stop was largely uneventful, officials said.
A quick and easy court case
Bias' court case appears to have been nearly as uneventful as his arrest.
Jim Archibald, a public defender in Madison County, was court-appointed to represent Bias. In preparing a defense, Archibald reviewed the police reports and spoke with Bias about how he wanted to proceed. Archibald later testified Bias' main concern during the proceedings was getting help for his alcoholism, rather than fighting the legalities of the traffic stop.
As a result, Archibald made no attempt to fight the charge, and Bias agreed to take a plea deal in which he would admit guilt in return for the injury to a child charge being dropped.
On March 18, 2013, Bias pleaded guilty to felony driving under the influence and was sentenced to 10 years in prison with five years fixed and five indeterminate. He was imprisoned in July 2013.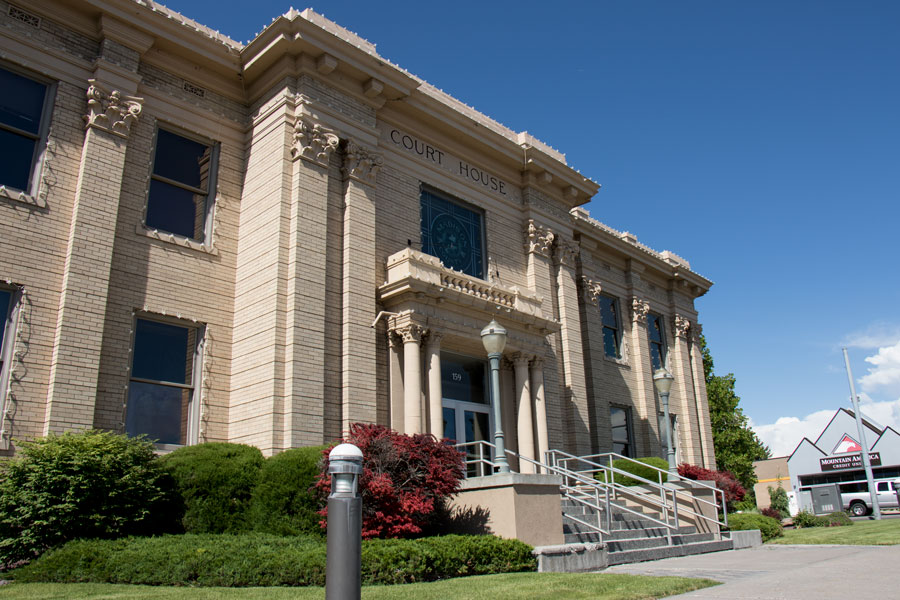 EastIdahoNews.com file photo
Bias' fight for freedom begins
Despite the guilty plea, it quickly became apparent Bias was not happy with his sentence. Almost immediately after his conviction, Bias began to petition the court to withdraw his guilty plea and get new counsel appointed.
Bias filed repeated motions trying to prove his defense counsel had been inefficient, done things without consulting him or that there was a conflict of interest. Bias also accused Madison County Prosecutor Sid Brown of ethical violations at sentencing.
Most of Bias' efforts were rebuffed, at least until August 2015, when an appeals court saw the "possibility of a valid claim" regarding the issue of ineffective counsel. Bias filed a petition for post-conviction relief, which is a request by someone who has been convicted of a crime, to vacate a ruling based on their belief the court system improperly judged them based on a set of facts.
READ ABOUT THE SPECIFIC ALLEGATIONS HERE
In his response to the petition, Judge Moeller expressed some doubts about the claims, given that they were inconsistent with the court record. However, he did say the claims couldn't be dismissed without weighing evidence and assessing credibility.
On Nov. 20, 2015, Moeller appointed Public Defender Joshua Garner as counsel for Bias, ordered the state to respond to the petition, and an evidentiary hearing was scheduled.
Two days later, Brown filed a response on behalf of the state denying all the allegations and requesting the petition be denied and dismissed.
The first evidentiary hearing was held July 17, 2016.
A second look at the evidence and a missing dashcam video
In Bias' petition to have his sentence vacated, he made a wide variety of claims about impropriety by officials involved with his case.
But it quickly became apparent that evidence from his 2012 court hearings could easily disprove or highly dispute most of those allegations.
That would have been the end of it, except for the fact that near the end of the first hearing, Bias unexpectedly brought up the issue of police jurisdiction. He suggested the traffic stop was illegal because it took place in nearby Sugar City, which was outside Officer Robison's jurisdiction.
Bias then claimed Archibald didn't defend him well, because he hadn't challenged the legality of the stop despite having directed Archibald to challenge it multiple times.
Archibald testified Bias had never raised any concerns about the legality of the stop during the initial court proceeding.
Given the location of the arrest, Moeller felt the claim deserved a second look and authorized a second hearing for Sept. 19, 2016.
The hearing where things got complicated
During the second hearing, Robison and Rexburg City Attorney Stephen Zollinger presented evidence proving the stop had occurred in Rexburg. They used a Madison County map and a previously unseen dashcam video from Robison's patrol car.
The evidence quickly proved the stop had been in Rexburg, and Bias conceded the point, but not before his attorney Josh Garner and the court questioned why the video had never been used during the original court proceeding.
While viewing the dashcam video in court, both Garner and the court noticed the actions made by Bias' vehicle seemed "less obvious or inconsistent" with the narrative in the police reports.
For instance, the video show Bias merely touched the fog line, but did not cross it as was stated in the police report. Robison had indicated Bias braked hard on a gentle curve, when the video clearly showed Bias merely tapped the brake. Additionally, the video shows Bias traveling about the same speed as the car in front of him without significant weaving, drifting or changes in speed.
Robison conceded based on the video, he observed Bias violated "no rules of the road."
Seeing a possible violation of Bias' Fourth Amendment rights against unreasonable searches and seizures, Moeller scheduled a third hearing for Jan. 12, 2017.
An ineffective defense attorney?
During the third hearing, Robison testified a second time and clarified Bias' driving caught his attention before the dashcam came on. Several other law enforcement experts testified about the combination of clues that gave Robison reasonable suspicion to believe the driver was drunk.
Moeller wasn't convinced, however, and in his findings of fact, he said after repeated viewings of the video Bias' driving was within "the broad range of normal driving behavior."
"Even after considering the officer's training and knowledge of normal driving behavior, the totality of the circumstances did not provide him sufficient reasonable suspicion to stop Bias' vehicle for an apparent DUI in progress. None of the factors cited by the officer, taken individually, would constitute an infraction of Idaho law or violation of rules of the road. More importantly, even taken together, the clues identified did not give rise to reasonable suspicion of DUI," Moeller wrote.
Moeller acknowledged Archibald didn't have access to the dashcam video when he defended Bias; however, he said the descriptions in the police report should have given Archibald sufficient reason to challenge the stop or at least investigate it further. That further investigation, would likely have led to the discovery of the dashcam video in 2012, rather than 2016.
Moeller said the video in turn would likely have resulted in Archibald filing a motion to suppress evidence taken from the stop, which would have left the prosecution without a case, and Bias probably wouldn't have pleaded guilty.
According to Moeller's analysis of the facts, as a result of failing to investigate the stop, Archibald had been ineffective as a defense attorney.
Where was the video the first time around?
Moeller's largest concern following the hearings was there was an exonerating dashcam video that had never been seen by the defendant, his counsel, the prosecution or a judge.
When asked, Archibald admitted that he did not file a formal request for discovery or evidence in this case. He told Moeller it was his practice as a Madison County public defender to simply make an informal request to the Madison County Prosecutor's Office for all the state's evidence, and the office normally makes an automatic and full disclosure, according to court documents.
Archibald also said he did not fight the charge because Bias made it clear he wanted help with his alcohol problem. Archibald said a formal discovery and investigation was unnecessary because he doesn't generally challenge charges unless the client gives him reason to do so.
Moeller took exception to this excuse.
"Even if the court fully accepts that explanation … it does not excuse the fact, that defense counsel is effectively depriving his client of the ability to make a knowing and intelligent decision to plead guilty," Moeller wrote. "In order to make a knowing and intelligent decision to plead guilty, the defendant should at least know whether the evidence is sufficient to obtain a conviction."
In the findings of fact, Moeller stressed the the video would have entirely changed the outcome of this case.
EastIdahoNews.com reached out to Archibald for comment about his role in the case, but calls and emails were not returned.
Moeller said the blame doesn't rest entirely with the defense, though — Idaho Criminal Rules require the prosecution turn over all evidence that may prove a defendant's innocence even without a discovery request.
Brown, the prosector, said the dashcam video had not been given to the defense because the prosecutor's office was unaware of its existence until the second evidentiary hearing when Bias raised the issue of jurisdiction.
It's not clear why Brown wasn't aware of the video. EastIdahoNews.com reached out to Brown for an explanation, but calls and emails were not returned.
Moeller wrote there is no evidence the video was withheld intentionally, but Officer Robison was aware of the video and was part of the investigative team, so there should have been some mention of the video in the police reports or evidence logs. Moeller suggested the Rexburg Police Department's record keeping-practices be reviewed to prevent this from happening again.
Rexburg police officials declined to comment on the case and referred EastIdahoNews.com to the prosecutor's office.
Bias gets released
Ultimately, Moeller determined serious mistakes were made by both the state and the defense that had "eroded the court's confidence in the justness of the outcome."
As a result, Bias' petition for post-conviction relief was approved, his guilty plea was withdrawn, and the case was remanded back to district court.
Bias was released to pre-trial services in February 2017, and is still required to be tested for sobriety regularly. Technically, he is still facing potential charges for the 2012 incident, but given the prosecution's apparent lack of usable evidence, it's likely the charges will be dismissed.
There is also a chance Moeller's ruling will be appealed to the Idaho Supreme Court. The deadline for that is Tuesday, and so far nothing has been appealed.
It's also unclear if any civil actions can or will be taken against the city by Bias after the issue settles.
Regardless of the future, Garner, Bias' current defense attorney, says Moeller's granting of post-conviction relief shows the legal system does work and can correct a wrong and make it right — even if it takes four years to do it.
"Our system of law requires that everyone play by a set of rules," Garner said. "An officer must have reasonable suspicion or probable cause to pull over a vehicle and detain an individual. In William's case, evidence that would have supported William's claim for lack of reasonable suspicion or probable cause was withheld from William's trial counsel, Jim Archibald. Whether that dashcam video was withheld by Rexburg P.D. or the Madison County Prosecutor's Office, it should have been provided. With that dashcam video in hand, William could have filed a motion to suppress, it would have been granted (as declared in Judge Moeller's decision), and William would not have spent four years in prison."