Tactical medicine helps local law enforcement save lives in critical situations
Published at
|

Updated at

ST. ANTHONY – Eighteen members of law enforcement in the upper valley became certified in Tactical Medicine over the weekend.

Tactical medicine gives officers the skills to administer immediate care to victims in critical situations.

During a role-play at the Search and Rescue building in St. Anthony Saturday, a SWAT team simulated an active-shooter situation. In the scenario, members of law enforcement administered to wounded victims, placed a tourniquet on their legs to stop the bleeding and dragged them out of the building to safety while they waited for EMS responders to arrive.

"They have to be able to perform quick, life-saving skills and then take care of the threat," says Eric Linder, Founder of Team 5 Medical Foundation. "Once the bad guy is in custody, then EMS can come in."

If an officer gets injured or shot, the course also teaches law enforcement how to save their own life as well as the life of their fellow officers.

"Just because you get shot, doesn't mean you're dead," Linder says. "We teach them how to put on their own tourniquets, how to seal their wounds, and still stay in the fight."

Team 5 Medical Foundation is a Las Vegas nonprofit that administers tactical medicine all over the world. The team works with local law enforcement to train and support smaller departments. This weekend Team 5 worked with the St. Anthony Police Department, which hosted the training, and with Fremont County Sheriff's Office, Rexburg Police Department, Madison County Sheriff's Office and Jefferson County Sheriff's Office.

The team certified all the attendees in tactical medicine, and as a courtesy, Team 5 also went through the Idaho POST training and became reserve officers in the St. Anthony Police Department.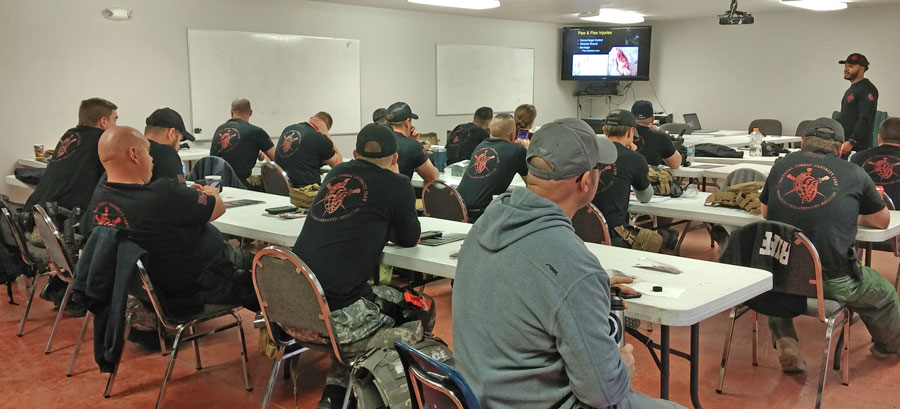 Members of law enforcement receiving classroom instruction | Rett Nelson, EastIdahoNews.com
"Now when these guys go to work, their rate of survivability is quadruple or triple from what it was (last week)," says Linder.
While active shooter situations are a rarity in eastern Idaho, Retired St. Anthony Police Chief Terry Harris says mass casualty incidents are something officers deal with almost daily.
"We have major crashes on the highway all the time. If a roof caves in, there could be mass casualties," Harris says. "So this training prepares us for situations we encounter every day."
"These departments don't really get to know each other on a personal level. But here, they're all working together and running scenarios together so they're becoming brothers and sisters together," Linder says. "Now in the real world, when their paths cross, it's a face they recognize."
Linder says this training is just as beneficial to the community as it is to the officers.
"There's a good chance they'll use this in their own civilian life that has nothing to do with their work. If they're sitting in a restaurant and someone is choking, they won't be another idiot in the room who doesn't know what to do."
Team 5's Tactical Combat Casualty Care Course normally costs about $30,000, but donations from other organizations and individuals allowed each department free access to the course. Without those donations, this training would not have been available to them.
"Because we're part of the St. Anthony Police Dept., this is one of those things we like to gift to them. We want to share our knowledge and skill sets with them," Linder says. "If anything ever happens to me, I want them to know what to do."
Team 5 Medical Foundation also works with Operation Underground Railroad.
T5 utilizes members who are current or former members of Special Forces including Delta Force, U.S. Navy Seals and Pararescue.
To learn more about Team 5, visit their website or Facebook page.