Districts reassure parents of student safety after scary morning on the roads
Published at
|

Updated at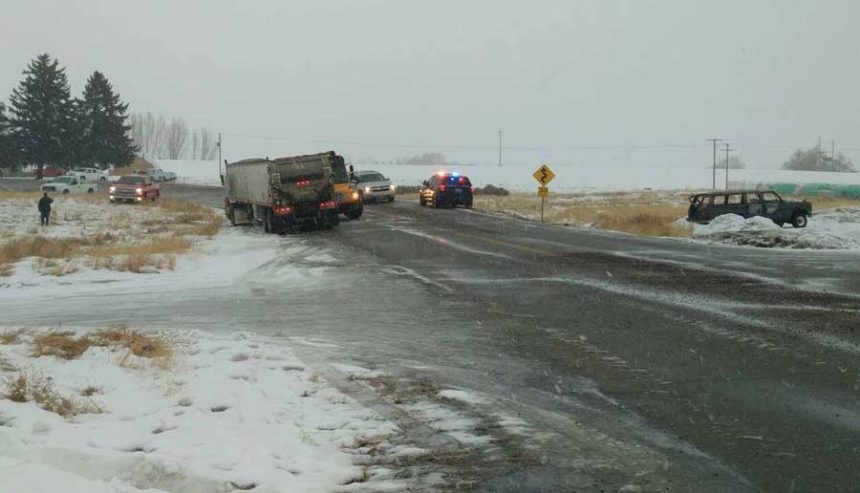 IDAHO FALLS — School districts are reassuring parents that safety is the main priority after several busses experienced slide-offs Thursday morning.
One Jefferson Joint School District 251 bus slid into a parked semi-truck in Osgood just before 8 a.m. The driver of the truck had pulled over to put chains on his tires and was located in the opposing lane after slipping on the road. Seventeen students were on the bus but no injuries were reported.
Because of slick roads, snow and frozen rain, bus drivers were told to be extra cautious on their way to pick up kids.
Jefferson Joint School District 251's Transportation Director Clyde Southwick said there was another slide-off in Rigby at 3000 North and 3500 East. He said no injuries were reported, and no other vehicles were involved.
The district sent a message to parents beforehand letting them know that roads were icy and buses would be late to pick up children.
"We just ask that our drivers use extreme caution and hope that all drivers do the same. Our job is to get students to the school safely," Southwick says.
Bonneville Joint School District's Transportation Manager Micheal Graham says he had no reported slide-offs, but one bus did have some trouble.
"We had one that slid sideways and couldn't get straightened out," Graham says, adding that a truck was sent to assist the bus.
Ralph Frost, transportation director for Idaho Falls School District 91, says there was another slide-off reported in the Osgood area near the 1-15 exit at West 100 and 45th North.
"On days like this, parents just need to be patient and expect the buses to run a little bit late because they'll be driving slower," Frost says.
For Madison County District 321 Transportation Director Mary Ann Nielsen, her drivers were told to use caution as well. The Rexburg area was warmer than others and driving conditions weren't as icy.
"We had no buses slide off this morning. We had some buses that were running late this morning because of the roads (but) we had awesome drivers," Neilsen says.
She says that mechanics and staff are prepared for inclement weather and the priority is to make sure kids get to and from school safely.
As for Shelley School District 60, Monte Fowler, who is over bus maintenance, says drivers were prepared and safe Thursday morning. He says buses that pick up children on the hills are equipped with chains.
"We tell the bus drivers to drive slowly. Ron Searle (transportation director) told them to leave about 10 minutes sooner, drive slower, and if they got back late, it's not a problem," Fowler says.
Fowler says their buses carrying kindergarten, preschool and special needs students have been reported safe as well.
"One kindergarten bus driver that goes out to the west side she said it was real and deep… but she made it back safe," Fowler says. "All is well in Shelley."