Biz Buzz: Woman shares how music therapy is changing lives one note at a time

Biz Buzz is brought to you by Idaho Central Credit Union, the premier credit union in Idaho. Its mission is "Helping members achieve financial success."
Do you want to know what's happening in the eastern Idaho business scene? We've got you covered. Here is a rundown of this week's business news across the valley.
BIZ BUZZ
IDAHO FALLS
Woman shares how the power of music is benefitting clients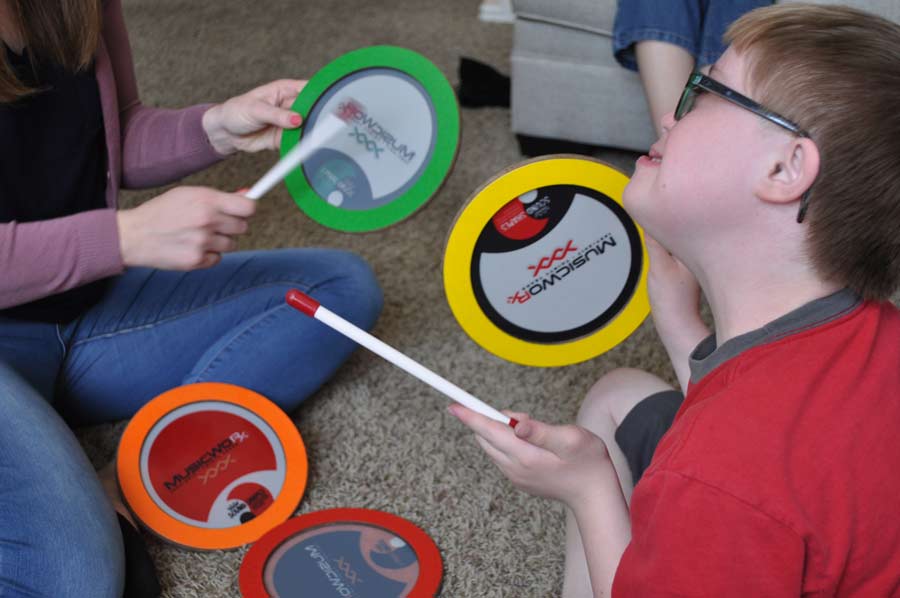 IDAHO FALLS – Corinne Pickett gets teary-eyed when she recalls the day one of her clients with Unison Musical Therapy made a massive step forward.
The business serves clients throughout eastern Idaho who have a variety of challenges, including autism, dementia, Alzheimer's disease and other disabilities. It also helps stroke patients and those with mental illnesses, the latter of which has drastically increased in the wake of the COVID-19 pandemic.
In a conversation with EastIdahoNews.com, Pickett recalled a "young lady" she had been working with for about a year who was nonverbal. All her attempts to help her client socially interact had failed and she decided to improvise a musical ditty.
"It was something random and she started to sing back to me. It was such an incredible experience … it was so powerful," Pickett says as she starts to cry. "It was one of those experiences that I just felt grateful to be in the line of work I do. You could see in her eyes this look of 'I am being heard and I am communicating in this special new way.'"
Pickett runs the music therapy clinic out of her home. She is from Idaho Falls and formed the business in 2018, but moved to Nevada in 2020 when her husband got a new job. She and her team of licensed professionals in eastern Idaho serve clients in their homes.
Pickett explains many clients have issues that affect a certain part of the brain. The reason she says music is helpful in recovery is because it "lights up" all areas of the brain, releases endorphins and elicits involuntary muscle movement.
"We can help create new neural pathways to help an individual learn to speak again … or use motor movement again," says Pickett.
She cites former U.S. Congresswoman Gabby Giffords, who was shot in the head in 2011 in Tucson, Arizona, as an example.
"She lost brain function in one part of her brain … and she learned to talk again through music therapy," Pickett says.
She points out that the beating of the heart and the way the body functions is a natural musical rhythm that is "an intrinsic part of who we are as human beings."
Pickett became intrigued by music at a young age by watching her grandfather play the piano. He lived with her family at the time and would play music for hours without reading a single note. She went on to take piano lessons herself.
Today, Pickett plays the guitar, ukulele and took voice lessons as a kid. An experience she had as a teenager opened her eyes to the power music had in changing someone's life.
She was part of a group that would go to the Good Samaritan Society, a senior citizen rehab center in Idaho Falls, and sing to the residents.
"I remember the first few times I went, watching these residents who could hardly feed themselves. I would watch them interact with the workers and they couldn't communicate very well or at all. I looked around the room as we were singing these familiar hymns to them and saw them mouthing the words," says Pickett.
She didn't know anything about music therapy at the time. While she was attending Utah State University, she watched a documentary about music therapy and decided to switch majors. USU apparently has one of the only music therapy programs in the west, so it wasn't hard for her to make the transition.
Though Pickett loves working one-on-one with clients, she'd like to eventually offer group therapy. She's hoping the business will continue to grow with new team members and educational opportunities for interns.
"I feel blessed to have the team that I do and we're here and ready to serve eastern Idaho in any way that it might need," Pickett says.
For questions or more information, visit the website or call Unison Music Therapy at (208) 409-9911. You can also send an email to mt@unison-music-therapy.com.
WATCH OUR INTERVIEW WITH PICKETT IN THE VIDEO ABOVE.
BIZ BITS
Pocatello hospice wins customer experience award
POCATELLO – Alliance Hospice in Pocatello recently won Pinnacle Quality Insight's 2022 Customer Experience Award.
Qualifying for this award puts the organization's customer experience in the top 15% in the nation. Clients can achieve this Best in Class distinction on a monthly basis in many categories.
Throughout its nine-year history, Alliance has placed a strong emphasis on ensuring the individual needs of every patient are met.
Over the past year, Alliance Hospice customers and their families participated in monthly telephone interviews that allows them to rate Alliance Hospice in specific categories.
Every month, Alliance Hospice has gathered its real-time survey results to gain a better understanding of the patient's needs and make improvements when necessary.
It remains dedicated to providing Best in Class senior healthcare services.
Salt Lake Express expands transportation services with new partnership
IDAHO FALLS – Salt Lake Express is pleased to announce the acquisition of Northwestern Stage Lines, a transportation company based in Spokane, Washington and Boise-Winnemucca Stages in Boise.
The deal closed on September 30 and includes a further expansion of routes and destinations offered by Salt Lake Express.
Currently, Northwestern Stage Lines/Boise-Winnemucca travels to more than 25 destinations with connections to
airports, Amtrak and intermodal bus stations. Together, these companies will join Salt Lake Express' bus network and give passengers the ability to book rides from Seattle to Las Vegas and many places in between.
Salt Lake Express got its start 28 years ago in Rexburg. It added new routes in eastern Utah last November.
If you're interested in booking a trip, visit the website or call 800-356-9796.
IN CASE YOU MISSED IT…
Los Angeles couple find 'paradise' and 'community' in eastern Idaho with crepe business
REI dumps Black Friday — permanently
Here's how you can track your Idaho special session tax rebate
If you have a Biz Buzz item you want to share, send it to rett@eastidahonews.com. Remember to use "Biz Buzz" in the subject line. Also, don't forget to sign up for the free Biz Buzz email newsletter.