Madison Superintendent Geoff Thomas stands firm in disapproval of Common Core
Published at
|

Updated at
EDITOR'S NOTE: This is part of an ongoing series of profile stories highlighting the achievements of local leaders and citizens in eastern Idaho.
REXBURG — Being an outspoken critic of a government policy can sometimes be a double-edged sword for local leaders, who often earn both ridicule and respect for taking tough stances on the issues.
Madison School District 321 got a taste of this first hand during the 2014-15 school year. Superintendent Geoffrey Thomas was awarded Superintendent of the Year for 2015 by the Idaho Association of School Administrators.
But Thomas also took some hits for taking an opposing position on Idaho Core Standards and the Smarter Balanced Assessment Consortium's Idaho Standards Achievement Test. Thomas and the Madison School Board initially refused in March to offer the state mandated achievement test. However, the district reversed its decision a month later following significant state and federal pressure to offer the test or risk losing funding.
The district's initial position on the Common Core-backed test resulted in a significant backlash from Boise leaders and other regional school districts. But it also generated a great deal of local support with some 40 percent of Madison students still being opted out of the test by their parents.
Jackie Rawlins, the founder of Madison Parents for Opting Out, told Idaho Education News in April it took courage for Thomas and Madison's school board to fight state leaders on the test. Even though Madison was unable to prevent the test, she hoped the actions of parents would send a message to Boise.
"I would love if every child in our district opted out so we could send a message back to Boise that we as parents have done the research and (this test) is not good for our kids," Rawlins told Idaho Education News. "We want to make a statement so they will listen and hear us."
The opposition to the SBAC test wasn't the first time Thomas has openly opposed Common Core Standards. In fact, he's been one of its most outspoken critics statewide. In 2013, Thomas, as a member of Gov. C.L. "Butch" Otter's Task Force for Improving Education, was lone dissenter against the implementation of the Idaho Core Standards.
"If you've ever had a General Custer moment in your life where you felt all alone, that was mine," Thomas said.
Still he said, if he could go back, he would do it again.
Thomas has led Madison School District for more than 14 years. In that time, he's overseen massive growth in the district. He's also been instrumental in building two new elementary schools, a high school and remodeling six other schools.
Rob Winslow, executive director of the Idaho Association of School Administrators, said Thomas is respected statewide for facing the opposition he was up against, while fighting the standardized testing and Common Core.
"Geoffrey, to me, is someone who's very passionate about public education and what's good for kids," Winslow said. "His biggest strength, in my opinion, has always been doing the right thing for his district."
The process of being elected Superintendent of the Year is extensive and requires a lot of time and dedication on the part of the superintendent, who is required to create a portfolio of successes and achievements to be reviewed by the IASA.
He said to be a successful superintendent, one must not only have a great relationship with their board and leaders, but also be a strong and knowledgeable education leader.
"He's well respected in our association," Winslow said.
As the new school year starts in Madison, Thomas said in an interview with EastIdahoNews.com that his views on Idaho Core Standards and on the ISAT by Smarter Balanced have not changed.
He said standardized tests are about corporations making money, and ultimately end up costing millions of dollars to administer.
"It tells us nothing beyond what we know in the classroom," he said. "Teachers can tell you everything the test tells you."
Thomas said aside from the tests presenting a massive financial expense, they result in a huge loss of instructional time in the classroom, gives little to no benefit to teachers or students and does not inform instruction.
"We have kids crying," he said of students taking the test. "They don't understand the questions."
Although Madison was unable to opt out of the test as a district in 2014-15, Thomas remains firm in giving parents the opportunity to opt out.
"We've honored every parent opt out request because we believe it's a parent's right," Thomas told Idaho Education News in April. "So if a parent says, 'I don't want my child to take this test,' we'll find an alternative educational opportunity for them."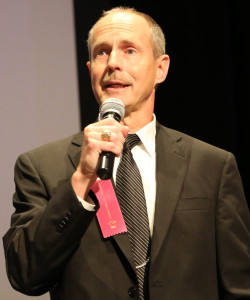 Throughout his career, Thomas also has gained the respect of many other local leaders, including Teton School District 401 Superintendent Monte Woostenhulme.
"What I respect about Geoff Thomas is the knowledge of education he has and his willingness to work with any person on an education issue," Woostenhulme said. "He's very well respected within the superintendents in eastern Idaho and in the state."
Woostenhulme said Thomas was at one point his mentor and that he has taught him many "tips and tricks" on how to be a successful superintendent.
"He's a great leader in the community and in the state," he said.
Winslow said the superintendents who stand out, and often win superintendent of the year, are those who are improving test scores, creating new curriculum and improving their district.
In the past few years, Madison students have earned an approximately 6,500 college credits before graduation, and the district is consistently among the top five Idaho school districts in academic student achievement, Thomas said. The district was recently ranked ninth out of the top 10 high schools in the state, and Madison High School was ranked eighth in Idaho, according to national K-12 School ranking website Niche.com.
"I really do believe that the Madison School District is the finest district in the state of Idaho," Thomas said.
Thomas said the No. 1 ingredient for success in the district is the positive relationships between teachers and students.
"I believe we're successful because of expecting and having a positive relationship between teachers and students and treating students as individuals with tremendous worth," he said.
Thomas said public education cannot be run like a corporation, but rather should be a collaborative, tender and important community.
"The beauty of public education is that we open our doors to every child regardless," he said. "That's why we do what we do. We believe every child has tremendous worth, and we're going to try to give them every opportunity possible to succeed."
Photos courtesy Lindsey Johnson and Idaho Education News.