Teen cancer patient's wish benefits Firth High School
Published at
|

Updated at
FIRTH – A local high school student diagnosed with cancer had a wish he wanted to share with his whole community. Firth High School student Jared Andersen wished to give back by having the high school's weight room refurbished.
"I lifted here every day, and I just wanted to help out the community and friends that lift with me," Andersen.
The Make-A-Wish foundation and Lift Life Foundation, a non-profit organization through BodyBuilding.com, wanted to make this wish a reality. After four months in the making, students and members of the community came together for the unveiling of the new weight room. Andersen cut the tape during the ribbon-cutting ceremony in front of the weight room Thursday, April 21.
Lift Life re-constructed and gifted the weight room. It was officially named the Jared Andersen Weight Room.
Andersen, 17, was diagnosed with rhabdomayosarcoma last year. In this type of cancer, malignant cells form in muscle tissue, according to Cancer.gov.
"I wanted to get through it, and weight lifting helped me out a lot. I just had to get through it," Andersen said.
Now Andersen's cancer is in remission, and he wants to give back.
"I think it's amazing. It speaks very highly of his (parents' parenting). He didn't even bat an eye at something that he wanted or he needed. He immediately said, 'I want the weight room refurbished,'" said Julie Thomas, regional manager of Make-A-Wish Idaho.
Lift Life and Make-A-Wish banners.
Thomas said to qualify for a wish the recipient has to be diagnosed with a medical condition that is either progressive, degenerative or malignant.
"Jared being diagnosed with rhabdomayosarcoma made him eligible to receive a wish," Thomas said.
Thomas said when Andersen suggested the wish, she thought he intended the weight room to have simple transformation.
"When he said he wanted his weight room refurbished, we thought paint, just a handful of things, a couple yoga mats," Thomas said.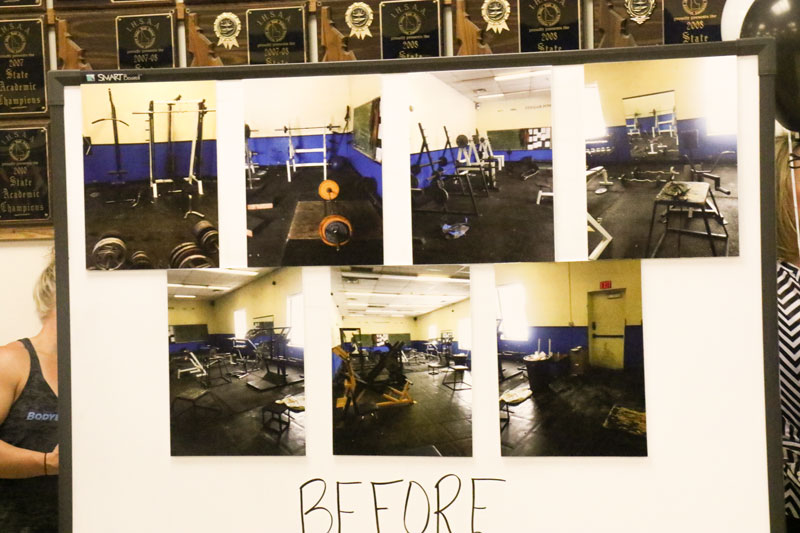 Weight room before photos.
Kirk Calzacorta, supervising manager of Lift Life Foundation, said the project cost more than $100,000. The Lift Life organization launched in January, and redesigning the Firth High School's weight room was its first project.
"This one was a big undertaking because we redid everything from the floor to the ceiling," Calzacorta said. "This is the type of equipment that you see in Division 1 colleges and professional teams."
Lift Life is preparing to travel across the U.S. and transform more high school weight rooms into state-of-the-art facilities as its main mission.
The new Jared Andersen Weight Room.
Sarah Shinn, CEO of Make-A-Wish Idaho, said the Make-A-Wish-Foundation Idaho services all of the Gem State and grants an average of 80 wishes per year, 30 percent being in eastern Idaho.
Shinn said she was impressed by Andersen's selfless decision.
"When a child is sick, it affects that child and that family, but it really does permeate the community, so a wish like this is really helpful to bring the community together and rally around the child and in this case Jared," Shinn said.