Witnesses recount events leading to grisly murder in Pingree
Published at
|

Updated at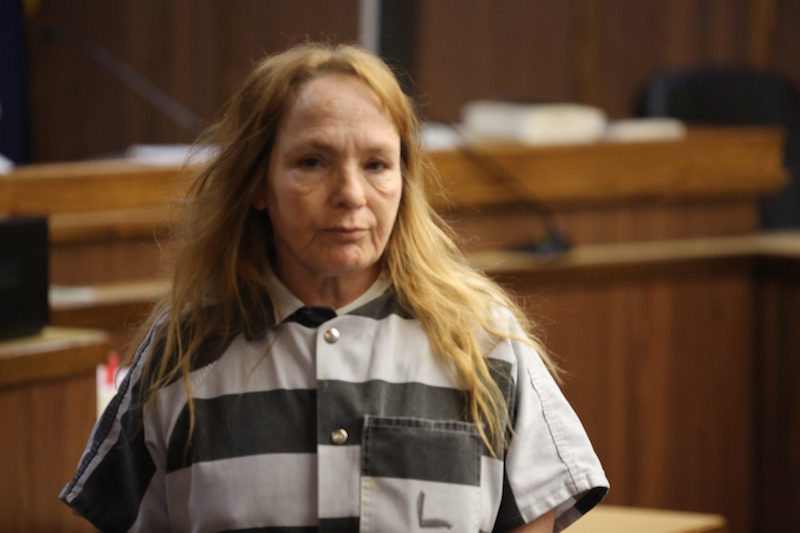 BLACKFOOT – Thirty-year-old David Lee Davis sustained gunshot wounds from two separate shooters, but a forensic specialist testified Thursday that he died from a final shot to the back of his head.
Witnesses testified during the preliminary hearing for Melonie Smith — the Bingham County woman accused of inflicting the fatal shot — that the defendant admitted she had killed Davis at her Pingree residence on Feb. 10.
Smith, 48, is charged with first degree murder in the shooting death.
Magistrate Judge James Barrett forwarded the case to Seventh District Court following the daylong hearing and Smith will be arraigned on April 17.
Forensic Pathologist Charles O. Garrison conducted an autopsy in the case on Feb. 15. Garrison told the court Davis was shot once in each thigh, but he said those were from a small caliber weapon and were not fatal, he also said the wounds had been bandaged.
The shot that killed Davis came from a larger weapon and was fired — execution-style — into the back of his head destroying his skull. Garrison said toxic levels of methamphetamine and hydrocodone were present in Davis' blood when he was killed.
Bingham County Coroner Mike Gardener told the court he was called to the scene on Feb. 12. When he arrived at Smith's residence located at 631 South 1600 West in rural Bingham County, Davis' body was located in the kitchen and was wrapped in black plastic and bound with wire.
Bingham County Prosecutor Cleve Colson called Guy Lopez to the stand Thursday. Lopez was the man who alerted law enforcement to the shooting in Pingree.
Lopez told the court that he met Smith through a friend and had visited her mobile home in Pingree three times. He considered her a friend and when she called him on Feb. 10 and said that she needed help, he told her to pick him up. Smith along with her three dogs, picked Lopez up in Blackfoot and he learned about the shooting as they drove to Pingree. He said Smith was distraught and told him that she had shot someone and that the body was in her kitchen.
Lopez said the defendant told him that when Davis exited his vehicle another man, Kevin Day, shot him in the legs.
Day was a former roommate of Davis, who was at Smith's home that night. During Day's testimony, he said he didn't like Davis due to past conflicts. He said he shot Davis twice, then gave Smith the pistol and fled the scene. He was eventually arrested in California. His case was sealed as of Thursday, and no motive for the shooting was given. Details of the arrest are also unclear.
Day has been charged with aggravated battery and use of a deadly weapon in the commission of a felony. He testified as part of a plea deal.
Witnesses said that despite being shot, Davis made it inside the mobile house.
"(Smith) said he was on his knees by the couch and he was telling her that he didn't want to die, that he wanted to see his kids again and that he needed a doctor," Lopez said. "(Smith) said she gave him two (hydrocodone) for the pain and a glass of water and when he reached to set the water down, she shot him in the head with an armor piercing .45-70 … she said it was like putting a dog out of its misery."
The witness said Smith also pointed out tissue and bone matter that she had attempted to burn in her wood stove and she told him that Davis had been shot two days earlier.
Lopez said Smith gave him pain killers and a beer and he was at the house for about an hour before Lopez told Smith that she would need kerosene to burn the body and that they could get it from a friend of his in Blackfoot.
"I guess I was in shock and the smell of blood and brain matter, the place just reeked of it," Lopez said.
When the two returned to Blackfoot, Lopez old Smith he couldn't help her and after telling his daughter what had happened, he drove to the Bingham County Sheriff's Office and told them what he had witnessed.
Smith told Lopez that Davis had stolen jewelry, cash and drugs from her and went back on a deal to buy a Jeep she owned.
"I guess I just have different morals than her, no matter what (Davis) did, she didn't have the right to be the judge, jury and executioner," Lopez said.
Lopez also told the court three masked men broke into a residence he was staying at in Pocatello, beat him and his girlfriend and warned him not to testify against Smith. He said he did not report the attack.
Public Defender James Archibald is representing Smith in the case and he asked Lopez if he had submitted to a polygraph exam. The witness stated that he had not.
Marie Baker of Pocatello, took the stand as a witness in the case. Baker said Davis was her best friend.
She and Davis went to the Fort Hall Casino the night he was killed and Davis invited her to go to Pingree to "get high" and he told her that they would have all the methamphetamine they wanted.
Baker said she declined, but she let him take her car and rode back to Pocatello with someone else, that was the last time she saw Davis alive, she said.
Several witnesses, all acquaintances of Smith, said following the alleged murder she bragged about shooting Davis. They also said that Smith had previously threatened to kill Davis.
One of those witnesses, Michelle Bennett, said she was at Smith's home earlier that night. Bennett is currently incarcerated on a Bannock County warrant for possession of a controlled substance. She testified Smtih had a rifle that night.
"(Smith) said it's locked and loaded and there's one in the chamber for (Davis)," Bennett said.
Bingham County Detective Randy Herbert said law enforcement traveled to the Pingree residence on the morning of Feb. 11. Smith initially refused to let them enter the home without a warrant. But after a warrant was obtained she was arrested.
The victim's grandparents, Dave and Shirley Davis, attended the preliminary hearing Thursday.
Dave and Shirley said their grandson was an accomplished tradesman who loved his three children, but they said he struggled with addiction.
"It's tough to sit here and listen to this, but it has to be done," Dave said.