Bonneville Extension Office can help you find your passion. Here's how.
Published at
|

Updated at
IDAHO FALLS — On a given day, the staff at the Bonneville County Extension Office are answering questions, teaching classes, developing programs and so much more. They are a busy bunch, but they have one over-reaching mission: to help people in the area develop skills and find their passions.
"We are the best kept secret in town," said Wayne Jones, plant pathologist and educator at the UI Extension, Bonneville County office. "We focus on the needs of the community. If they call and ask about it, we'll try to help by answering questions and offering classes."
The extension office, which is located at 2925 Rollandet in Idaho Falls, has three areas of expertise: plants, 4-H, and family and consumer sciences.
PLANTS
Jones is the plant guy and has been for many years. He keeps close tabs on the latest university research of plant diseases and best practices for growing garden vegetables and trees; he also does some of his own research. His job is then to offer that information to the public.
"Unbiased, science-based plant advice is important," Jones said. "Have you ever gone on the Internet? There is some dangerous information on there."
A county extension office is invaluable as each area is unique with different weather, soil and elevation. Local residents often call Jones with all sorts of interesting plant questions, or they bring in plants for him to diagnose. He gives science-based advice appropriate for this area. It's been interesting to see what comes through the door sometimes.
"About 50 percent of the questions I get are about trees—diseases, root problems, fruit problems, construction, irrigation, insects," he said. "A lot of the tree issues around here come down to environment. Like a short fall that causes stress on the trees because they don't have time to acclimate. I anticipate I'll have a lot of calls in the spring when people see stressed trees."
Another big part of his job is helping gardening enthusiasts. The extension office offers a Master Course, which is quite popular. Part of the course requires the Master Gardeners to offer volunteer hours and many of them help by also diagnosing common plant problems for the general public.
Jones puts together lots of programs and classes, which are based on what people are interested in. There is a sprouts program, a horticulture symposium, cereal school, Junior Master Gardeners, a beekeepers club, classes on grafting trees, roses, and herbs, and there is always something new in the words.
Right now he's also heavily into high tunnel gardening which allows people to garden year-round. He's always searching for whatever can help people in Bonneville County grow better plants.
"I love what I do," Jones said.
4-H DEPARTMENT
At the extension office, Alaena Wilfong heads up the 4-H department, which includes everything most people expect from 4-H: animal, sewing, crafts and cooking projects for youth. But perhaps what people don't know is that 4-H changes over time as people show interest in different areas.
"The focus of 4-H is to help kids find their passion. That's what 4-H did for me," Wilfong said. "I had so many awesome role models."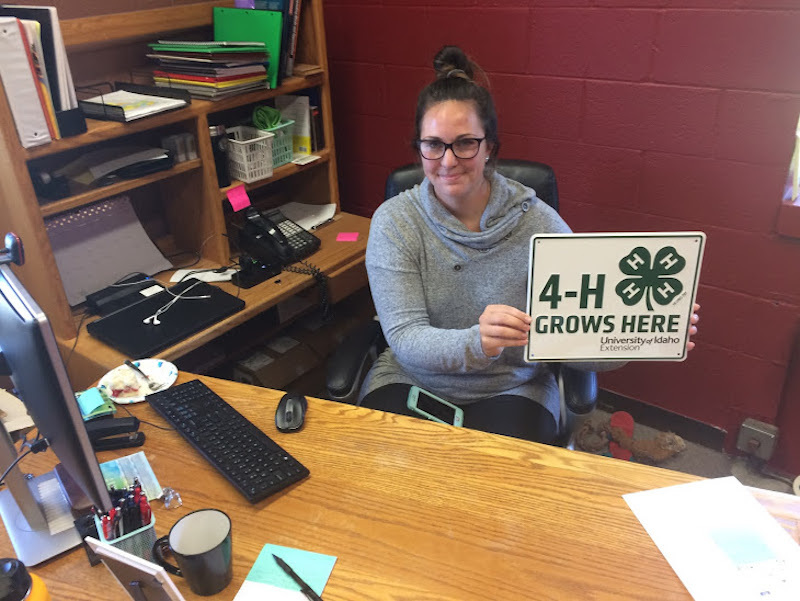 Lately she has been really diving into a newer part of 4-H—robotics. She goes into schools to teach robotics to students, and she also instructs teachers who can then teach robotics. It's been a very fast-growing area of the 4-H program.
Of course, animals are still a big part of what she does. Wilfong oversees many volunteer 4-H leaders in the area who are integral to helping youth raise and enter their animal projects at the Bonneville Count Fair, which keeps growing each year.
"Last year there were 100 more animals than the year before. This year there were 25 more than last year," Wilfong said.
As youth participate in projects, they not only learn about what they are doing, but they build confidence and learn about themselves in the process, she added.
The extension office also held a beef camp for teens so they could learn about beef cuts and best methods for cooking; Wilfong has also offered a chicken hatching unit for students who can see life developing right before their eyes.
It's all about teaching kids the truth about where their food comes from.
"The media has an interesting perspective about food. We want to inform people at the base. If we can teach youth, they can then teach their parents," she said.
At the extension office, the family and consumer sciences side also focuses on research-based information, with the goal of improving the lives of those in the community. There are lots of classes throughout the year on healthy eating, exercise, and so much more.
For more information about everything offered at the extension of office, visit the
University of Idaho, Bonneville County website and the UI Extension, Bonneville County Facebook page.