SCHIESS: Chasing a herd of moose among the aspens
Published at
It looked like a herd of Black Angus running across the road as I was heading up to get a load of firewood; but their long legs and palmed antlers told me otherwise. I had flushed a herd of moose in some sagebrush heading toward Moody Creek, east of Rexburg.
By the time I had stopped the truck and got my camera adjusted to the pre-sunrise light, all but one of them were heading across a small canyon. One not-so-lonely cow with six bulls in tow. It was the end of the rutting season for them and that cow must have been the only available one left to chase. A beauty she was not but then the bulls had a face that only a mother could love.
Bill Schiess, EastIdahoNews.com
There were two yearling bulls, a two year old and two other that were small and one large bull in the lovesick herd. The two yearlings followed the cow around as she tried her best to push them away as she flirted with the larger one. The other three spent their time sparring.
It was amazing how easily their black bodies disappeared as they slid into the thick grove of aspen. On my way home I was able to locate one of the bulls by using my binoculars and then all I could see was its rump sticking out from behind a bush.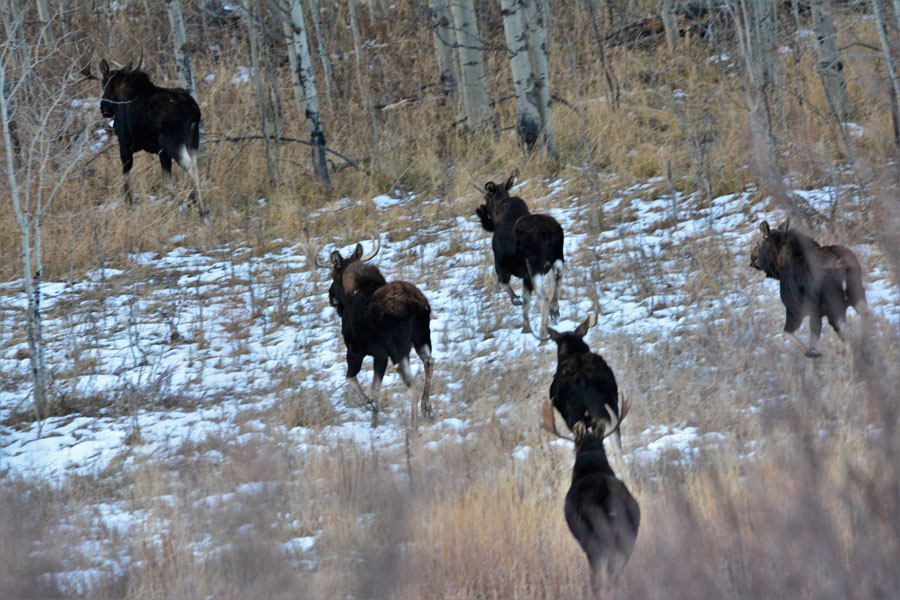 Bill Schiess, EastIdahoNews.com
The next morning the cow and the two yearlings were on the hillside feeding while two of the larger bulls were in the thick aspen. As the yearlings pestered the cow, she would fight them off by boxing with them. One of them had a deformed antler similar to a young bull that had charged me several years ago.
"I wonder if those two yearlings are hers and if the one was the kid of the feisty one," I thought as I took pictures and studied them. In their sparring with her I could see that their hoofs were more lethal than their miniature antlers.
Bill Schiess, EastIdahoNews.com
Two days later I could not find any sign of any moose in the canyon but then I found a gut pile where someone had harvested the female and the bulls had moved on. Permit hunting seasons for five cows and ten bulls were open until November 23 and hopefully it was a legal hunter that filled their freezer with a tough old cow.
The moose of Idaho is the Shiras moose which is the smallest of all the North American moose that also host smaller antlers. Drawing a moose tag is difficult, but hunting is usually successful as they are not shy of people. About 50 years ago there were only about 1,000 moose in Idaho according to information put out by the Idaho Department of Fish and Game. Now there between 10,000 to 12,000 moose calling Idaho their home with half them living in the Upper Snake River area.
As most hunting seasons are winding down, I will pursue animals with my camera hoping to capture some nice bull moose. Hopefully another cow will make the small canyon home and the bulls will follow her back, creating a lot of entertainment for me and others.
Bill Schiess, EastIdahoNews.com