Why a tow truck was carrying this empty coffin through eastern Idaho Friday
Published at
|

Updated at
IDAHO FALLS — Local businessman and CEO of Lindsay Truck & Towing Wyatt Pickering received a call late Thursday afternoon asking whether he and his company could help with the American Towman Spirit Ride.
Even though it was only a few hours away, Pickering answered without hesitation: "Absolutely."
The Spirit Ride brings awareness to "move-over" laws and is similar to a passing of a baton across the nation — only it's the passing of an empty casket from tow truck to tow truck. In addition to promoting the laws, the ride honors fallen first responders killed on the roadside.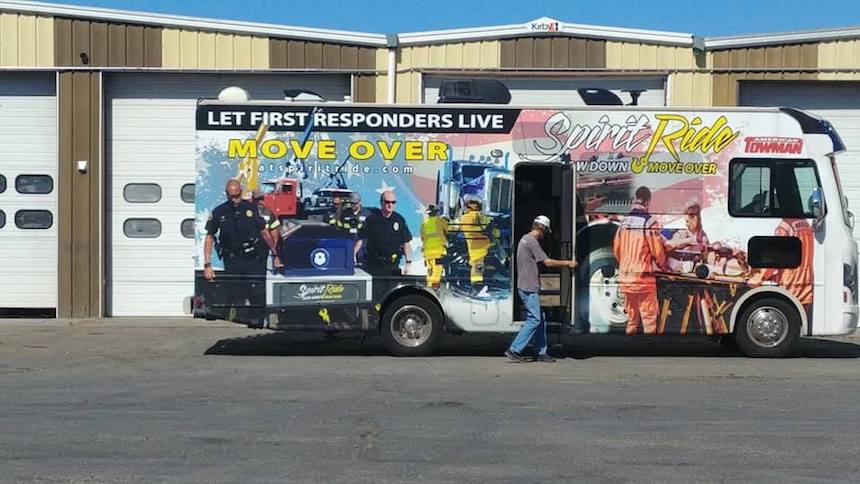 Lindsay Truck & Towing took delivery of the casket from Pocatello Friday morning and drove all the way to Dillon, Montana to transfer it to the next stop.
Sunkiss and Lindsay Towing hosted the event along with eight other towing companies and the Idaho Falls Police Department.
Members of the community attended the ceremony at Sunkiss Enterprise on Lincoln Road Friday morning before the empty casket was transferred to the new roll-back tow truck.
"We would like to remind drivers to slow down and move over when first responders, tow truck drivers and others are helping out on the side of our highways and roadways," Cordell Pickering, co-manager of Sunkiss and Lindsay Towing, tells EastIdahoNews.com. "Our main goal is to make sure all first responders return home safely to their families every night."
In a statement, the Idaho Falls Police Department says they "are grateful for this meaningful reminder of how important it is to 'move over,' and most importantly, to honor and remember those whom have lost their lives due to drivers who did not move over."