Biz Buzz: Costa Vida moves to new location in Ammon
Published at
|

Updated at

Biz Buzz is brought to you by Idaho Central Credit Union, the premier credit union in Idaho. Its mission is "Helping members achieve financial success."
Do you want to know what's happening on the eastern Idaho business scene? We've got you covered.
Here is a rundown of this week's business news across the valley.
BIZ BRIEF
AMMON
New Costa Vida location offers drive-thru, bigger space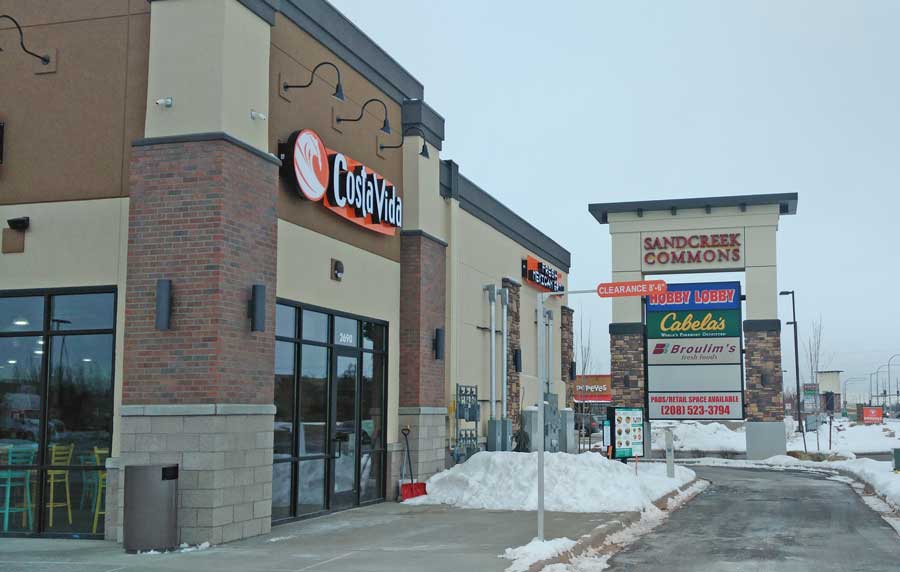 Costa Vida's new drive-thru | Rett Nelson, EastIdahoNews.com
AMMON – If you've been to Costa Vida lately, then you probably know they have opened a new location inside the Sandcreek Commons Shopping Center in Ammon.
Mario Gonzalez, the restaurant's general manager, tells EastIdahoNews.com, they moved from their previous location at 3000 S. 25th East in Idaho Falls and opened their new location at 2690 E. Sunnyside Road on Dec. 31.
The appeal of the new restaurant, according to Gonzalez, is the drive-thru, which wasn't up and running until Monday.
RELATED | Blaze Pizza, Costa Vida opening in Sandcreek Commons
"We couldn't add a drive-thru at our old location," Gonzalez says. "Moms are loving not having to carry their kids out of the car."
Adding a drive-thru was one of the reasons for the move.
The new restaurant is a little bigger compared to the old location and includes a brand-new interior that looks and feels different than the old site.
"Everything is brighter," says Gonzalez.
The restaurant has a larger kitchen area, a 12-nozzle soda machine instead of a 6-nozzle machine, and booth seats rather than tables and chairs.
Customers can still enjoy the same great menu, Gonzalez says, including the return of their seasonal item Chili Verde, which is a spicy pork dish.
"It's been great (since we opened our new location). We've seen most of our regular customers that were over (at the old location)," Gonzalez says. "We're hoping (business) is going to be bigger and better than the other store."
A grand opening of the new restaurant is in the works, but the date has not been determined. Hours of operation are 11 a.m. to 9 p.m. Monday through Thursday, with a 10 p.m. closing time Friday and Saturday.
Costa Vida's previous location at 3000 S. 25th E. in Idaho Falls closed Dec. 31. A burrito restaurant is rumored to be opening there soon. | Rett Nelson, EastIdahoNews.com
The Idaho Falls restaurant first opened several years ago, and the previous location is now vacant. We reached out to the city to determine who will be moving into the building. Dana Briggs, the city's economic development director, says she does not know who will be occupying the space.
Costa Vida is a Utah-based chain that opened in 2003. There are locations throughout the intermountain west, but it has franchise locations as far east as Chicago and several on the West Coast.
BIZ BITS
Portneuf Medical Center unveils new mobile mammography bus
POCATELLO – Portneuf Medical Center unveiled over $800,000 of new tech Monday aimed at helping women get screened for breast cancer. Community and health leaders gathered for the ribbon cutting of Portneuf's new mammography bus, paid for by the Portneuf Health Trust. Portneuf Medical Center officials say the bus has the latest 3D technology, which greatly enhances its ability to screen for cancer. This means women won't have to return as often to be screened. CLICK HERE TO READ THE FULL STORY.
Bingham County is asking you to share your talents
BLACKFOOT – You're invited to the 10th annual Bingham's Got Talent. The event is sponsored by the Relay for Life Team at the Jason Lee Memorial United Methodist Church in Blackfoot. It's for people of all ages from all over eastern Idaho and is happening Saturday, Feb. 16 at 7 p.m. at the Blackfoot Performing Arts Center. Registration forms and a $25 registration fee must be turned in by Feb. 8 at 4 p.m. at the Church. Registration forms are available by clicking here. All proceeds benefit the American Cancer Society. Call Tom Drysdale at (208) 785-3183 to learn more.
Idaho Youth Ranch names new CEO
Scott Curtis | Courtesy photo
IDAHO FALLS – Idaho Youth Ranch announced last Thursday that Scott Curtis will lead the next chapter of the 65-year-old nonprofit's history as its new CEO. Curtis previously served as vice president and chief advancement officer of Treasure Valley YMCA and before that, executive director of Caldwell Family YMCA. Curtis succeeds interim CEO Jason Fry. The Idaho Youth Ranch is in the planning stages for a new long-term residential facility at the Hands of Promise campus. The organization expects to finalize their plans and begin capital fundraising for phase two this spring.
New fast-food restaurant hosting grand opending celebration in Rexburg
REXBURG – You're invited to the grand opening of the new Wendy's restaurant at 1117 S. Yellowstone Highway in Rexburg. It's happening Friday, Jan. 25. There will be a ribbon cutting at 11 a.m. Between 11 a.m. and 2 p.m., you can also get free Wendy's swag and raffle prizes. If you show them the flyer below, you can also get a free Dave's Single, small fry and Frosty.
BIZ BUGS
TECH TOY SAFETY
What electronic toys did your kids get for Christmas? Some of them may be collecting personal information.
The following is a news release from the Better Business Bureau.
From tablets to baby dolls, smart toys are becoming more popular every year. Teddy bears once filled with stuffing are now hard-wired with smart technology. The Better Business Bureau's Children's Advertising Review Unit (CARU) is finding toys may be collecting personal information from children without your permission.
Your Better Business Bureau urges responsible parents to consider these tips when buying a smart toy for their little one:
Do Your Research
When considering an internet-connected device, research the product before you hit the stores. Most information you need cannot be found on the box. Instead, do an internet search of the product and read online reviews. Check the company's business profile on bbb.org. A simple search may uncover a slew of security issues.
Read the Privacy Policy
The Children's Online Privacy Protection Act (COPPA) is designed to protect children's personal information. Toy companies must post privacy policies that describe how personal information is collected from children and how it is handled. If you can't find a privacy policy or the information above, contact the company directly. If you aren't satisfied with the answer or can't find one, consider purchasing another toy.
Parental Rights
Privacy policies must give parents the chance to review their child's information, delete it and give them a chance to refuse to allow further collection. Parents also have the right to agree to the collection and use of their child's information, but still not allow disclosure to third parties. If asked, companies must give parents a way to review personal information collected from their child. They must also offer a way to revoke consent and refuse further use or data collection and delete their child's information if requested.
Use a Secure Connection
Only connect toys over secure, password-protected Wi-Fi or VPN (Virtual Private Network). Avoid using public connections, which may easily allow unwanted access to toys if there are security flaws.
Check Please
Don't assume privacy settings are set by default; check the parental controls and don't forget to password-protect your settings. Be aware of parental controls and safety measures the toy has in place like limiting who your child can communicate with.
Stay Up to Date
Find out if the company will contact you if there are any security breaches or software updates to protect a toy's security. Always install software updates and security patches promptly.
Major Turnoff
Turn off all connected devices when not in use to ensure personal information is not inadvertently collected. If you're worried about kids' online interactions, use programs and devices built-in features to turn off internet connectivity, disable digital purchases and restrict interactions to pre-approved friend lists.
IN CASE YOU MISSED IT…
Family Crisis Center stops child advocacy services as 3 employees launch new organization
Local pediatric clinic now offering specialized care through Primary Children's Hospital
Rising trend prompts opening of new cremation center in Ammon
If you saw movies at the old Paramount Theater, the Idaho Falls Arts Council wants to hear from you
If you have a Biz Buzz item you want to share, send it to rett.nelson@eastidahonews.com. Remember to use "Biz Buzz" in the subject line. Also, don't forget to sign up for the free Biz Buzz email newsletter.