His dream is to meet KISS and his family is asking for help to make it happen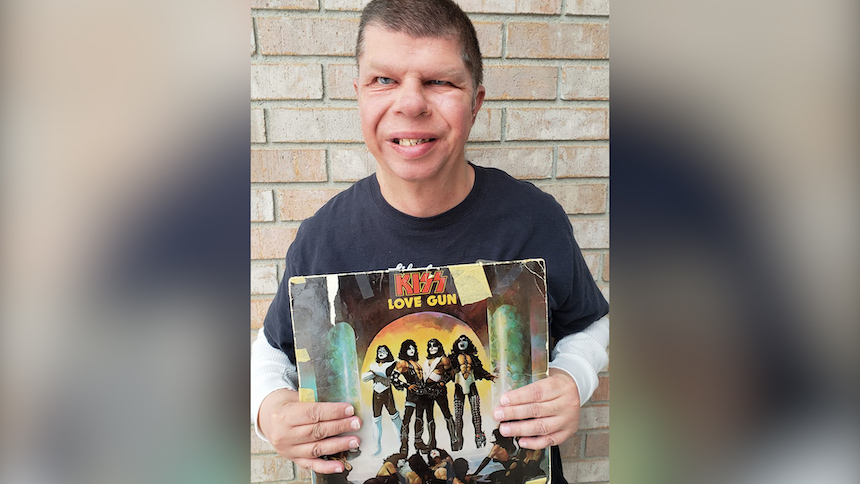 IDAHO FALLS — A local man's fascination with the band KISS has his family doing whatever it takes to meet the musicians he's idolized his entire life.
Leo Wyatt is now 52-years-old and has been in love with KISS since the band's early roots in the 1970s. Even though Wyatt has listened to every record the world-famous heavy metal band has produced, his sister, Tonja Wyatt Wood, says that he has yet to attend a concert in person.
"There are very few things that he really gets jazzed about," Wood tells EastIdahoNews.com. "A lot of my memories are of him and KISS."
Wyatt was born with Williams Syndrome – a genetic condition that presents medical problems, developmental delays and learning challenges. One interesting characteristic of the disorder is that individuals generally love music – and such is the case for Wyatt.
Wood says she can't put a count on the number of times people have said Wyatt has brightened their lives and sending him to see KISS is just one way she can brighten his life.
"All time favorite band, KISS, man – did it all," Wyatt said in a Facebook video posted by his sister. "And there ain't nothing better than KISS."
Wyatt's passion for the band and its members, Paul Stanley, Gene Simmons, Tommy Thayer, Eric Singer, led him to learn to play the drums.
When Wood found out KISS will be performing in Salt Lake City later this year, she knew she had to do something to get her brother to see, and hopefully meet, his favorite band on their final tour.
Meet-and-greet tickets are being sold for $1,000 so Wood created a GoFundMe page to pay for the tickets. As of Monday morning, $200 had been donated.
"Seeing his face (while he's) talking to Gene Simmons would be the highlight of my life," Wood said.
KISS brings its End of the World Tour to Salt Lake City at the USANA Amphitheater on Sept. 14 – the week before Wyatt's 53rd birthday. Wood is hoping this will be a birthday her brother will never forget.
"I think it's something he has never even contemplated as a possibility," Wood says.
Our attorneys tell us we need to put this disclaimer in stories involving fundraisers: EastIdahoNews.com does not assure that the money deposited to the account will be applied for the benefit of the persons named as beneficiaries.