Mistaken mass text alert tells hundreds of elementary school parents their child is absent
Published at
|

Updated at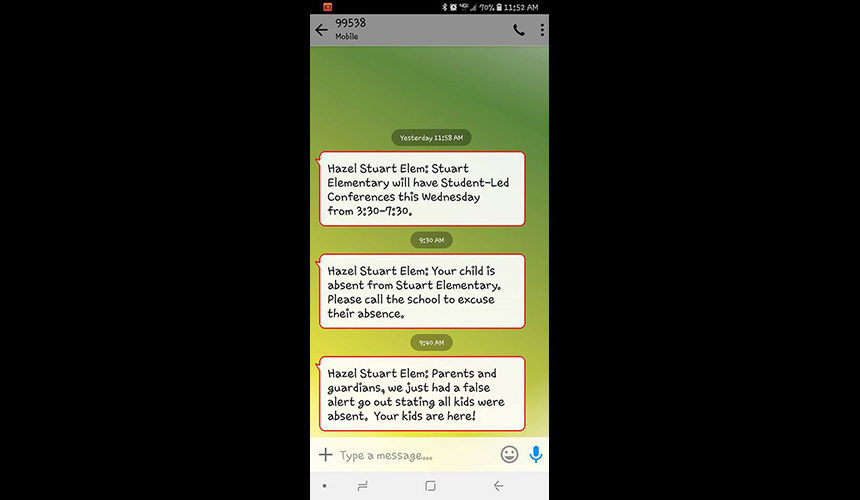 SHELLEY — A lot of Shelley parents were confused Tuesday morning after a mass text alert mistaken informed hundreds of parents their children weren't at school.
The glitch occurred at Hazel Stuart Elementary School when an attendance alert went out informing parents their child was absent. But instead of going to the parents of actually absent students, the alert went out to the parents of the entire 380-student body.
"We just switched over to an alerting system (Monday) that's an upgraded alert system for our school district, and we're trying to work out some glitches in that," Principal Jared Heath says. "This was our first attempt on this attendance alert."
The alert caused quite a stir.
"Our phone started ringing off the hook all of a sudden. The good news is the alerts are going out, and parents were responding very quickly on that," Heath says. "I'm confident that we're going to be able to figure out the issue very quickly. It's usually just something small — the wrong box was checked or something like that."
Heath says several people are troubleshooting the issues. He says the new system, SwiftK12 Alert Solutions, works with PowerSchool, the school's student information system.
As far as Heath knows, the false alerts were sent only to parents and other contacts of the elementary school students.
A second, more reassuring message later appeared on parents' phones 10 minutes later: "Parents and guardians, we just had a false alert go out stating all kids were absent. Your kids are here!"
"Kids are safe and accounted for," Heath says.
He's confident the issues will be resolved by Wednesday.
"We appreciate parents following through on this," he says. "We had a lot of phone calls, but it's nice to know parents are going to respond quickly."