Broken antlers evidence of fierce battles over does at Camas
Published at
|

Updated at
With the thick early morning fog being frozen into a fake snow flurry, I watched as a large White-tailed buck chased a smaller broken-antlered buck through the willows when several does, fawns and a small buck showed up. Quickly, while the two bucks were out of the picture, the small buck mounted a receptive doe before the small herd disappeared in the frost-laden willows.
It was my fourteenth day following the rutting deer at Camas National Wildlife Refuge north of Hamer. My desire to get some pictures of White-tailed bucks had led me to a lot of research about them and their rut, but my hiking and observation activities had come a little too late. Most of the fights between the bucks had occurred in the pre-rut while I was absent as they established their rutting areas.
By the time I started following the bucks most of the battles had ended as the defeated bucks found it easier to run away wearing broken antlers.
Bill Schiess, EastIdahoNews.com
Most of the does gone through their first estrous cycle in early October when they were fertile for about 24 to 36 hours. The cycle is caused each fall during a "photoperiod," which is a time created by the amount of daylight in the day. It is estimated that about 80 percent of the does will be bred during their first cycle; but if they are not, they will begin the next one in about 28 days. These cycles will continue as some of the doe fawns at six to eight months old will gain enough weight to begin their estrous cycle.
During these latest cycles with less does available, bucks do a lot more chasing of both does and other bucks during the early mornings, late evenings and overcast days. With all this chasing, the bucks lose weight as much of their pre-rut fat has been burned off when they detect a whiff of a ripe female. I also observed that by December, they had become more tolerant of other bucks and are once again separating into the same-gender groups.
Bill Schiess, EastIdahoNews.com
This week I spent an evening driving the Camas Auto Route as daylight was slipping away and counted 48 white-tails with 11 of them being bucks. One of the bucks, missing three tines was chasing a young doe across the skyline as the sun set.
During my 14 days I documented nine bucks with broken antlers with two of them having four points broken off; one missing points on the right side and one on the left. Both of these bucks were very aggressive in chasing both does and other bucks, and both were very thin. It appeared that the bucks were constantly on the move looking for does and I watched as one ran almost a mile to follow a doe for an hour.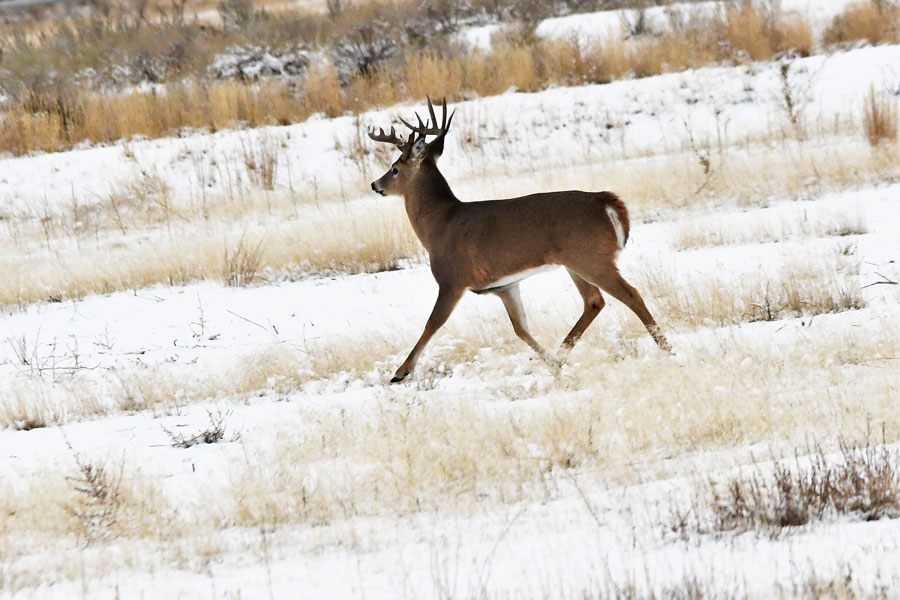 Bill Schiess, EastIdahoNews.com
One of the bucks was missing an entire left antler and appeared to be in pain as he walked back and forth on the large flat area just southwest of the refuge headquarters – never chasing any does and tolerating other bucks.
I found the bucks much more active in the evenings or on foggy mornings during the week. There are also three moose occasionally seen and if you are into porcupines, they are very active in the evening. A short walk down one of the roads on the east portion of the Auto Route is a great place to see them as they graze on the grass after spending the day in the bullrush or cattails.
I find social distancing while following rutting bucks and other wildlife a fun way to enjoy some quality time.
Bill Schiess, EastIdahoNews.com
Bill Schiess, EastIdahoNews.com