Local 12-year-old runner brings home silver medals in Junior Olympics
Published at
|

Updated at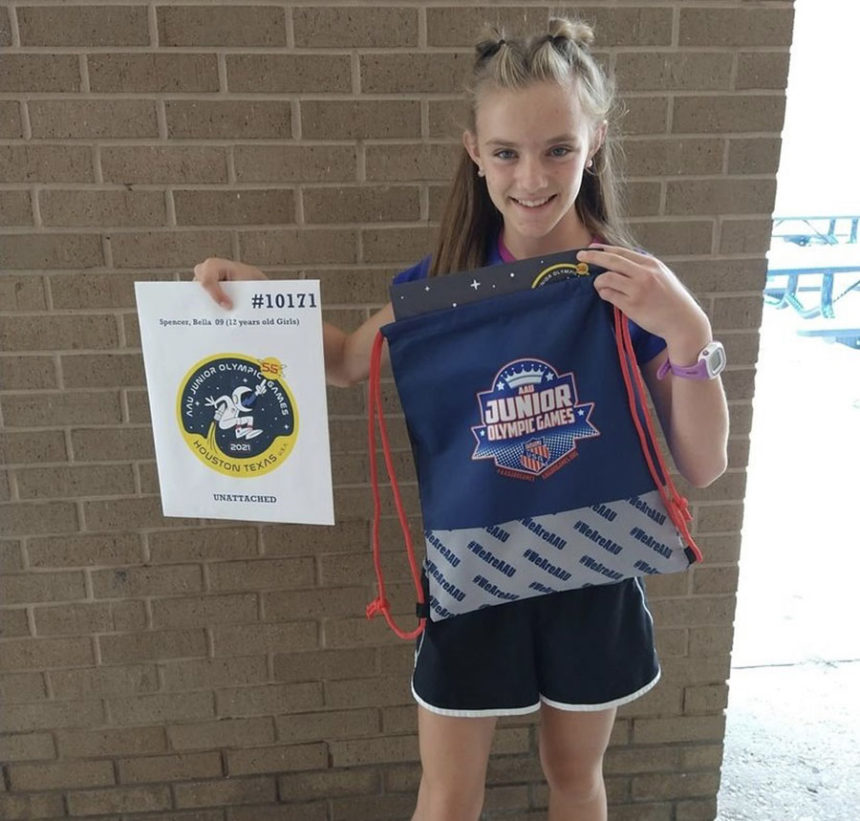 MONTEVIEW — A 12-year-old girl from Monteview competed in the Junior Olympics last week in Houston, Texas for the very first time and brought home two silver medals.
Bella Spencer is a student at West Jefferson Junior High. She started running cross country when she was just a little girl. Her mother Michelle Spencer is a track and cross country coach and explained that Bella always begged to come to races.
"This year was her first year competing in track because they can start competing in track officially in the 6th grade. She's just progressively become better and better," said Michelle.
Michelle told EastIdahoNews.com that her daughter won every single race she ever ran in long distance.
"I decided to take her to a YMCA meet in Boise and she ran in that meet. She ended up running a 5:18 in the 1600 meter (a mile) which at the time put her first in the nation for 6th graders. I had heard about the Junior Olympics from a friend so I decided to look more into it," she said.
The Amateur Athletic Union (AAU) Junior Olympics is the largest multi-sport event for youth in the United States. Events range from wrestling, baton twirling, swimming, track and field and more.
To qualify for the AAU National Junior Olympics, Bella went back to Boise to compete with other girls her age in a regional meet. She qualified for Houston and ranked 7th place in the 800 and 1500 meter races going into the national meet.
But before Bella went to Houston, she needed to fund her trip so she could make her dreams become reality. She created a fundraiser for her plane ticket, food and transportation. Michelle says her daughter has a lot of drive and determination and believes it's part of how she grew up.
"We have a dairy farm and we put in lots of hours and ever since she was little, she's had to feed calves and get up at 5:30 in the morning. She goes out there in 30 below (in the winter) and feeds those calves. I think it's just taught her to work really hard. I think she has a really high pain tolerance too. One time, she cut her finger down to the bone and she watched them stitch it up. She's just mentally very tough," Michelle said.
Bella's mentally tough attitude helped her compete her very best. When Bella raised the money to go to Houston, she competed in both the 800-meter race and the 1500. She competed in the fastest heat among other 12-year-olds. She placed second in the 800 meter with a time of 2:23.8. Then she got second place in the 1500 meter race with a time of 4:51.38.
"It was such an intense race," Michelle said.
She explained Bella competed against 94 girls in the 800m race and 78 girls in the 1500m race in the 12-year-old division. It was an incredible opportunity that Michelle and Bella will never forget and an experience that they were grateful to share together.
"I am really excited for future years, and she is too. You never know what the future holds," said Michelle.
Bella is about to begin training for cross country at her school where she will continue to do what she loves.
"I feel like Bella has been given an incredible gift and talent and has determination and strong will to excel. We just keep stressing the importance of being a good example using this gift to inspire others and always being kind. She met so many neat people at Junior Olympics and she will continue to meet new people along the way. We would like for her to always be kind and love others," said Michelle.