5 things you can do to add equity to your home
Sponsored by RE/MAX Prestige
Published at
|

Updated at
Eastern Idaho is slated to become one of the fastest-growing regions in the United States in 2020, so if you've been considering selling your home, this might be your chance to earn some high profits. And with tax refunds coming back, why not roll that money into a sound investment like home improvements?
One of the best strategies for obtaining the highest dollar for your home is to ensure your equity is fully maximized. But how can you maximize equity? Here are a few tips from people in the biz:
1. Add more features with your existing square footage.
If you have some areas in your home that can be converted to additional living spaces it can add thousands of dollars to your appraised value. In fact, adding one more bedroom to your home can add $7,000 or more to your current appraised value.
"Let's say you have a two-bedroom, two-bathroom home with an office that already features a window but no closet," said Andrea Jardine, a real estate agent with RE/MAX Prestige. "By adding a closet to this room, you now can list your home as a three-bedroom, two-bathroom house. This will give you the ability to ask a higher amount for your home when you list it. The same idea is true about adding a bathroom. Just make sure you do your math up front, ensuring that your costs in adding the feature aren't more than the value you're going to add."
If you're not sure, reach out to a real estate agent to determine whether the value will exceed the expense.
2. Declutter and stage
Decluttering is one very impactful thing you can do to improve the equity in your home. When potential buyers walk into a home, they want to imagine their lives there. They want to visualize their furniture and other personal items in the room. By eliminating as many personal belongings as possible, you can help them do just that.
If you want to sell sooner than later, consider investing in a storage unit for a little while to clear out items that may be cluttering your spaces.
3. Upgrade finishes
Could your home use a little facelift? You can perform some simple upgrades to increase the value of your home. Applying a fresh coat of paint to surfaces throughout your home makes a huge difference in the overall appearance. It also helps to make any potentially unpleasant odors such as smoke or pet smells disappear.
New flooring can add a fresh new look while also removing odors and stains that make the home look worn.
Another easy upgrade is replacing lighting fixtures. Often you can install them yourself with a few screws and new bulbs.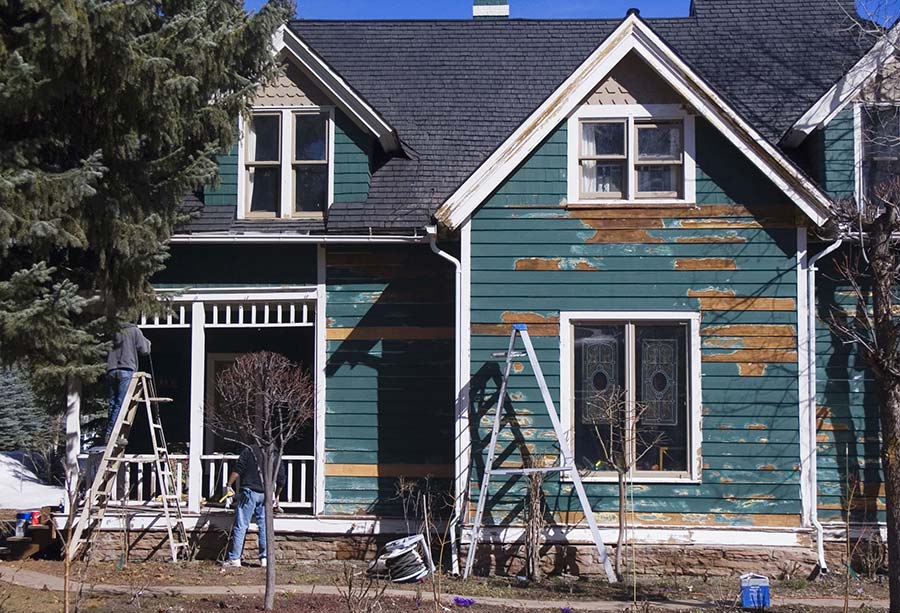 Stock photo
4. Increase curb appeal
Chances are, you've already considered enhancing the curb appeal of your home, but if you are even considering selling, now's the time to get serious about it.
According to USA Today, "Curb appeal doesn't just keep you in love with your home. It can also increase the value of your property as much as 12 percent."
Tidying up and trimming hedges, removing spider webs, planting bushes and trees can really grab buyers' attention when they're searching for a new home. Something as simple as cleaning the front door and windows and repainting the front door can make a huge difference. Tasks such as repainting the exterior, replacing window trim, and installing rain gutters can also improve the value of your home.
You can make many low-cost or even no-cost improvements to the exterior of your home to increase your value.
5. Make energy upgrades
Not only will energy upgrades increase the value of your home, but they often make you eligible for tax rebates.
For instance, installing new windows can improve the energy efficiency of your home and lower your monthly energy bills. But you can also receive a big rebate at tax time for these types of improvements. New windows, doors, roofing, and added insulation also are upgrades that can be very attractive to potential buyers.
If you're wondering about other ways you increase equity in your home, reach out to a real estate agent. They can tell you which types of improvements will create the most equity. It's also important to note that a licensed contractor should handle many upgrades, but some can be projects you can complete yourself by using care and attention to detail.