Don't freeze your assets this winter
Published at
|

Updated at
This story is brought to you by
Century 21 High Desert
, which has been in business since 1996 and has the guidance, professional execution and local knowledge to help you buy or sell a home in east Idaho.
When it comes to east Idaho winters, preparedness is key.
The weather tends to be brutal. However, you can save money and remain cozy inside your home by acting now before the unforgiving cold arrives.
Here are eight easy ways to winterize your home. Most will only take a second or two of your time.
1. Change your furnace filters
It's important to replace or clean furnace filters monthly during the heating season. Dirty filters prevent airflow and increase energy demand.
2. Watch your thermostat
Turning down the heat when you leave the house is one of the surest and easiest ways to save money. The majority of homes spend 50 to 70 percent of their energy budgets on heating and cooling.
For every degree you lower the thermostat, you'll save 1 to 3 percent of your heating bill. If you don't already have them, make sure you install programmable thermostats in your house. They are roughly $50, and an average family will save about $180 a year with one.
3. Blow out your sprinklers
Winterizing your sprinkler system can be tricky. But it is important to make sure your sprinklers have all the water blown out of them before it freezes. If not, problems can occur. If you plan to do it yourself, you'll want to make sure you have an air compressor and an air hose. You can find instructions on how to do the procedure here. However, if the task seems daunting, there's several professionals in town who will do the service for a certain fee.
4. Get rid of the drafts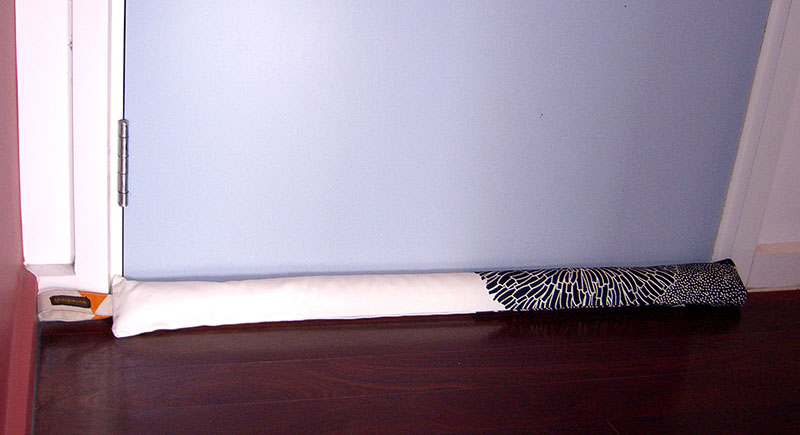 Drafts can waste 5 to 30 percent of energy use, according to the U.S. Department of Energy. Luckily, there's a simple fix. The "draft snake" was adopted during the Great Depression and is one of the easiest ways to cut back on energy waste.
A draft snake can easily be made by rolling up a towel, or you can buy one already made.
5. Prevent frozen pipes
Unprotected pipes can freeze from a combination of wind chill, exposure, and a long duration of sub freezing weather – a combination that we have plenty of in this area. Check your water flow periodically once subfreezing weather arrives. If there's a drop in water pressure, your pipes could be starting to freeze. Leave the faucets dripping to keep the water flowing and relieve pressure. You can also contact a plumber to help you make some home improvements to prevent frozen pipes.
6. Turn down your water heater
A lot of conventional water heaters are set to 140 degrees Fahrenheit when they're installed. However, most households don't need that much heat and end up paying for it. Lowering the temperature by 20 degrees could reduce your heating bill by 6 to 10 percent.
And to top it off, if you're in the market for a new water heater, tax credits are available until Dec. 31, 2019.
7. Grab a window insulation kit
One of the window insulator kits you can buy. | 3M
Head into your local hardware store and grab a window insulation kit. It will only cost you a few bucks per window, and the buffer will help your home hold in heat.
You can save even more by hiring a professional to install a film directly to the windows. And if your windows are old and outdated, you could invest in energy-efficient windows, which qualify for a federal tax credit covering 10 percent of your costs.
8. Don't forget your air conditioning unit
It's important to do a few things to extend the life of your AC during the cold winter months. Winterizing your machine is easy. Drain any pipes or hoses coming from the AC. If you don't, they could freeze. You will also want to make sure to vacuum out any water you have in the AC's drain pan. And lastly, cover the device with a plastic air conditioner cover. The cover will keep water and snow out of the unit and prevent rusting.
Taking these few simple steps are a sure way to save some extra cash this winter. Make sure to get an early start on winterizing your home because the snow is sure to fall any time, and you'll want to be prepared.