Rexburg family heartbroken after cat is shot with arrow
REXBURG — A family is heartbroken after their pet cat Vador was shot with an arrow Tuesday night.
Laurie and Gregg Hardy made the startling discovery after walking into their garage.
"Vador was sitting right next to the trash can and had the arrow going through his leg," Gregg Hardy tells EastIdahoNews.com. "He was holding his leg up and every time I would try to touch him he would hiss and do what cats do."
The Hardy's three children are heartbroken and were unsure their cat would survive the shooting.
"They said their goodbyes because they were afraid that he wouldn't live," Laurie Hardy says.
The family believes it was a crossbow arrow that went through Vador's front right leg. If the arrow had hit the cat a few inches higher, he likely would not have survived.
Vador was taken to the Upper Valley Veterinary Clinic and is expected to go home this week but veterinarians say it could take up to six weeks until he is fully healed.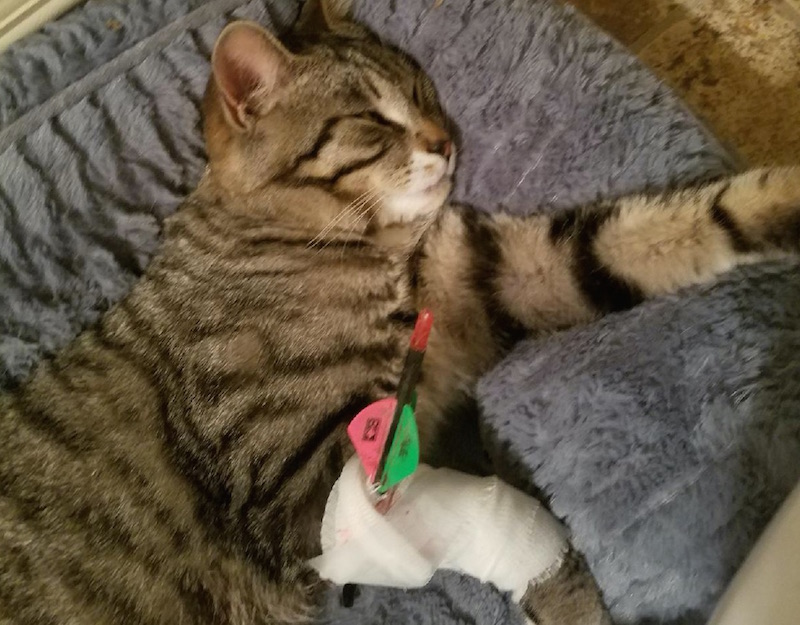 "It did break one of his bones but the doctor says there doesn't appear to be any nerve damage right now," Gregg says. "It didn't really hit any arteries or veins and he actually seems to be doing pretty good."
Rexburg Police are investigating the situation and say they're trying to determine if the shooting was accidental or intentional. So far they have no leads as to who could have shot the cat.
"It makes me sad and upset that it happened," Laurie says. "The kids love and adore him and he's our family cat. I don't want to press charges if the person who did it would just come forward and help pay the medical bills."