East Idaho Eats: Famous Dave's is bringing award winning BBQ to east Idaho
Published at
|

Updated at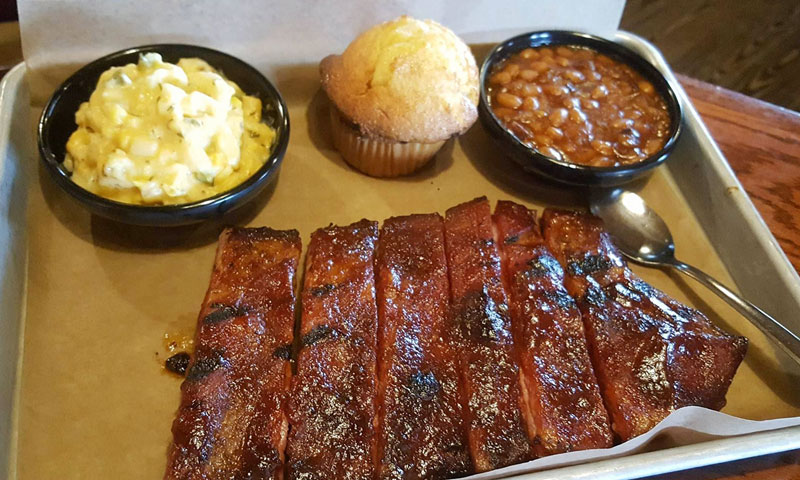 IDAHO FALLS — A restaurant not so native to Idaho has brought its award winning pit barbecue to the area for years now.
Famous Dave's, founded by David Anderson, opened its first BBQ shack in Hayward, Wisconsin in 1994. The eatery served 5,000 people a week based in a town of 1,800 people. Now the chain is much larger and boasts more than 700 awards for its BBQ nationwide.
"He grew up in Chicago, Illinois and at very young age realized that barbecue was his passion and his dream," Idaho Falls Restaurant General Manager Lonnie Mack said.
Before rolling out with his savory BBQ products, Anderson perfected his craft over the course of two decades. He would visit the best barbecue spots in the nation to learn from experienced pit-masters. It took the BBQ creator countless hours to perfect the best mixture of fresh fruit juices, rich-black strap molasses, cane and brown sugars, exotic spices and herbs for his legendary sauces, according to FamousDaves.com.
"He spent about 20 years traveling across different places. The Texas Pit (sauce), the Georgia Mustard (sauce). It's kind of paying homage to those guys where he … learned from," Mack said.
Now there are two locations in Idaho, one in Meridian and the other in Idaho Falls. There are over 170 Famous Dave's locations nationwide and worldwide including ones in Puerto Rico and Canada.
Mack said customers usually order famous feasts, like the Famous Feast for Two. Customers can get ribs, chicken, and their choice of pork or brisket. It comes with fries, corn on the cob, cornbread muffins and their choice of two sides.
"Our feast is our most popular dish because you get a variety of everything that we have to offer, " Mack said. "We also serve it on a garbage can lid which just goes back to the roots of what Famous Dave's is. His very first smoker was a garbage can. He would smoke his food then turn the lid over and serve the food on the lid."
Mack also said that although the restaurant is a chain, it still has a local, family feel and its food is made fresh daily.
Famous Jody giving a famous sauce tour of signature sauces. | Natalia Hepworth, EastIdahoNews.com
WHAT TO TRY:
St. Louis-Style Spareribs: This dish comes with Dave's secret spice blend. It's pit-smoked for three to four hours over a hickory fire. Then it's slathered in a famous sauce over an open flame for a caramelized coating. You can also order them naked, without sauce.
"It's a meatier rib. It is pork but it's a great cook, it's got great presentation. I think it really pays a great tribute to what Famous Dave's is about."
Famous Dave's Cheesy Mac & Cheese | Natalia Hepworth, EastIdahoNews.com
On the Side:
Dave's Cheesy Mac & Cheese: The macaroni and cheese has a mix of four cheeses, signature spices, jalapeño and corn.
Wilbur Beans: These baked beans come with smoked pork, brisket and hot link sausage. It also has jalapeños in the mix.