Biz Buzz: Nielsen's Frozen Custard is closing and a new Hawaiian grill is taking over
Published at
|

Updated at
Do you want to know what's happening on the east Idaho business scene? We've got you covered.
Here is a rundown of this week's business news across the valley.
BIZ BRIEF
REXBURG
Kainoa's Hawaiian Grill replacing Nielsen's Frozen Custard in Rexburg
Plate lunch menu option offered at Kainoa's Hawaiian Grill | Jeremy Claridge
REXBURG – Nielsen's Frozen Custard in Rexburg is closing its doors at the end of this month.
Linda Schreiber, the co-owner, tells EastIdahoNews.com Nielsen's last day of business will be Saturday, Oct. 27.
"We thank the community for supporting us," she said. "We're going to miss Rexburg."
According to the business's Facebook post, "We have recently learned that our famous custard will not be delivered to this area anymore."
"That made it so we either change completely or move on," Schreiber said. "We decided it was time to move on."
Schreiber says they are deciding whether to reopen in another location, but in the meantime, says she is happy for the new tenants who will be moving in.
The new tenant is Kainoa's Hawaiian Grill, which we told you about last week.
RELATED | Restaurant owner bringing a Hawaiian flavor to eastern Idaho
Kainoa's Hawaiian Grill serves up a traditional Hawaiian plate lunch with a mainland fusion of tacos, wraps and salads topped off with owner Eric Blair's special sauces and flavors.
"All the recipes I pretty much generated myself," Blair says. "I've taken what I like from the mainland and (added a Hawaiian twist) to the recipes."
Jeremy Claridge
Jeremy Claridge
A plate lunch includes two scoops of white rice and macaroni salad with a meat entree. Hawaiian plate lunches are designed to be affordable, filling and served to go.
"We want people to come in and eat at their pace, whether that be really fast or taking time to hang out for a while. But every meal is served in a black, clamshell to-go container," says restaurant franchisee Jeremy Claridge.
Claridge says they had a good feeling about bringing the Arizona-based restaurant to Rexburg while visiting the area in June. Claridge says they were planning to open next door to Nielsen's, but when they learned Nielsen's was closing, they decided to open there because of the drive-thru window.
"Our window will be strictly for online and phone orders only, so it's just a pick-up window," Claridge says. "If people were to pull-up, make an order and drive (to the window), there is potential to back up the line and we don't want to do that."
Claridge is planning a soft open in late November, if everything goes as planned, with an official grand opening to follow in early December.
Kainoa's Hawaiian Grill first opened in Thatcher, Arizona, more than eight years ago. Blair says the fan base has continued to grow and is excited to open the restaurant's second location in Rexburg. The hours of operation will be 10:30 a.m. to 8:30 p.m. Monday through Saturday.
"We love everything about Kainoa's — the atmosphere, the food," Claridge says. "If we can duplicate that here, we've done something (worthwhile.)"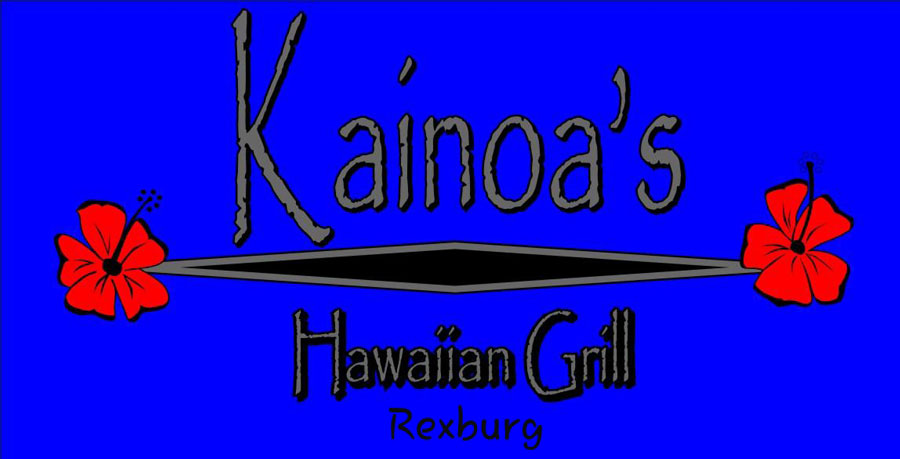 Courtesy Jeremy Claridge
BIZ BITS
Noodle and ramen bar opening in Pocatello
POCATELLO – After the success of their Thai cuisine restaurant in Idaho Falls, a local couple is now opening a ramen restaurant in Pocatello. Gin Sen Noodle and Ramen Bar at 507 E. Center St. in Pocatello came about because of Pocatello customers' positive response to dining at Krung Thep Thai Cuisine in Idaho Falls. Gin Sen is not open yet, but will be once construction is complete. EastIdahoNews.com will post a story soon.
Scene from upcoming movie shot in Blackfoot on Monday
BLACKFOOT – Michael Maxxis and his film crew were in Blackfoot on Monday to film a scene for their upcoming independent film, "Puppy Love," at the Blackfoot Swimming Pool. The film is based on the life of his cousin and stars Hopper Penn, Rosanna Arquette, Paz De La Huerta and Michael Madsen.
"Puppy Love" was filmed entirely in Alberta, Canada, with the exception of this one scene.
Annual Halloween event at Idaho Falls Zoo making accommodations for biggest crowd ever
IDAHO FALLS – Boo at the Zoo at the Idaho Falls Zoo is set for Oct. 25, 26, and 27. Hosted by Tautphaus Park Zoological Society, Boo at the Zoo is one of Idaho Falls' largest fundraising events and showcases an amazing array of lights and lighted displays, dozens of decorations, twice-nightly costume contests, kids' games, and trick-or-treat stations hosted by area businesses and organizations.
New Mongolian Grill opens its doors
REXBURG – You may have noticed a new Mongolian grill restaurant in Rexburg over the weekend. Adam's Mongolian Grill held a soft opening Friday at 505 N. 2nd East. Sophie Casassa, the restaurant's marketing director, tells EastIdahoNews.com about 140 people showed up to sample their freshly-cooked menu options.
COMMUNITY CAUSES
After Domino's donation, local business joins the effort to improve Rexburg's roads
FREMONT COUNTY – A local business wants to join the effort to fix potholes and bumps on Rexburg's roads. On Saturday, EastIdahoNews.com posted a story about Domino's Pizza's "Paving for Pizza" campaign. Rexburg is one of 13 cities around the nation to receive a grant to address road conditions in city limits. The city was awarded a $5,000 grant this week and now DePatco, Inc., a Fremont County-based asphalt paving and concrete installation company, says it wants to match Domino's donation to help give back to the community.
BIZ BUGS
TOPIC: SOCIAL MEDIA SAFETY
The following is a news release from the Better Business Bureau.
As we continue to focus on cybersecurity during National Cyber Security Month, the Better Business Bureau encourages you to start with the following tips on social media:
Crank privacy settings up, and watch what you share. Go through each account and see what information is provided. Do you really need your address on Facebook? Go through settings on each account, keeping in mind you may have to click through a few screens. You can often place controls on what kind of advertisements you see and what activity is tracked.
Talk to your family and friends about what they share. Keep in mind that once it's online, it's out there forever, even if something is deleted. Discuss what photos and information are appropriate to share and what needs to be kept private.
Always double-check friend requests. Don't just automatically click "accept" for new requests. Scammers like to impersonate friends to gain access to your page or to message victims and request money. Take a few moments to look over the profile and verify that account is a real person, not a scam. Scan your list of friends to see if any show up twice.
Watch for scam messages. BBB has received a number of reports of people getting a message, often from a supposed friend, who claims to have won money via a contest or grant. The "friend" then tries to convince the user to call and see if they've won too, and soon, the requests for money roll in. Never hesitate to verify with a friend offline if something seems suspicious.
Don't blindly trust friends' recommendations. Just because a friend shares a link, video or other information doesn't mean that it's safe to click. It could be a fake account, a hacker or mean that your friend hasn't done his or her research. Unsafe links could lead to a phishing site or malware.
Alert your friends. If your friend suddenly starts posting links to work-at-home schemes or scandalous celebrity videos, tell him or her directly about the suspicious activity. Otherwise, they may never know that their account has been impersonated.
Report fake accounts and fraudulent posts. Most social media sites offer a "report" function.
IN CASE YOU MISSED IT…
These east Idaho haunted attractions are guaranteed to scare
Melaleuca pays $3 million in longevity bonuses to 224 employees
Developer sought for downtown Park Avenue property
Sears, the store that changed America, declares bankruptcy
If you have a Biz Buzz item you want to share, send it to rett.nelson@eastidahonews.com. Remember to use "Biz Buzz" in the subject line. Also, don't forget to sign up for the free Biz Buzz email newsletter.