Biz Buzz: Restaurant owner bringing a Hawaiian flavor to eastern Idaho
Published at
|

Updated at
Do you want to know what's happening on the east Idaho business scene? We've got you covered.
Here is a rundown of this week's business news across the valley.
BIZ BRIEF
REXBURG
Business owner bringing a Hawaiian flavor to Rexburg
REXBURG – An entrepreneur from Gila Valley, Arizona with a flare for Hawaiian recipes is bringing his popular restaurant, Kainoa's Hawaiian Grill, to eastern Idaho.
"As soon as we let people know through social media (that we're opening in Rexburg), our Facebook page just blew up," owner Eric Blair tells EastIdahoNews.com.
The restaurant first opened in Thatcher, Arizona more than eight years ago and Blair says the fan base has continued to grow. Kainoa's Hawaiian Grill offers a mix of tacos, wraps and salads, topped off with Blair's special sauces and flavors.
"All the recipes I pretty much generated myself," Blair says. "I've taken what I like from the mainland and (added a Hawaiian twist) to the recipes."
The connection to Hawaii comes from Blair's father-in-law, who grew up in Oahu.
Jeremy Claridge, a long time customer at Kainoa's in Thatcher, is the restaurant's franchisee. He says the decision to come to Rexburg happened during a trip to the area in June. Claridge had recently become a crop duster pilot and was here looking for flight jobs.
"I honestly couldn't tell you what attracted me to Idaho. I don't have any connections to Idaho, but when we were up here in June, we just had a really good feeling about Rexburg," Claridge says.
After driving through town over the next several days, Claridge's wife realized there wasn't a Kainoa's restaurant and jokingly asked, "What are we going to do without Kainoa's?"
"Well, we're just going to have to bring it with us," Claridge said in response.
They discussed it during the 17-hour drive back home to Arizona and approached Blair with the idea.
"He very quickly agreed it was time to franchise, and that's how it all came about," Claridge says. "The thing I love about Kainoa's is I can go and get my money's worth, and at the same time, eat something that's good for me."
Kainoa's Hawaiian Grill will open inside Rexburg's Hemming Village in late November. Details surrounding the exact location are still pending, but the hours of operation will be 10:30 a.m. to 8:30 p.m. Monday through Saturday.
The goal of Kainoa's Hawaiian Grill, Blair says, is to expand to Idaho Falls and Pocatello within the next three to five years.
RELATED | Five Guys, Biomat USA among businesses opening in Rexburg development soon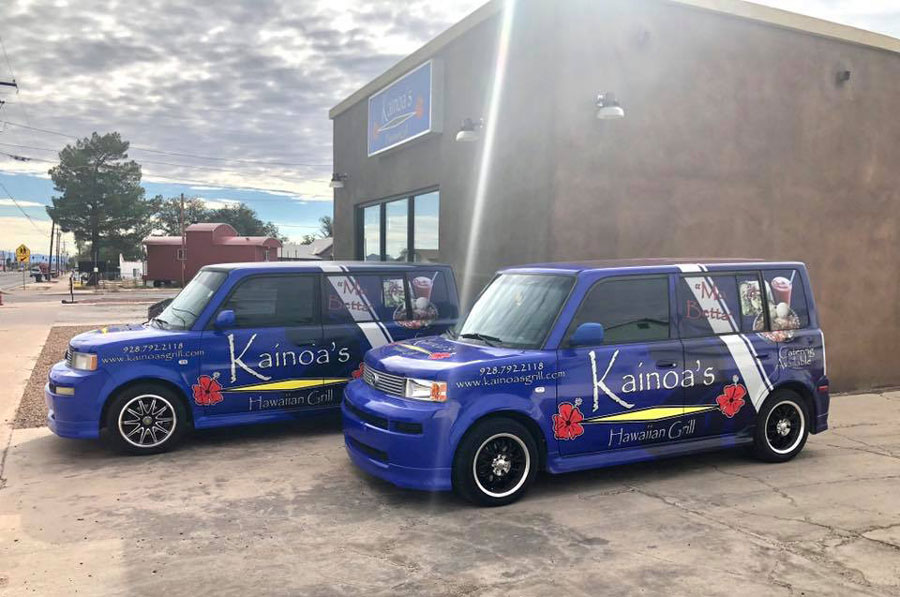 SMALL BUSINESS SPOTLIGHT
IDAHO FALLS
Local antique shop with unique history has been in business for nearly 46 years
IDAHO FALLS – A few miles outside Idaho Falls, off U.S. Highway 26, is an iconic building with an eye-catching display of inventory and history.
The Country Store Boutique has sold antique items to customers spanning the globe for more than 45 years. You name it, and the Country Store Boutique probably has it. Its inventory includes everything from furniture and old trunks to vinyl records, signs, yard decor and jewelry.
BIZ BUGS
TOPIC: HALLOWEEN SHOPPING
The following is a news release from the Better Business Bureau.
This year, the National Retail Federation expects shoppers to spend up to $9 billion on Halloween-related purchases. When it comes to purchasing costumes and other Halloween supplies, 45 percent of shoppers will visit discount stores, 35 percent will visit a Halloween store and 24 percent will shop online. Before you purchase your spooky costume, the Better Business Bureau Northwest + Pacific offers these tips to avoid being tricked: 
Look for sales.
 Compare prices on costumes and decorations from various retail or online stores. Look for coupons and sign up for email alerts to get the best deal. 

Check the return policy. Ask about the stores return policy before you buy. Find out how long you need your receipt, or what happens if you lost it. This will help you avoid any mishaps like unwanted items being non-refundable. Keep in mind that buying a bunch of stuff with the intent of simply returning it after October 31st is considered fraud. 

Shop smart. When shopping from an online website, the first step is to make sure the URL starts with "https" and includes a lock symbol. The S in "https" stands for secure. Look up the website's privacy policy and contact information. If it is not clearly listed, or they only have an email as the point of contact, take that as a big red flag and shop elsewhere. Also, be sure to use your credit card instead of your debit card, as credit cards not only provide additional protection, but it's also easier to dispute a fraudulent charge.
Seasonal stores
 
If you decide to shop from a seasonal store, ask whether or not they will be open after the holiday, how long they plan to stay open, and if they will accept returns after Halloween is over. If they plan to close up shop November 1st, or refuse returns after, either consider shopping elsewhere, or take more time to be sure that item is exactly what you want before making the purchase. 
 
More tips for seasonal "pop-up" stores:
 
See if they have a website in case you have to contact them later.
Save every receipt.
Use a credit card so you can dispute problems with the card's issuer.
Make sure you are clear on what items are final.
Do a little pre-planning before purchasing tickets to a special event or haunted house. Check online reviews to make sure you can trust the company hosting the event.  
IN CASE YOU MISSED IT…
I.F. City Council approves funds for a splash pad in budget session
North, south, east, west — which direction does U.S. Highway 20 really run?
Union Pacific Railroad closes crossing in Idaho Falls for repairs
Check your fridge and garage for all these things recalled this week
 
If you have a Biz Buzz item you want to share, send it to rett.nelson@eastidahonews.com. Remember to use "Biz Buzz" in the subject line. Also, don't forget to sign up for the free Biz Buzz email newsletter.