Where you can see Christmas light shows in east Idaho
Published at
|

Updated at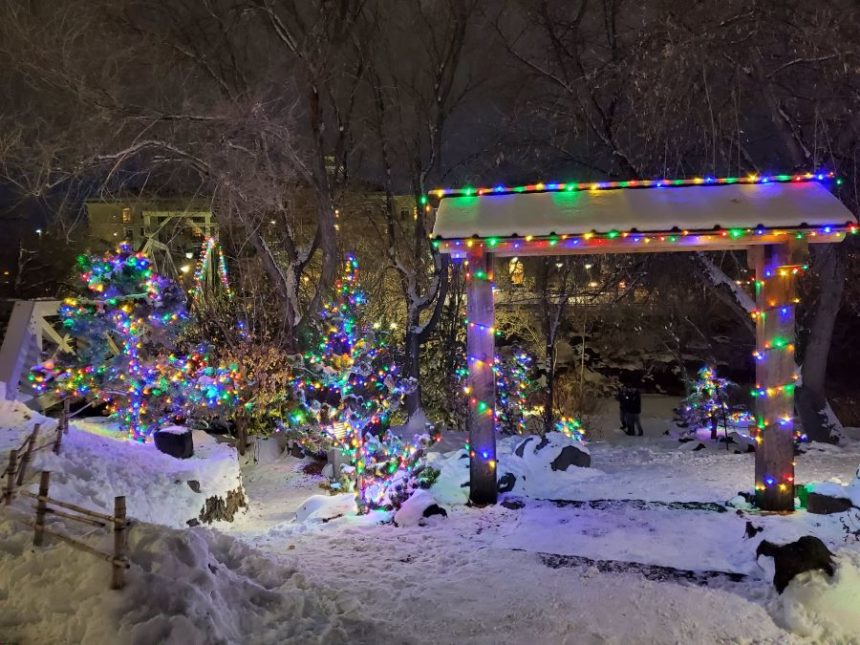 IDAHO FALLS — A popular Christmas tradition for many is looking at Christmas lights, and there are a plethora of light shows to see in eastern Idaho.
We've compiled a list of Christmas light displays for you and your family to check out. Before you go, here's a reminder to be respectful of the neighbors. Please don't ever block neighbors' driveways, shine headlights into their windows, or be unnecessarily loud or disruptive. Being considerate can make sure light shows can be done in years to come, and everyone can have an enjoyable experience.
To see even more areas with lights, an interactive Google Map was created to show you some of the best spots.
Owens Family Lights, Idaho Falls
From Owens Family Lights Facebook
The Owens family at 1385 Lowell Drive in Idaho Falls has been hosting a Christmas light show for over a decade. Their 2020 music-incorporated show, "Christmas Every Day," is displayed with 100% energy-efficient LED lights and more than 120,000 pixels. Tune into 88.5 FM to hear the music.
The 30-minute show will run through New Year's Eve on repeat from 5 to10 p.m. More information can be found on their website and Facebook Page.
Winter's Wonderland of Lights
Winter's Wonderland of Lights, Chubbuck
The Winters have been doing a light show for over 15 years in the different houses they have lived in. Their show will run daily through New Year's Day from 5 to 11 p.m., and the music can be heard on 88.5 FM.
Though they already planned to up their game this year, they knew that people would need a really special show in 2020. They doubled the amount of pixel they used from last year to 15,000. It's at 1389 Sawtooth in Chubbuck. More information can be found on their Facebook Page.
To go along with the spirit of giving, a donation box will be set out in front of their house where 100% of the donations will go to the Idaho Food Bank.
The Robinson Family Light Show, Rexburg

This is the first year for the Robinson Family Light Show at 672 Hillside Drive in Rexburg. Rick Robinson says it was something he has always wanted to do, and everyone calls it Christmas magic.
New shows will happen every 15 minutes from 5:30 to 10:30 p.m. The show includes six giant lights and smoke machines. Tune into 90.9 FM to hear the music. More information can be found on their Facebook page.
Christmas Lights at the Inn, Ririe
Courtesy Steve and Shannon Parry
This outdoor adventure at the Aspen Grove Inn in Ririe is perfect for driving around and seeing all the characters set up around the lights, including the Peanuts Gang, Mickey, Minnie, Donald, Frozen characters, Clark Grizzwald, cartoon animals, the nativity, Santa's workshop, and more. You can also hear the hooting of owls out in the distance. All of it is shown for no charge.
The route is about a sixth of a mile, and they will keep it up as long as people keep coming. Lights stay on until 10:30 daily.
For GPS, it is recommended to use the address 105 North 5050 East in Rigby, though it is closer to Ririe. People are encouraged to take Heise Road to get there, not Snake River Road.
The Japanese Friendship Garden, Idaho Falls
Silas Wright | East Idaho News
This walkway of lights was set up by the Idaho Falls Parks and Recreation Department and can be found along the Snake River off of Broadway in Idaho Falls. It includes views of the river, an enormous lit tree, and many areas of lights set up for family photos or display.
1839 Malibu Drive, Idaho Falls
Courtesy of Douglas Avevalo
118 South Hidden Valley, Rexburg
From Sky Sessions Facebook
Tune into 89.9 FM to hear the music. The show runs from 5:30 to 9:30 p.m. and is sponsored by Apple Tree Dental.
Dr. Reese's Annual Christmas Display, Rigby
From Spine Align Chiropractic Facebook
This show will run through Dec. 26 from 7 to 11 p.m. at 3726 East 10 North in Rigby. Pull into the driveway up next to the cones, turn out your headlights and tune your radio to 92.7 FM for the 20-minute experience. More information can be found on the show's Facebook page.
5629 Inverness Court, Idaho Falls
Courtesy Betsy Dayle Thomas
Silver Spur Light Show, Idaho Falls
From Silver Spur Light Show Facebook
The Silver Spur Light Show at 7983 Silver Spur in Idaho Falls runs from 6 to 9 p.m. Monday through Thursday and 6 to 10 p.m. Friday, Saturday and Sunday. Tune into 88.5 FM to hear the music that goes along with the show.
More information can be found on its Facebook page.