Biz Buzz: Barbering school opens in downtown Idaho Falls
Published at
|

Updated at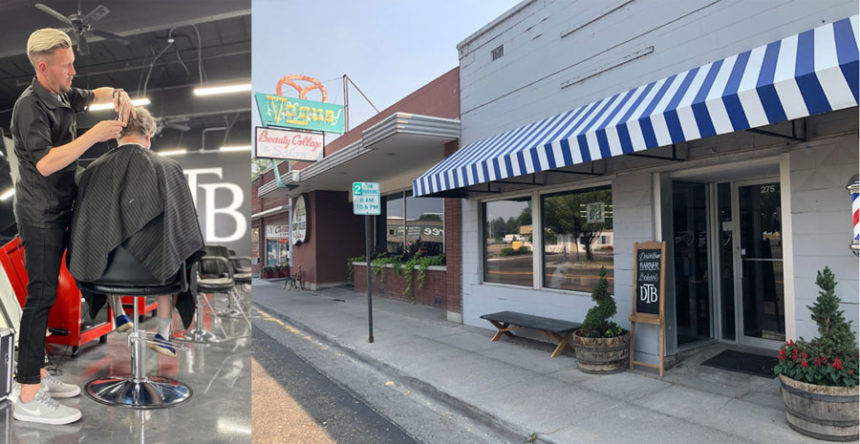 Biz Buzz is brought to you by Idaho Central Credit Union, the premier credit union in Idaho. Its mission is "Helping members achieve financial success."
Do you want to know what's happening in the eastern Idaho business scene? We've got you covered. Here is a rundown of this week's business news across the valley.
BIZ BUZZ
IDAHO FALLS
Want to become a barber? This barbering school in Idaho Falls may be a good fit.
IDAHO FALLS – Getting a haircut is something that men have been doing forever, but until now, there has never been a school in eastern Idaho where you could learn how to become a barber.
Downtown Barber School opened quietly on May 15 at 275 Cliff Street in Idaho Falls next to Vogue Beauty College. Several students have already graduated, and owner Hallie Kane, who also owns the beauty school, tells EastIdahoNews.com the response from customers has been positive.
"We actually get more walk-ins than I expected. We have a barber pole out front, and it's brought a lot of people in," Kane says.
Kane says many customers come in not knowing it's a school, but despite that, they're happy to let students practice on them, and everyone has walked away happy so far.
Since it's a barber school, customers can get a haircut and other services at a discounted rate. Haircuts are available for $7. Other services include beard trims, face shaves, head shaves, shampoo, hair/scalp treatment and facials.
Customers can also get their shoes shined.
The inspiration for this school stems from Kane's desire to offer education and training specifically for men's grooming.
RELATED | Owner of local beauty college surprised with $8,500 gift
"The only exclusive barber school that was anywhere near here is in Boise, so people (in eastern Idaho) just didn't have an option. I just felt like we could do it and do it right," says Kane.
The barbering instructor at Downtown Barber School, who is known to students and customers as "Ghost," has worked in the industry for about eight years. He's gone down several different career paths throughout his life, but it was his grandfather's barbering background that ultimately influenced his decision to become a barber.
"When we were young, he always used to tell (me and my brother), 'One of you needs to be a barber. You'll always have a lot of friends, and you'll always have money in your pocket,'" Ghost recalls.
He didn't think much of it at the time, but he kept it in the back of his mind. After he began a career as a nurse years later, those words proved prophetic when he attended his grandfather's funeral.
"There was a line around the corner. The mayor was there, doctors, lawyers and other dignitaries," says Ghost.
Ghost didn't know it at the time, but he eventually discovered everyone in attendance had been one of his grandpa's clients.
"It hit me hard, and I wanted to do something to have a continuous bond with my grandfather," he says.
Over the years, Ghost says the most rewarding thing about this vocation is the one-on-one interaction with customers and the ability to make a difference in their lives.
"Every event in life that is meaningful to somebody, we're involved in it," says Ghost. "When they sit in the chair, they tell you about their life and everything that's going on. I'm helping you feel good and look good, and it puts a smile on my face."
Ghost also appreciates the job security because people always need a haircut.
Kane and her team are enjoying running the school, and they're looking forward to meeting new customers.
An official ribbon-cutting is scheduled for Aug. 11 at noon. There will also be a grand opening celebration happening all day on Aug. 14 with treats and raffle drawings for scholarships to the barber program.
"We're excited to grow and have it be a novelty area for the downtown community to come in, have a seat, get their shoes shined, maybe get a doughnut at Carsten's Bakery (next door) and have that manly (pampering) experience," Kane says.
Downtown Barber School is open 9:30 a.m. to 5:30 p.m. Monday through Friday. Appointments and walk-ins are welcome. To schedule an appointment or learn more, visit the school's Instagram page. You can also call (208) 523-2520.
IN CASE YOU MISSED IT…
Local business awards Museum of Idaho with $19,000 donation
Community honoring local man for his 'immeasurable' impact after 46-year career
New restaurant in Idaho Falls serving up authentic Ramen noodles for customers
If you have a Biz Buzz item you want to share, send it to rett@eastidahonews.com. Remember to use "Biz Buzz" in the subject line. Also, don't forget to sign up for the free Biz Buzz email newsletter.