Man gets prison after impregnating, marrying 14-year-old
Published at
|

Updated at

ST. ANTHONY – An Ashton man was sentenced to 15-years in prison for raping, impregnating and then marrying a 14-year-old girl.

Aaron J. Seaton, 25, took the stand in court Tuesday, to explain his actions prior to sentencing.

"I found out that (the victim) was pregnant and I decided to take up the responsibility, to be there for her and that kid," he told the court.

Seaton had a sexual relationship with the 14-year-old in 2015, which resulted in a pregnancy. Two months later, in August 2015, he married the teenager in Missouri. The girl's father, Keith Strawn, is facing felony charges for taking the couple out of state for the wedding.

In January, Seaton pleaded guilty to one count of felony rape as part of a plea agreement. He was taken into custody at that time on Jan. 21.

On Tuesday, District Judge Greg Moeller handed down a three year minimum sentence with an additional 12 years indeterminate. Additionally Moeller recommended that Seaton participate in sex offender treatment while incarcerated.

During the sentencing hearing, the victim's mother addressed the court on behalf of her daughter. She told the court her family suffers health complications from stress in regards to this situation. The mother was particularly disturbed that Seaton fought to stay married and even appealed the annulment. The mother also said her daughter suffers emotional and physical pain because the pregnancy resulted in miscarriage.

Moeller address the mitigating and aggravating factors in Seaton's behavior and how they were to be considered during sentencing.

He mentioned Seaton's attempts to mislead the psychosexual evaluator and how on several occasions Seaton seemed to change his position on if he wanted to stay married to the victim. Moeller was concerned that during the pre-sentence investigation, done about two weeks ago, that Seaton referred to the victim as his wife over and over again.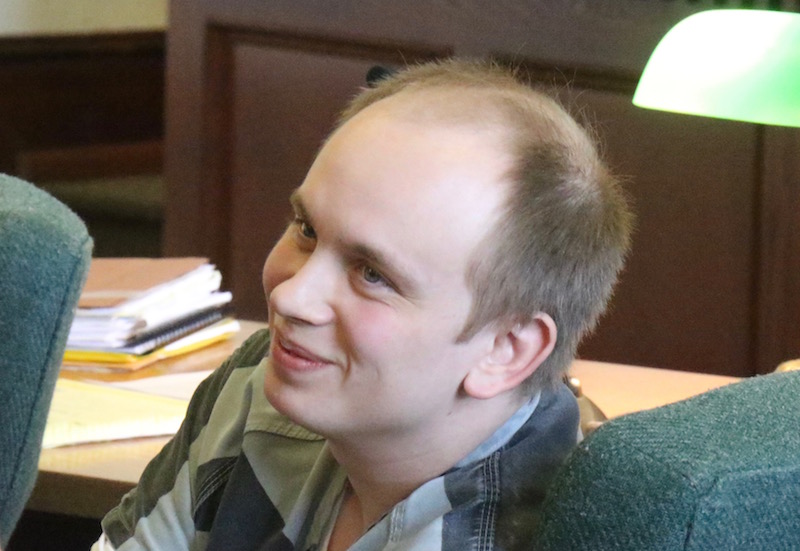 Photo by Stephan Rockefeller, EastIdahoNews.com
"I want to make something very clear to you, Mr. Seaton, (the victim) is not your wife, and after it was annulled, in the court's eyes, she never was your wife," Moeller told Seaton.
Both the defense and the prosecutor stuck to their recommendations in the plea agreement. Fremont County Prosecutor Karl H. Lewies recommended a unified sentence of eight years, two fixed and six indeterminate with prison time to be suspended and Seaton to be placed on probation.
Moeller took note of the recommendations, but strongly disagreed with both after reviewing a pre-sentence investigation and a psychosexual evaluation.
"This is a rape that involved a then-24-year-old man and a 14-year-old girl," Moeller told Seaton. "I have had my doubts on whether or not you appreciate the serious nature of these charges and I must say that today I may even have more doubts that you fully comprehend the heinous nature of the crime you have been accused of."
Moellers concerns were Seaton's direct violations of a no-contact order. Moeller referenced threatening and disturbing messages Seaton sent to the victim through social media.
The judge also mentioned a situation when the victim attempted to retrieve some of her property from Seaton's residence. The victim was assured by Seaton's family that Seaton would not be there, but he was in fact hiding in a bedroom and had contact with the victim.
Moeller mentioned other worrisome sexual behaviors brought up in the evaluation, including Seaton inappropriately touching a 6-year-old girl in his bed when he was 20 and an addiction to deviant pornography.
He said that Seaton told the evaluator that no one was hurt by his crime. Seaton also told the evaluator that he didn't believe he needed treatment, because he did not believe he had done anything wrong. Moeller questioned if Seaton would benefit from treatment if he didn't believe he did anything wrong.
"As an adult you're expected to protect children," Moeller told Seaton. "You're not supposed to take advantage of them, exploit them or harm them, and that's what you have done."
Moeller also ordered Seaton to submit a DNA sample and to register as a sex offender, potentially for life.
"Ten years after you have completed your sentence, you are welcome to request that you no longer have to register, if you can convince a judge to allow it," Moeller said.
RELATED CONTENT:
Trial delayed for father accused of allowing underage daughter to marry adult
Parents threaten news crew moments before son admits to raping teenager
Police: Local father took teen daughter out of state to marry man who impregnated her