East Idaho Eats: Soda Tsunami making waves with specialty drinks
Published at
|

Updated at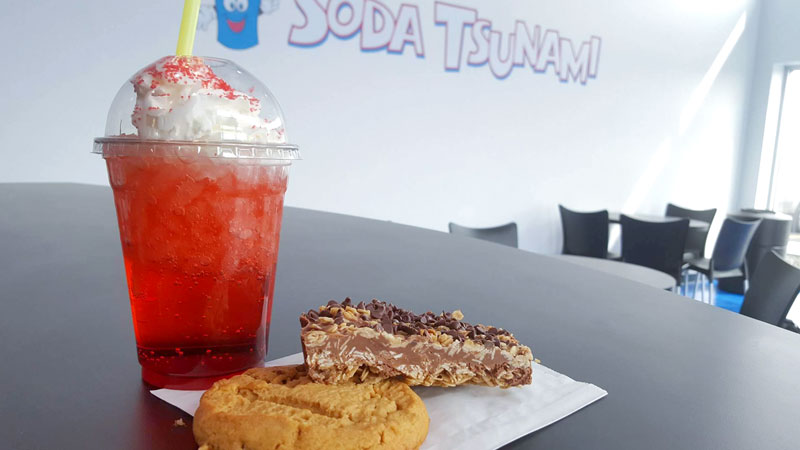 IDAHO FALLS — A new soda shop is making waves in Idaho Falls with their flavorful menu and a variety of frizzy drinks.
Soda Tsunami opened its doors at the beginning of April ready to share its sweets, specialty coffees, sodas and smoothies with eastern Idaho.
Owner Jonathan Rosenberg said his wife Amanda came up with the idea after seeing shops in a neighboring state.
"About a year ago she went down to Utah and she saw several of them down there. (We) just decided that there was nothing like that around here and thought it would be a good idea," Rosenberg said.
Rosenberg said customers can build their drink from scratch or order specialty drinks from the menu. Soda Tsunami offers candied sodas with sugary mix-ins, energy drink mix-ins, unique coffees and frappuccinos, and its staple peanut butter chocolate oatmeal bar.
"The peanut butter chocolate chip bar, that's my wife's famous recipe," Rosenberg said.
Soda Tsunami has a colorful environment and fun options for kids like its game room, which include arcade games.
"We wanted to create fun place for young kids to come and hang out," Rosenberg said. "Kids can come spend as much time as they want."
WHAT TO TRY:
The Volcano: This red soda mix-in comes with sprite, raspberry flavoring, whipped cream and a red sprinkles garnish.
Peanut butter oatmeal bar: Be careful because you could get addicted to this sweet treat. The peanut butter oatmeal bar is almost a glorified no-bake cookie, but better. It's served cold and has a peanut butter, chocolate base, with chocolate chips and oats.
OTHER MENU OPTIONS:
Needing breakfast?: If you're looking for breakfast options, bagels and specialty coffees are served all day long.
Want something exciting?: Try the candied drinks that come with sweets like Pop Rocks, or Sour Patch Kids. Or, try the soda floats like the Floating Mountain with Mountain Dew, and vanilla ice cream.