UPDATE: Police release Rose Hill Cemetery vandalism subject photos
Published at
|

Updated at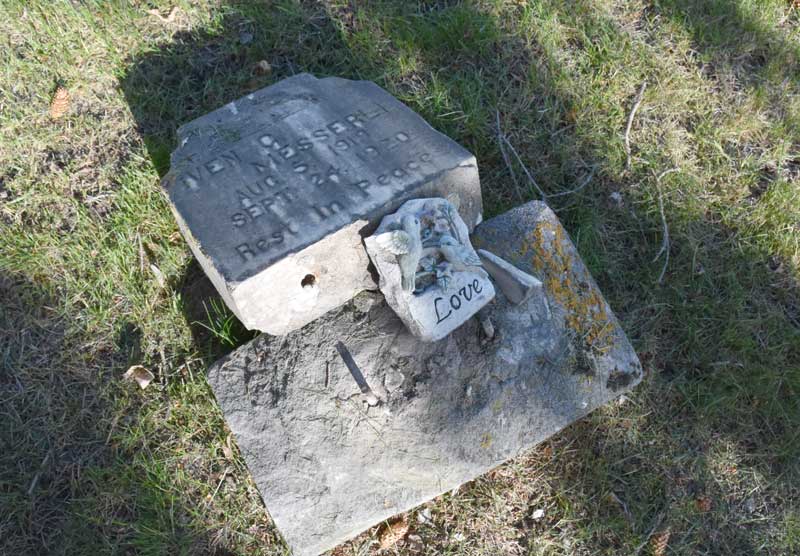 UPDATE 9:15 p.m.
Police have released two photographs of people who may be connected to a case in which 80 headstones were vandalized at the Rose Hill Cemetery.
The photos were taken Sunday afternoon and the individuals in the photos appear to be swinging some kind of pipe or sledge hammer, according to Idaho Falls Police Sgt. Scott Killian.
Police had originally estimated the vandalism occurred around 3:30 a.m. as neighbors reported hearing loud noises in the cemetery. The police report was not taken until 9:30 a.m. Monday, so the vandalism could have happened any time over the weekend.
Detectives are pursuing all leads in the case and are working to either eliminate or confirm the individuals in the photos as suspects.
If you recognize the people in the photos, you're asked to call (208) 529-1200.
ORIGINAL STORY
IDAHO FALLS — Authorities are seeking the public's assistance in identifying an individual or group of people responsible for thousands of dollars in damages to Rose Hill Cemetery on Rollandet Street.
Idaho Falls Police say the vandalism occurred at about 3:30 a.m. Sunday — around the time "other mischief" was happening in the surrounding neighborhood, city spokeswoman Kerry Hammon tells EastIdahoNews.com.
Vandals damaged about 80 headstones across the graveyard, including in its oldest sections. Some of the headstones were removed. The oldest headstone to be damaged was from 1894, according to a news release.
The estimated cost of the damages is still being tallied, but city officials say it will be thousands of dollars.
Hammon says the city is working to determine who is financially responsible for the gravestones. While the city owns the Rose Hill Cemetery, the individual grave headstones and grave plots are private property.
Cemetery employees are currently working on notifying all property owners of the damage. Arrangements are underway to start a fund to assist in replacing headstones.
The Rose Hill Cemetery is open to the public day and night. The vandalism was discovered by cemetery employees the next day.
Police have no suspects at this time.
Anyone with information regarding the crime is encouraged to contact dispatch at (208) 529-1200 or Crimestoppers at (208) 522-1983. Please reference case number 2017-15919.
If you concerns about a specific grave site, contact Rose Hill Cemetery at (208) 612-8488.