Black bear euthanized in Grand Teton National Park
Published at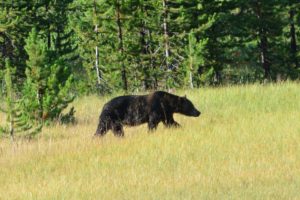 The following is a news release from Grand Teton National Park.
MOOSE, Wyoming — For public safety, a female black bear weighing about 125 pounds and believed to be approximately four years old was euthanized Tuesday in Grand Teton National Park. The decision to remove the bear from the population was based on recent activities in which the bear exhibited no fear of humans and approached humans, including a couple sleeping in a tent.
Last week there were three reports of a black bear approaching humans and an observation of the bear on the porch of a cabin in the Jenny Lake area. There were no injuries reported with the incidents, but bear spray was deployed in one instance. Park rangers and biologists determined it was the same black bear involved with each incident due to photos taken by bystanders or direct observation. There were no food-storage violations associated with these incidents.
Grand Teton National Park Superintendent David Vela said, "Grand Teton National Park and John D. Rockefeller, Jr. Memorial Parkway are home to black and grizzly bears, and everyone should follow bear safety practices." He said that bear safety practices are for the wellbeing of the visitor and the bear.
At approximately 6:30 a.m. on Wednesday, June 21, a visitor camping at Jenny Lake Campground woke as he felt something on the other side of his tent. He exited the tent, with bear spray, to investigate what was going on. He saw a cinnamon colored bear approaching the tent from about 20 feet away. The man yelled to his wife to exit the tent. He then deployed his bear spray as they both waved and spoke loudly to chase the bear away. The bear sniffed the tent, and then stood on his hind legs looking at the couple and swatting the tent with damage to the tent. The couple continued to shout encouraging the bear to leave. Suddenly, as if something else scared the bear, the bear turned and ran away.
Other human-bear interactions took place last week with the same cinnamon colored bear in the Jenny Lake area. The bear approached a visitor as he was sleeping in a chair in his campsite, walked onto the porch of a cabin in the area, and closely approached a member of the park's wildlife brigade.
On Wednesday, June 21, park staff searched for the bear and implemented a strategy to trap or immobilize the bear. Efforts continued through Tuesday morning, June 27, when the bear was successfully trapped.
Due to the bear exhibiting no fear of humans, making contact with an occupied tent and repeated incidents, the bear was removed from the population. Black bears are not good candidates for zoos and other accredited facilities due to the plentiful nature of the species throughout the United States.
Park visitors are reminded that all campgrounds and developed areas should be clean and free of trash and food. Park regulations require that all edibles, food containers and cookware be stored in a hard-sided vehicle or food storage locker when not in use, day or night. Do not burn waste in fire rings or leave litter in campsites. Fire rings should be free of trash before vacating a campsite.
Hikers are highly encouraged to hike in groups, make noise when hiking and have bear spray readily accessible and know how to use it. For more information about recreating in bear country, please visit www.nps.gov/grte/planyourvisit/bearsafety.