Record-breaking Snocrosser in eastern Idaho for Snow King race
Published at
|

Updated at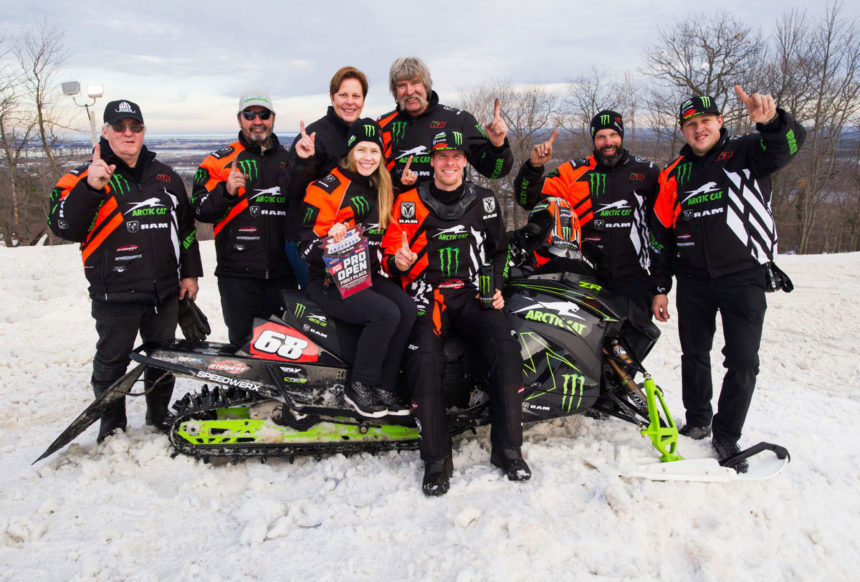 DRIGGS — Pro snowmobiler Tucker Hibbert, who was born in Driggs, is back in town this weekend for the Jackson Hole Snocross National at Snow King.
Hibbert's history sounds like a new-school tall tale. The 33-year-old, who grew up adventuring in the Tetons and attended Alta Elementary, entered his first snowmobile race at age two on his Arctic Cat Kitty Cat. He raced his first snocross event in West Yellowstone in 1996. Hibbert had a motocross background and brought to snocross a stand-up riding style that changed the sport.
Now he lives in northwest Minnesota and is the winningest rider on the professional snocross scene. His results are over-the-top. He has taken seven Pro Open Final wins, nine consecutive X-Games gold medals, and a staggering 125 Pro National wins.
He and his wife Mandi make it back to the valley a couple times a year to relax and visit with friends and family in Driggs and Alta. He unfortunately never has the time during the race season to get out and sled for fun in Teton Valley, but hopes to at some point.
Alta resident Garth Kaufman is Hibbert's cousin and no slouch himself on a snowmobile. They rode dirt bikes and sleds together as kids but grew apart when the Hibbert family moved to Minnesota. Then Kaufman and Hibbert started competing against each other around the country at snocross races. Kaufman eventually stopped racing and joined Hibbert's team Monster Energy/Arctic Cat/Ram Truck as a lead mechanic in 2013.
"We have a lot of good memories together," Hibbert said. "It's been fun to work with him over the years."
Hibbert is coming off an early win at the pro season opener in Duluth. He took the top spot on the podium in both final events and feels confident about the second race of the season. He has competed in the Snow King Hill Climb once, but this is the first time Jackson is hosting a national snocross event. The town hill hasn't received much snow, but low temperatures this week guarantee that Snow King can crank up the snow guns.
"I'm excited to see the track," Hibbert told the Teton Valley News as he was driving through Montana en route to Jackson. "It's going to be a surprise for me. I might get a look beforehand. It's always a challenge for these early season races when the venues have unpredictable temperatures and snow conditions, but they always seem to get it together and pull off great races."
The action goes down on Dec. 8 and 9. For a schedule and ticket information visit www.snocross.com/jackson-hole-snocross-national.
This article was originally published in the Teton Valley News. It is used here with permission.