Trolley rides, Santa Claus and more at Civitan Plaza
Published at
IDAHO FALLS — Christmas is in full swing in downtown Idaho Falls.
The tree lighting ceremony last week kicked off the holiday season and now families can come see Santa Claus and take free trolley rides all month long at Santa's Village at Civitan Plaza.
"It's great for families to come down and see Santa. There's no charge. And we've got vendors that are providing goodies and hot cocoa for very low costs," Downtown Development Corporation Executive Director Catherine Smith told EastIdahoNews.com.
Santa's Village is taking the place of the Festival of Lights in Idaho Falls.
"The Festival of Lights was an event I think folks were used to going to and Santa would be at the Festival of Lights in Freeman Park," Smith explained. "This year the city is not doing the Festival of Lights. Instead, to my delight, we're re-focusing all of the energy downtown."
Santa will be there on Friday, Saturday and Monday from 4 p.m. to 8 p.m. until Christmas.
Among the free activities in downtown Idaho Falls are the trolley rides and the 'Find Santa's Puppies' scavenger hunt on Saturday from 12 to 3 p.m. Kids and families will follow a map to various downtown businesses where they will search for Tracker the puppy.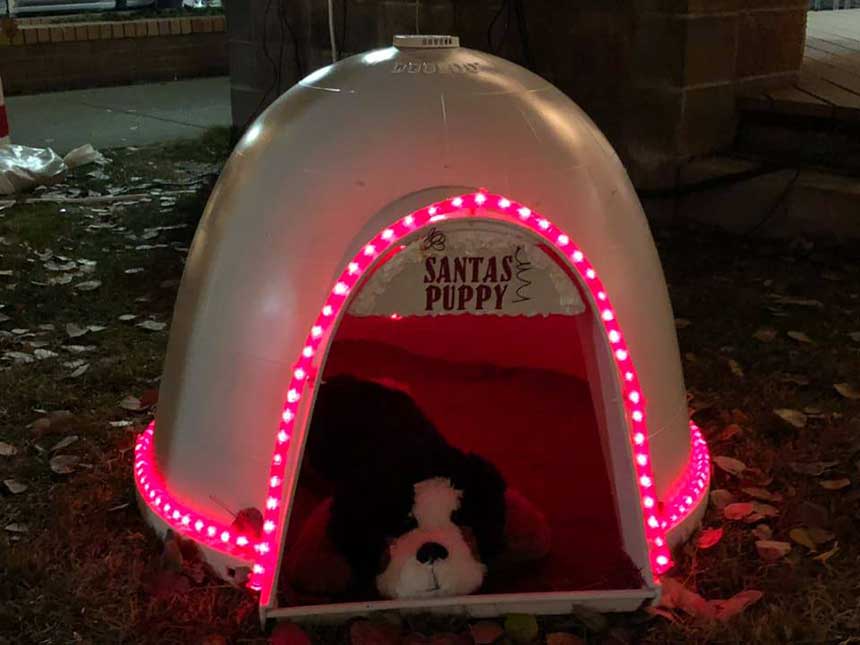 Santa's puppy Tracker. | Courtesy Idaho Falls Downtown Development Corporation
"(Kids) collect a map at the plaza. The map is a scavenger hunt of 25 businesses downtown. They all have a (stuffed) puppy hidden within their store," Smith said. "They can pop in and a search for the puppy. As soon as they find it, they get a special prize."
Free horse-drawn trolley rides start Saturday from 1 p.m. to 3 p.m. They will be running every Saturday until Dec. 22.
"You can come down and get a hot cocoa and cruise around in the trolley with the horses and it's really fun," Smith said.
To learn more about what's going on downtown this month, check out the Downtown Development Corporation Facebook page.