8 adults, 11 kids, one cabin. Storm leaves 3 families stranded under one roof in Island Park.
Published at
|

Updated at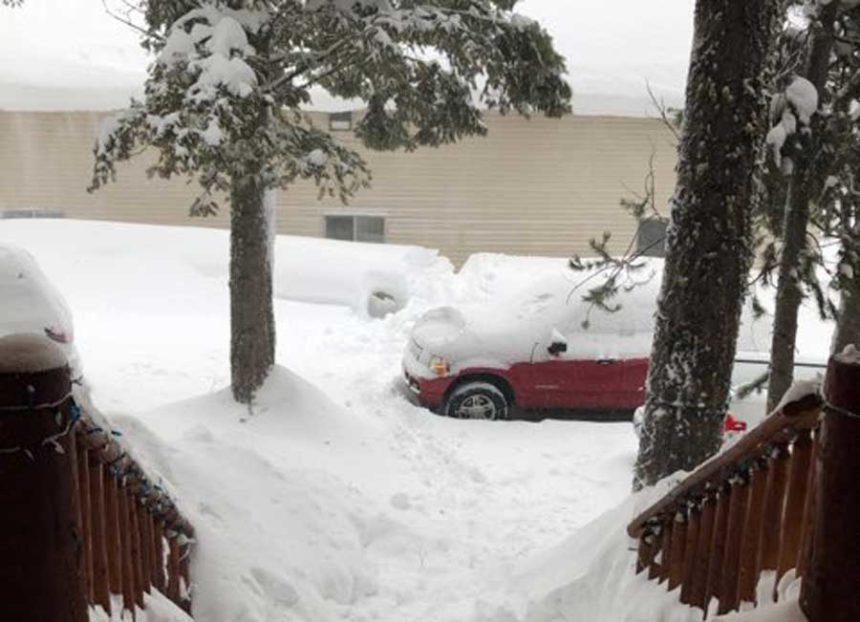 ISLAND PARK — It was supposed to be a fun, uneventful weekend at a cabin in Island Park.
Unfortunately, Mother Nature had other ideas.
Tyson and Malia Erikson of Idaho Falls had been planning a weekend getaway at a family cabin. They invited three other couples and their children to come with them for the weekend. In total there were eight adults and 11 children — all under the age of 6.
The trip was originally planned for Friday to Sunday. But on Saturday night, the snow began to fall.
Eastern Idaho was about to get hit with a snowstorm that was expected to drop feet of snow in places like Island Park, while places like the Erickson's hometown of Idaho Falls would only get light snowfall and rain.
When they tried to leave Island Park on Sunday, they only got as far as U.S. Highway 20. There they found a sheriff's deputy shutting down the highway all the way from Ashton to the Idaho/Montana border. The deputy told them that given the forecast, it might be a few hours or days before they opened the road again.
"We didn't want to get stuck out in the parking lot by the road in our cars with 11 kids," Tyson Erikson said.
So after waiting around for a while, the group decided to go back to the cabin while they could still drive through the rising snow drifts. The snow was falling very quickly and the National Weather Service shows that between Saturday and Tuesday night, Island Park received around six feet of snow.
On Monday, several of the adults left on snow machines to check out the main road, which was covered by at least 4 feet of snow. They knew then they weren't getting out for a while so they headed to a local gas station to see what information and food they could get.
"We went out to the gas station to get some milk and additional stuff for meals. Not knowing how long we would be snowed in and not being able to carry much on the snowmobiles, we got maybe a day and a half worth of food," Erikson said.
One of the biggest challenges is trying to entertain the kids and keep the adults from going stir crazy after being under the same roof for five days.
"Our wives have been really good about finding little games to play with the kids. We've had a couple of dance parties and we've played some card games and board games. They love to play Hide and Seek," Erikson said. "We have electricity and the internet so they have been able to watch TV and Netflix. That's really helped."
One of the little girls had her birthday on Monday and the group was worried that she would be disappointed not to be home for her party. They found ingredients to make a cake and had a spontaneous birthday party. She later told her dad it was her best birthday ever.
Missing work and school has been a concern, but their employers have been very understanding. They have been able to do some work over the phone and internet, but mostly they are just waiting for the plows to come.
The Idaho Transportation Department says they are working on the problem, but it still might be a day or two. Closures were still in place Wednesday morning on U.S 20, Idaho Highways 32, 47 and 87 in Fremont and Teton counties. Interstate 15 was closed for parts of Monday and Tuesday, but reopened Wednesday.
Fremont County Sheriff deputies say they've been busy trying to help people impacted by the storm. On Monday and Tuesday, Fremont County Search and Rescue crews took food and water to eight stranded semi-trucks and four cars on US 20 near Island Park.
They've also helped rescue stranded motorists on Highway 32, and transported people who did not want to stay with their cars in the snowstorm. Authorities say if people need help to call emergency responders, but those who are stranded will just have to wait out the storm.
"We've heard 'at least another night' at least three times now," Erikson said. "We check Idaho 511 and EastIdahoNews.com for updates, but we still don't know when we will be able to get out of here."