We Are East Idaho: St. Anthony
Published at
|

Updated at

EastIdahoNews.com is spending the year introducing you to places and people that make east Idaho special. In our We Are East Idaho series, we're going on a road trip and sharing things you may not know about this beautiful place we call home.

ST. ANTHONY — It's not the spinning stools and gooseneck soda spouts from the old fashioned fountain that will catch your eye at Falls Drug. It's the regulars gathered around the marble countertop getting their fix of soup and sandwiches.

This is a typical lunchtime for The Fountain inside the hardware/drugstore, but when newcomers stop into this St. Anthony store, they may be perplexed at the variety of businesses inside one location.

Jim Hunter owns Falls Drug and says it's a general merchandise, all-inclusive store. It's also one of only two retail merchandise establishments in the community. Hunter has owned the business for some 40 years but says the shop is actually shy of 100 years old — making it a staple gathering place.
The Foutain eatery inside Falls Drug. | Natalia Hepworth, EastIdahoNews.com
"I've had tourists come in and say if I don't have it, they don't need it," Hunter says. "We have a little bit of everything."
The building follows a retro layout of those in the 1880s with a drug store soda fountain combination.
"From the beginning that's what (a) pharmacy was. You had a soda fountain and you had a pharmacy," Hunter says.
Hunter purchased the hardware store years ago next to the building and decided to knock down the common wall – combining the drug store and soda fountain with the hardware shop.
Falls Drug isn't the only place with a long history. St. Anthony is full of local history.
Falls Drug on Bridge Street. | Natalia Hepworth, EastIdahoNews.com
Bridge Street and Business
St. Anthony was founded by C.H. Moon in 1890. He established his home on the corner of Main and Bridge Streets and two other families soon joined him. Moon decided to name his settling spot St. Anthony after the name of St. Anthony Falls, Minnesota.
Visitors coming off of U.S. Highway 20 today will soon see that Main Street really isn't the town's main drag for activity. It's actually Bridge Street and seasoned locals speak of a time when this was the happening spot.
Early Bridge Street. | The Rexburg Historical Society
"There were two or three grocery stores, and it was just different. The businesses that are gone — it's amazing. There were all kinds of stores on Bridge Street," St. Anthony local Betty Randall says.
In the late '60s and early '70s, locals recall the town having mens' and womens' shops, along with department stores. Fifty years ago, St. Anthony was booming with businesses, but as time has gone on, economic growth has tapered, and some empty buildings on Bridge Street now stand as a shadow of what once was.
Mid to late 1900s Bridge Street | Rexburg Historical Society
The Ru Inn is one such relic of the past. The original building began as a hotel decades ago and then became a bank. It was closed for some time before being used as a landing for local photographers and artists, and it now serves as an AirBnB.
The Silver Horseshoe is another beloved spot that closed about ten years ago. It was a bar said to have some of the most delectable steaks in the Upper Valley accompanied by music and dancing.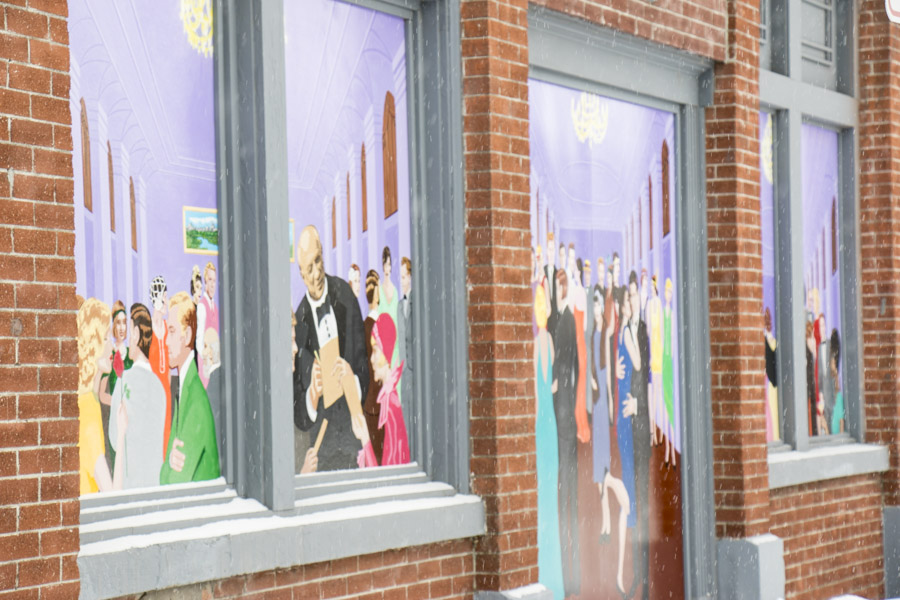 Murals on the Riverside Ru Inn were done by local artist Daniel Hidalgo. | Natalia Hepworth
"They're trying to get it back open but it's been a bar and a dance hall, and a very good eating place," Hunter says. "It was a big part of downtown… It was the part of town that kept the town alive after 6:30 p.m."
The building now stands vacant and locals long for its return. Even Chiz's restaurant is missed by many. The popular diner was opened 51 years ago by Scott Kamachi but three years ago new owners decided to shut the restaurant down. Chiz's continues to produce its popular brand of sauces and dressings that are sold in grocery stores.
Lost business activity doesn't equate to no business activity. The town is preparing to open up a new Arctic Circle and there have been additions to the community like an Anytime Fitness and a new Maverik gas station.
Not to mention Dusty's Pit Stop, a place where locals gather on their way to work for a jump start on their day. There are the other hot spot restaurants in town like Chrissy's Chicken and Big J's.
In the way of entertainment, the Roxy movie theater built in 1935 plays new flicks in it's refurbished vintage environment.
Correctional Centers
While local shops make up the economic framework St. Anthony, it's not the only source of economic activity. The town is home to several detention centers or correctional facilities including The Department of Juvenile Correction, Five County Detention Center, the St. Anthony Work Camp and the Fremont County Jail.
The Five County Detention Center is unique as it contracts with the State of Idaho and also the State of Montana, according to director Nicky Chavez. Its main function is helping youth in Clark, Jefferson, Madison, Fremont and Teton Counties.
Signs pointing to the Sand Dunes and Department of Juvenile Corrections | Natalia Hepworth, EastIdahoNews.com
"We're unique in that we serve our local five counties…for youth that have been arrested or committed a crime or probation violation," Chavez says. "You'll hear our name as Five County treatment center (which) really captures what we do which — education and treatment along with drug and alcohol rehabilitation."
As one of the four facilities of its kind in the area, Five County Youth Rehabilitation Center employs around 50 workers.
Recreation
Another aspect that draws attention to the area, especially during warm months, is the overflow of outdoor activities. The town sits right on Henry's Fork of the Snake River.
Henry's Fork itself is known for its trout streams and it one of the topp fly fishing destinations in the nation.
Starting near the U.S. Highway 20 junction at Bridge Street is a Greenway Trail that stretches several miles.
Just east of the city's Keefer Park is the Sand Bar, a popular swimming area where locals and visitors go to take a dip. Sand is hauled in from the St. Anthony Sand Dunes east of town. With the Sand Dunes, Sand Bar and Henry's Fork all in one area, locals and visitors spend summer days fishing, playing on ATVs and UTVs, camping, swimming and photographing the scenic area.
Fly fishing on the Henry's Fork | Courtesy Treg Corbridge
"When I was growing up the motto was 'Gateway to Recreation,' and I mean some of the best fishing probably in the United States is right here in the middle of town," says St. Anthony Mayor Donald Powell.
When in St. Anthony on Memorial Day, you'll want to take part in a 65-year-old tradition – the Fisherman's Breakfast. The event has kicked off the fishing season since 1955 and now feeds thousands of fisherman on their way to Island Park. The breakfast is free for everyone and usually starts at 6 a.m.
St. Anthony is also known for its Pioneer Day Parade on July 24. In 1929, leaders in Rexburg decided which cities would host the Fourth of July parade and the Pioneer Day parade. Since that time, Rexburg has hosted the Independence Day celebration and St. Anthony holds on honor on July 24th.
Pioneer Day Parade of 1912 in St. Anthony | Rexburg Historical Society
Whether it's family fun, local businesses, outdoor activities or small town fun, St. Anthony is a place rich in history that holds a strong place in eastern Idaho history.
"St. Anthony's a nice place to raise a family. We have good schools and we have a lot of parks in the city," Powell says. "People are friendly and neighbors look after neighbors still. It's a great place."
Local Tricia Randall describes the small town as being a part of a family, "Calling in a prescription and the pharmacist recognizes your voice. The owners of the local restaurants (Crissy's & Fong's Cafe for us) know what your order is when you walk in. The ladies working at the bank asking how your mom is doing when she hasn't been feeling well. Your neighbors lending a hand before you even ask for it. It's the feeling of belonging."
WE ARE EAST IDAHO ARCHIVE