Billboards featuring Joshua 'JJ' Vallow, Tylee Ryan go up in Idaho Falls
Published at
|

Updated at
IDAHO FALLS — Billboards featuring the photos of two Rexburg siblings missing since September have been put up along US Highway 20 and US Highway 26.
Joshua "JJ" Vallow, 7, and Tylee Ryan, 17, disappeared nearly seven months ago. Their mother, Lori Vallow Daybell, is in the Madison County Jail on two counts of desertion and nonsupport of dependent children.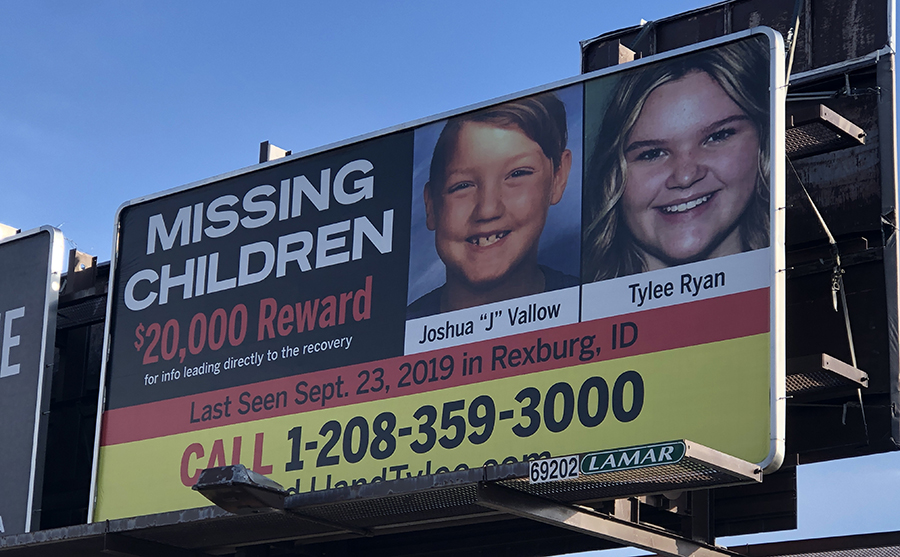 JJ's grandparents, Kay and Larry Woodcock, announced a $20,000 reward in January for information leading to the direct recovery of the children. The billboards display details about the reward and direct people to visit FindJJandTylee.com. The Woodcocks have been working with Cheryl Wheeler, Charles Vallow's ex-wife, in creating the fund and public awareness. Vallow was married to Lori Daybell when he was shot and killed by her brother, Alex Cox, last July.
"We want to reach those people that are maybe driving an 18 wheeler who may have seen something or those people who don't know the story," Wheeler tells EastIdahoNews.com. "I know it's a national story but that doesn't mean everyone has seen it and it's important to use different methods to reach people."
Wheeler contacted Lamar Advertising about purchasing billboards weeks ago and was surprised when a company representative said they would donate space on two boards for free.
"It's such a tough deal for the family and everyone in the nation is worried about these two kids," says Lamar Advertising District Manager Kent Marboe. "We just decided to help them out. We like doing this as a public service and in situations where people need to get the word out."
One billboard is located in Idaho Falls on US Highway 20 – a route drivers take to Rexburg and Yellowstone National Park. Tylee was last seen on Sept. 8 at the park with her mother, Cox and JJ. The other board is along US Highway 26 in Idaho Falls. They will be up for at least two months with the hope that the children will be found.
"I'm so grateful to Kent and his company for donating the billboards. We are hopeful this might lead to information that will bring closure to so many," Wheeler says.