Despite losing an eye in the Iraq war, local veteran says he has no regrets about serving his country
Published at
|

Updated at
RIGBY – It's a day Simon Garcia will remember for the rest of his life.
It was May 6, 2004, and Garcia was a 20-year-old kid in the Oregon Army National Guard. He and his comrades in the HHC 2/162 41st Infantry Brigade Combat Team were sent to provide supplies and reinforcements during Operation Iraqi Freedom II.
Garcia had been in Iraq for several weeks, and on that day, he was preparing for combat as an M249 gunner. He recalls hearing what he describes as a "'Star Wars'-like phaser noise" to his left before something exploded. It was an improvised explosive device, and as he turned his head, a piece of shrapnel hit him in the face.
"The shrapnel broke my jaw," Garcia tells EastIdahoNews.com. "It went through my left eye socket behind my optic nerve and lodged in the upper part of my eye socket next to my nose."
His comrades quickly came to his aide and pulled him out of harm's way.
The injury resulted in the loss of his eye. He also sustained other injuries on his left arm, right leg and back.
He spent the next several weeks recovering in a hospital bed before being discharged and sent home.
Garcia recovering in a hospital bed several days after being injured. | Courtesy Simon Garcia
The road to recovery
Garcia has had 16 years to reflect on his experience in Iraq. Though he is grateful to be alive, many of his injuries are permanent and serve as daily reminders of what happened to him.
"I still have the piece of shrapnel stuck in my head, which causes strange sensations up there and headaches."
In addition to a fake eye, Garcia says he has some hearing loss in his left ear and tinnitus that causes an almost constant ringing. Physical therapy has helped alleviate many of the physical injuries on his leg and back.
"I walk with a cane at least a few times a year and I'm (often) bedridden because of back injuries that flare-up," Garcia says.
Other side effects include nerve damage to the left side of his face and mobility issues with his jaw.
"When I yawn, it's off-kilter. You can see it shift (because of) my jaw fracture," he says.
The road to recovery has been long and hard. Though he's come a long way, Garcia says there is still some recurring emotional trauma.
"Sometimes I wake up from a dream where I've seen an explosion. I'll jump out of bed and grab the left side of my face exactly like I did when I got blown up in Iraq."
Garcia remembers being very uptight when he first came home. He says he wore military clothes and maintained a military demeanor as a coping mechanism, which made it difficult for him and his family members to have a relationship.
Living with permanent scars
Today, Garcia is happily married to his wife, Alicia. They have five children and just bought a house in Rigby.
"My family is always forgetting I'm blind (in one eye)," Garcia says. "Over time, people don't really think about it. I have to remind them constantly."
He recalls an instance several weeks ago when his daughter tried handing him a bag of chips over his left shoulder while riding in the car. He says his wife had to remind her that she needs to tap him on the shoulder because he can't see.
Garcia says the support of his family has allowed him to come to terms with his injuries and he's learned to relax and have a sense of humor. During an interview with EastIdahoNews.com, he pulled out his fake eye and showed us the American flag near the back which you can see in the picture below.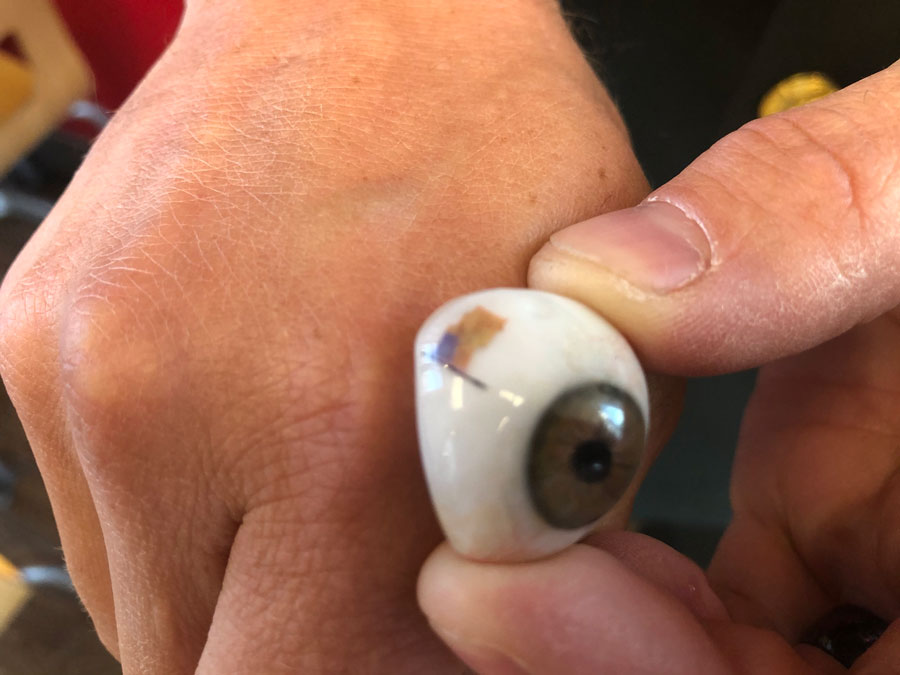 Simon Garcia's fake eye | Rett Nelson, EastIdahoNews.com
Aug. 7 was National Purple Heart Day, a day for Americans to remember and honor the men and women wounded or killed in combat. Garcia was awarded the purple heart while lying on a hospital bed 16 years ago.
Despite the personal cost, Garcia says he has no regrets about serving his country.
"People with one eye still have the opportunity to go far in life," he says. "I use the vision I have left to help other people."
He recently wrote a book about his war experiences. It's called "Untold Stories of a former Soldier." To purchase or to learn more, click here.
Simon Garcia training for his mission to Iraq in Fort Hood, Texas in 2004. | Courtesy Simon Garcia
Garcia's Purple Heart award | Courtesy Simon Garcia
Garcia, left, with his comrade Nathan Huff. Garcia is married to Huff's sister, Alicia. | Courtesy Simon Garcia
Simon Garcia today. | Rett Nelson, EastIdahoNews.com