More than 20 Veteran Memorials in eastern Idaho — how many have you visited?
Published at
|

Updated at
IDAHO FALLS — Along the Greenbelt in Idaho Falls, nestled between creative benches and intricate sculptures, three words are etched on an old war memorial: "Lest We Forget."
The Veterans War Memorial located along the Idaho Falls River Walk honors Idaho military service members from all American wars. Specific sections give special designation to those who served in WWI, WWII, Vietnam, and Korea, but the plaque reads "In Honor of all Veterans."
Although the heavy traffic around the memorial makes it one of the most recognizable in eastern Idaho, it is just one of many local monuments built to honor Idaho's military tradition.
For Marine Sgt. Calvin Williams, who served with the most decorated unit in the Marine Corps — the 1st Battalion, 5th Marine Regiment — that tradition has become a way of life.
"Veteran memorials mean a lot to me," Williams said. "Marines are extremely proud of our heritage. Every service related holiday or anniversary of a major battle, I take the time to read the Medal of Honor and Navy Cross citations to my family."
Idaho's official history with armed service began in 1898, when the Idaho Army National Guard deployed to the Philippines in the Spanish-American War. In the nearly 125 years since Idahoan's willingness to put their lives on the line for their country has only grown. In fact, as recently as 2015, one in ten Idahoans served or is serving in the United States military, according to the U.S. Census Bureau's American Community Survey.
"I hope our community honors veterans by telling their stories," Williams said. "There are men and women who have done incredible, selfless things that can be crucial in the fight against hate and racism when their stories are told. By telling our history, we're telling stories of humans giving their lives for other humans, regardless of race. It's crucial to remember that."
From small plaques to entire parks, the stories of Idaho's military men and women have been told all throughout southeast Idaho. If you're looking for a place to go and think of them this Veterans' Day, here are the spaces held to memorialize, to honor, and to remember the sacrifices of the few for the good of the many.
Bonneville County
Idaho Falls
Green Belt River Memorial
Freeman Park: Idaho State Vietnam Veterans Memorial
Field of Honor Memorial at Freeman Park: Annual Tribute erected each Memorial Day Weekend
Rose Hill Cemetery: Civil War Monument and All Veterans Memorial
Ammon
McCowin Park: Coming in 2021, sculptures of a male soldier and a female soldier.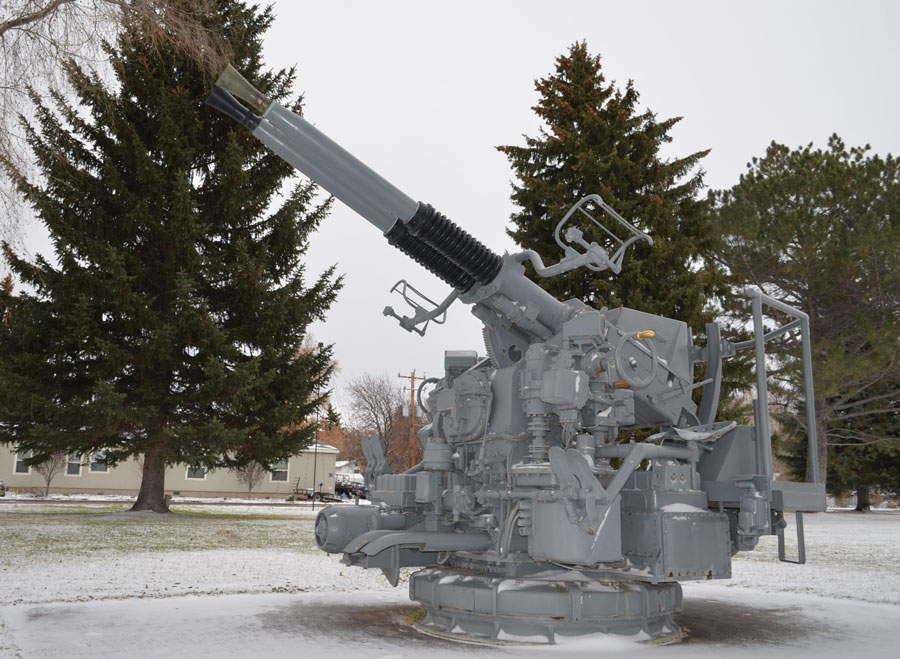 Artillery cannon in Shaner Park. | Grace Hansen, EastIdahoNews.com
Jefferson County
Rigby
Jefferson County Veterans Memorial: Features 3,449 names of Jefferson County men and women who served from the Civil War to the present.
Ririe
Artillery cannon in Shaner Park.

Veterans' Freedom Memorial at Smith Park in Rexburg | Grace Hansen, EastIdahoNews.com

Madison County

Plano

Plano Cemetery Veterans' Memorial: A statue of a rifle placed in a pair of combat boots with a helmet resting atop the gun.

Sugar City

Thomas C. Neibaur Veteran Park: This headstone honors a local Medal of Honor recipient.

Rexburg

Smith Park: Veterans' Freedom Memorial: Honoring veterans from the Upper Snake River Valley.

Doughboy statue commemorating WWI veterans at Veteran Memorial Park. | Grace Hansen, EastIdahoNews.com

Fremont County

St. Anthony

Veteran Memorial Park: Doughboy statue commemorating WWI veterans from St. Anthony—refurbished in 2018 after being sculpted in 1922.
American Legion Park/ Daughters of the Utah Pioneers Park: Features several monuments, including one dedicated to Fort Henry and a tank to commemorate military service.

Teton County

Driggs

Teton County Veterans Memorial Marker outside the Teton County Court House: Dedicated to all veterans who have served from Teton Valley
Pierre's Hole Rendezvous and Battle Marker: Commemorates a battle between trappers and Gros Ventres.

Teton-Newdale

Teton-Newdale Cemetery Veterans Memorial: Finished this year, the dedication ceremony will take place on Veterans' Day at 1 p.m.

Bingham County

Blackfoot

State Veterans' Cemetery: Scheduled to be completed this year, this will be only the second veterans' cemetery in Idaho.
Patriot Field Memorial Park: Finished in 2016, this park features a seven-foot bronze statue of a military officer handing a folded flag to two children.

Bannock County

Fort Hall

Veterans Memorial Park: Constructed along U.S. Highway 91 to honor WWI and WWII veterans, this park is scheduled to be updated soon, according to the Fort Hall Tribal Business Council.

Pocatello

Ross Park: Southeast Idaho Veterans Memorial
Gold Star Families Memorial Monument: Under construction in the North Gate area of Pocatello, this project will honor families who have lost loved ones in military service.