Owner of costume design business hoping to create new mascot for Pocatello High School
REXBURG – As the selection process for Pocatello High School's new mascot continues, a local business owner is hoping to design it.
Ann Stokes is the owner of Felistellar Studios, a mascot design company in Rexburg.
"Fur suits are another name for them. It's a form of cosplay for some. For others, it's a marketing or school pride thing," Stokes tells EastIdahoNews.com.
She's designed a variety of mascots and costumes over the last six years.
One of her most recent projects includes designing a new mascot for Eagle High School in 2017 and she says designing one for Pocatello would be a great opportunity.
"I offered to make them (Eagle High School) a new mascot costume because I was close with the student council art director," says Stokes. "She said, 'Oh our mascot costume is so gross. It's got mold in it.' I said, 'I make mascots. Can I make you one?' She's like, 'Yes, please. Let me see what you can do.'"
RELATED | Mascot selection committee for Pocatello High School asking for your input with new survey
The school's mascot is a mustang. She is pleased with how it turned out. She's never seen it in action but hopes it's getting a lot of use.
Stokes became interested in the art of making costumes while attending Eagle High School as a freshman.
"I was interested in the artwork aspect of anthropomorphic animals. I just saw a lot of people that would create their own characters and then make costumes out of them. I'm like, 'This is so cool. I want one,'" she says.
She taught herself how to do it as a hobby. People quickly started to take notice and she realized she could make money doing it.
She eventually formed a business and has made 20-30 different costumes in the last several years, some of which include Alex Swiftpaws the Otter, Spooky the Red Panda and Timbre the Eastern Dragon.
Stokes' husband, Hunter, helps make the costumes and often gets recruited to wear them to different events.
"I tend to be more socially anxious and wearing a costume helps a lot with that because it's not me being a goof. It's this green dragon being a goof," Hunter says.
The most rewarding aspect of the business for Stokes is watching the final product come to life through the person wearing it.
"When my husband will wear his costume and dance around, it's nice to see that it's not just an inanimate object anymore. It's a dragon running around at school," she says.
See the design process and a costume come to life in the video player above.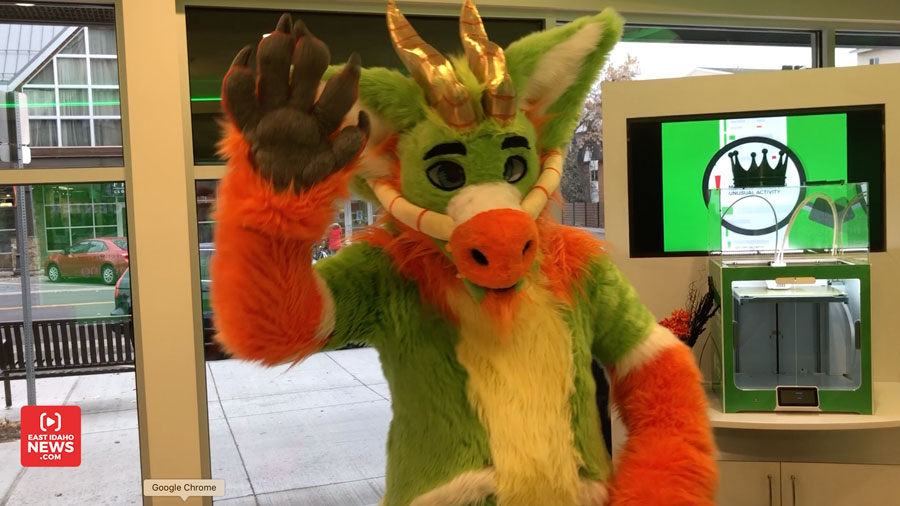 The business has continued to grow and she's hoping to do it full-time once she graduates from Brigham Young University-Idaho next year.
"I'm a lot more serious because I'm studying to do this for the rest of my life. I'm taking sewing classes, business classes and art classes," says Stokes.
She's majoring in interdisciplinary studies with an emphasis in entrepreneurship and apparel and is on track to graduate in December of 2021.
Aside from designing Pocatello High School's new mascot, her next goal is to have her own studio and work out of her home.
"I want to target more schools and businesses on top of individual hobbyists because I've worn mascot costumes before and felt the inside of them. They are really low-quality for the price they give. I would like to provide quality for the same price or even a lower price than what manufacturing companies offer," she says.
To learn more or have your own costume designed, visit the website or Instagram page.
If you want your business featured in the Small Business Spotlight, email rett@eastidahonews.com. Please use "SBS" in the subject line.
PREVIOUS SMALL BUSINESS SPOTLIGHT SEGMENTS:
New business offers healthy prepared meals for customers
The Bone Store reopens with new owners after closing years ago
Local business offering customers a 'healing hand' with natural herbs and other products
Local couple opens school to teach students the art of farriery