How I'm preparing my garden for 2021
Published at
|

Updated at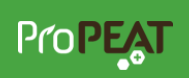 In the Garden is sponsored by ProPeat, which is dedicated to delivering solutions for any of your professional fertilization needs. Whether you need to reduce the harm to soils and the environment, or you're interested in the latest nitrogen, carbon and biochemical technologies, ProPeat is the perfect fit.
Very often I am asked the question, what are you planting this year in your garden? Or a person may ask, "if you were in my situation what would you do with this problem?"
So, I thought this might be a good article to tell you my goals for my 2021 garden.
My first project this year is going to be building an 8-foot-tall windbreak fence around the entire garden. There are a lot of different kind of fences out there, and as I can't afford vinyl due to the size of garden area, I am going with wood. You may say that wood needs maintenance, and yes, it does, but I buy windbreak wood from Willmore lumber in St. Anthony that is eight feet tall, and then reinforce it with large posts and poles, and then stain it with a quality stain.
It may not last forever and yes, I will have to re-stain it in the future, but this is far, far less money than buying vinyl. Like everyone else, I do the best I can with what I have. I hopefully will be able to stop the winds from making my fruit trees all grow crooked and point towards the north.
RELATED | What you didn't know about watering your lawn, trees, and garden
My fence will have to encircle my entire garden as there are damaging winds from the southwest, and bitterly cold winds from the North, and because of where I am located, I also get cold breezes from the east. Sounds like a great place to live! Aside from stopping the wind, this fence will also provide privacy, prevent wildlife from damaging crops, and keep the cows out of my orchard and garden.
Lance Ellis, EastIdahoNews.com
My next project is I ordered bunch of bare root fruit trees from a nursery back east. I have always had an orchard, and in my previous yard, I had 36 fruit trees, which I absolutely loved.Anyway, I got several of my friends to go in with me on an order of fruit trees, which gave us an awesome discount, and took the price of these bare root trees down from $35 to $40 a tree to between $8 to $13 a piece.
RELATED | Why bare root plants might be best for you and your garden
Buying in bulk like a commercial nursery would, saved me and my friends a ton, and made it possible to get the amount of fruit trees that I wanted. I am planting only 80 fruit trees into my home orchard, which my wife says is being excessive, but I think is just the perfect number. I am passionate about orcharding and gardening, and that's why teaching and writing about these subjects is fun for me.
Anyway, my trees are coming the week of April 26th, so it's going to be awesome to get the new orchard in, dig holes, plant trees, and get them staked down so they don't blow over. I will be planting a wide variety of apples, pears, plums, and some peaches.
RELATED | Interested in growing fruit trees? How to start your own small orchard.
One of the apple varieties I will be test trialing in my orchard is called a Premier Honeycrisp, which according to the nursery company, will ripen its fruit three weeks earlier than the standard Honeycrisp apple. In our climate that sounds like a great deal to me as the Honeycrisp is a later ripening varieties, but highly desirable.
I am also planting (research test trialing for some) the apple varieties of Dandee Red, Ginger Gold, Lodi, Royal Court, Pioneer Mac, Blondee, and Ambrosia. The Ambrosia apple is my favorite apple to buy at the grocery store for fresh eating, and while the chances of it actually producing a crop here are pretty low, I want to test trial it anyway.
After five to eight years of growing research in the orchard, I will let you know how it worked out. I am not recommending all of these varieties to you, – as some are NOT proven for our area yet, but others are known to be reliable producers for our climate. I will share my results in the future regarding how they produced and matured their fruit in our climate.
So aside from building a huge fence and planting way too many fruit trees, the actual vegetable garden itself will have Red Pontiac and Yukon Gold potatoes, Serendipity sweet corn, Blue Lake Bush Beans, Buttercrunch lettuce, Detroit Dark Red beets, sweet yellow cherry tomatoes, yellow crooked neck squash, zucchini, Sweet Meat winter squash, Buttercup winter squash, sweet peas, and purple and white bell peppers.
Lance Ellis, EastIdahoNews.com
Next year in 2022 is when I will be establishing a new berry patch, but I have to eradicate some perennial grasses and field bindweed in that plot first before I feel comfortable planting in the purple, red, and yellow raspberries.
RELATED | Starting a backyard berry patch in eastern Idaho
Now you know what my gardening projects are for 2021, and if there are any days without high winds, I will be videoing these projects, and talking about the best ways to plant trees, grow a garden, and sharing the progress.
Feel free to reach out to me with your gardening questions, as I love to talk about the plants you are growing, and help you be as successful as possible! You can reach Lance Ellis at (208) 624-3102.