How the 'Hogwarts of Idaho' helped a local teenager and hundreds of other deaf and blind students
Published at
GOODING — Step into a high school reading class on a weekday afternoon and you'll likely hear teenagers chatting, laughing and telling stories.
But inside one classroom in a unique central Idaho school, around a dozen students aren't using their voices to tell 'The Three Little Pigs'; rather, they're signing the story.
The teenagers are all deaf or hard of hearing and attend the Idaho School for the Deaf and the Blind. The first student to volunteer to stand in front of the class and sign part of the assignment is Reagan Sermon – an 18-year-old from Idaho Falls.
"I love this school and I wish I came here my whole life," Reagan tells EastIdahoNews.com. "ASL is my native language which I learned first before I was speaking English."
Reagan's story
Reagan, the first of five children, was born deaf but his parents, Brooke and Jordan Sermon, did not know their son couldn't hear them until a few years later.
"I can actually remember perfectly. Reagan and I were playing hide and go seek in a hotel room and I was hiding behind the bed yelling his name," Jordan Sermon recalls. "He didn't speak at that point, he was 2 years old, but I could vividly remember realizing he didn't know where I was and he didn't know where the sound was coming from."
Doctor visits and tests revealed Reagan had bilateral sensorineural hearing loss – likely caused by a virus Brooke contracted while pregnant.
The young parents began learning sign language and enrolled Reagan in a preschool for deaf children.
"It was heartbreaking but also very encouraging that we could do something about helping him. We knew where to go and what to do," Brooke Sermons says.
Reagan started wearing hearing aids and they helped. When it was time to attend public school in Idaho Falls, the district provided an interpreter for him.
Over time, Reagan's hearing diminished and when he was 11, doctors cleared him to get a cochlear implant. The small electronic device electrically stimulates the cochlear nerve, the nerve for hearing. An external part sits behind the ear and picks up sounds with a microphone. It then processes the sound and transmits it to the internal part of the implant, allowing Reagan to hear.
"He said it was a whole new world. He didn't know that your pencil made sound writing or the dog's paws click on the floor. It was really neat," Brooke says.
Reagan did well in elementary and middle school. He loved sports and had many friends but during his freshman year of high school, he decided it was time for a change.
"Reagan is always very outgoing and people are nice to him but sometimes it's hard for him to fit into groups because he's so one-on-one. Sometimes in group settings, he would really struggle in feeling socially accepted or included," Jordan explains.
A school for deaf and blind students
The Sermons had heard about the Idaho School for the Deaf and the Blind but had never been there. Over the years, Idaho Educational Services for the Deaf and the Blind regularly sent employees to eastern Idaho to meet with the Sermons and other families with deaf and blind children. Reagan's family appreciated the outreach and decided to visit the Gooding campus to see what it was all about.
"I came here, toured it and at first sight, I loved it," Reagan says. "When I first arrived, I had people – my peers – that had background experiences that were the same as mine so they understood where I came from."
Brooke adds, "It was amazing. We felt it was the right place for him."
The state-funded school is on 40 acres and has been in Gooding since 1910. Governor Frank Gooding donated his property after the original school for the deaf and the blind in Boise burned down.
Around 135 students who have special needs, are deaf, hard of hearing, blind or visually impaired currently attend the school.
"We have to have a student referred from their home school district and then we as a team we decide together what's the least restrictive environment for each student," says Janna Hasko, Principal and Special Education Director. "We provide individual instruction for each of these programs specific to each student."
The blind and visually impaired students learn together, so do the deaf and hard of hearing. A separate program for developmentally delayed adults is also offered and there is special education for younger kids.
Around 100 employees work at the school and there are on-site speech and physical therapists, audiologists, braille printing machines, nurses and other services.
"We like to kind of promote ourselves as the Hogwarts of Idaho because it really is a magical place when kids come here and have peers they can interact with," says Brian Darcy, Administrator for the Idaho Bureau of Educational Services for the Deaf and the Blind. "Our overall goal is to get our kids to reach their potential."
Inspiring and changing lives
School is held Monday thru Thursday and students come from all over the state. Some fly from Coeur d'Alene to Boise on Sunday nights and then join other kids on a bus to Gooding. Reagan and students in eastern Idaho take a shuttle and his parents admit there was some anxiety in the beginning about sending their teenager away.
"The first couple weeks were really hard and I think hard for him too but then after that, he really just had only positive things to say," Brooke says.
At the end of each school day, most kids don't go home – rather, they stay in one of seven on-campus cottages. The cottages are separated by age group into boy and girl units. Here the kids socialize, eat dinner, sleep, do chores and get ready for their next day of classes.
Each student has a roommate and there are adult cottage supervisors. The school provides meals and during free time, kids have access to a gym, snack bar, exercise and workout rooms.
Reagan spends most of his free time practicing and playing with the school's baseball and basketball teams. He's learned many lessons from his blind and deaf teammates. During one game, he helped a blind player shoot a basket and the crowd went wild. Video of the moment went viral.
"Being able to help that blind kid made me feel better because for me, helping other disabled kids achieve their goals – even though it's a small goal and not very big – it's just very helpful to me," Reagan explains. "Playing with my deaf peers and being able to play basketball, a sport I love – it's just a once-in-a-lifetime experience."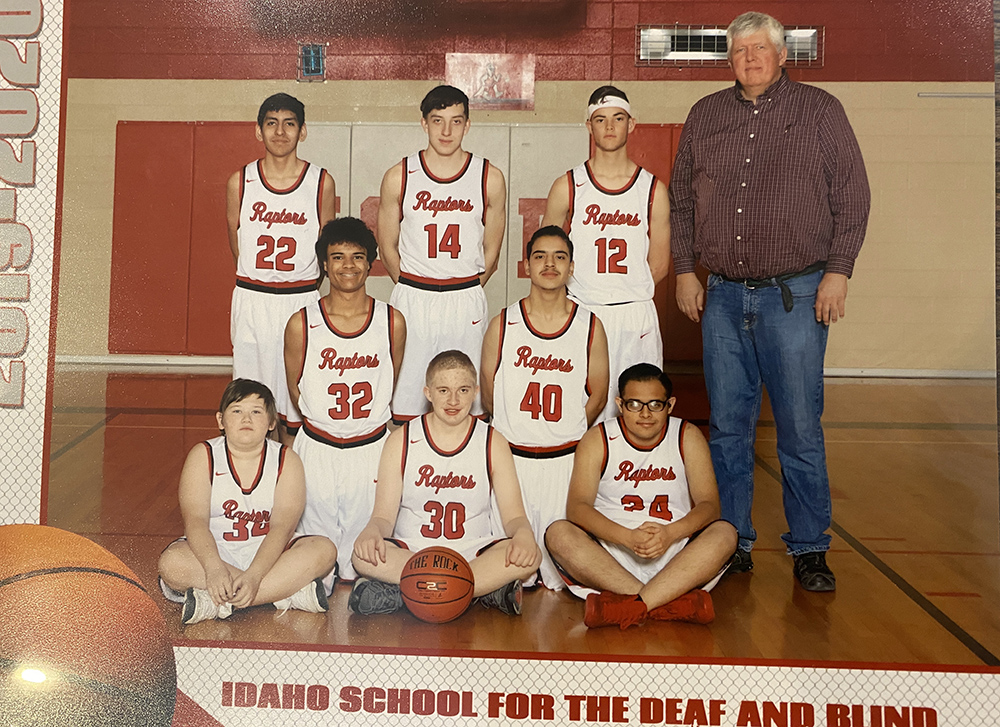 Reagan says his school has prepared him to go on a mission for his church and attend Brigham Young University-Idaho, things he plans to do when he graduates in a few months.
"Before I came here, I was misunderstood a lot among other kids but now I'm able to communicate clearly with others," Reagan says. "The deaf school gives you the ability to be outgoing because you have other kids who won't judge you because they understand. They've been in the same place as you."
Idaho School for the Deaf and the Blind administrators invite the public to tour the facility and chances are you'll find kids determined to make a difference in the world – no matter the obstacles.
"When people come and see what's happening, they say, 'I wish I knew about this place so much earlier,'" Hasko says. "It's a really magical place. It's a hidden gem here."